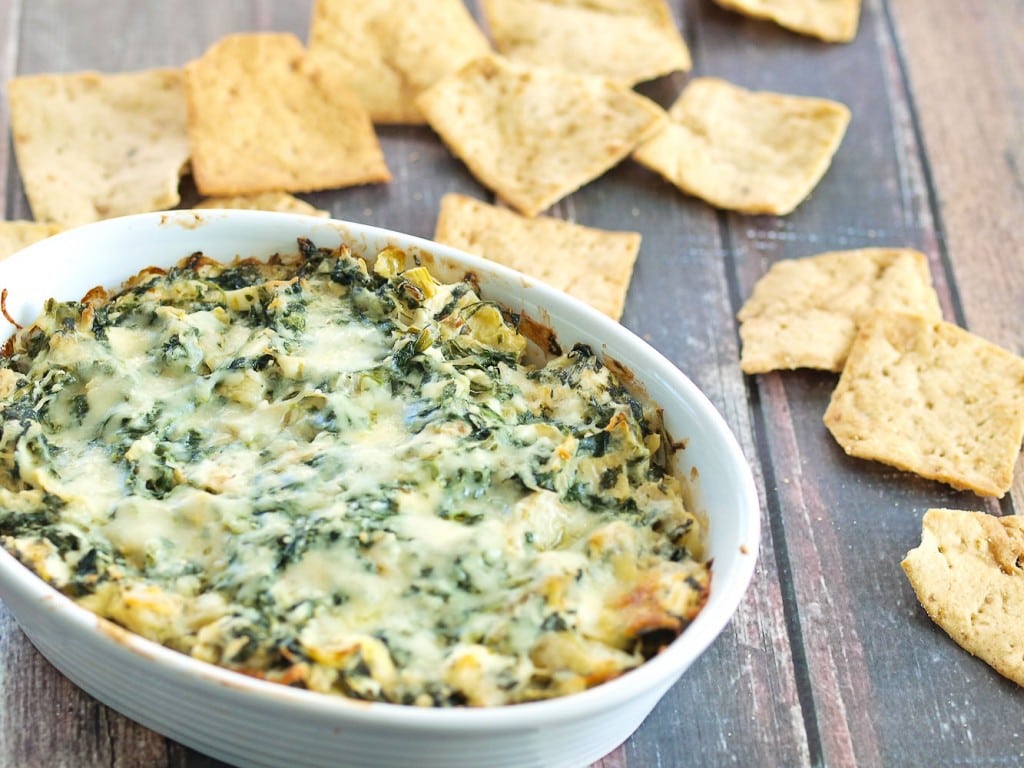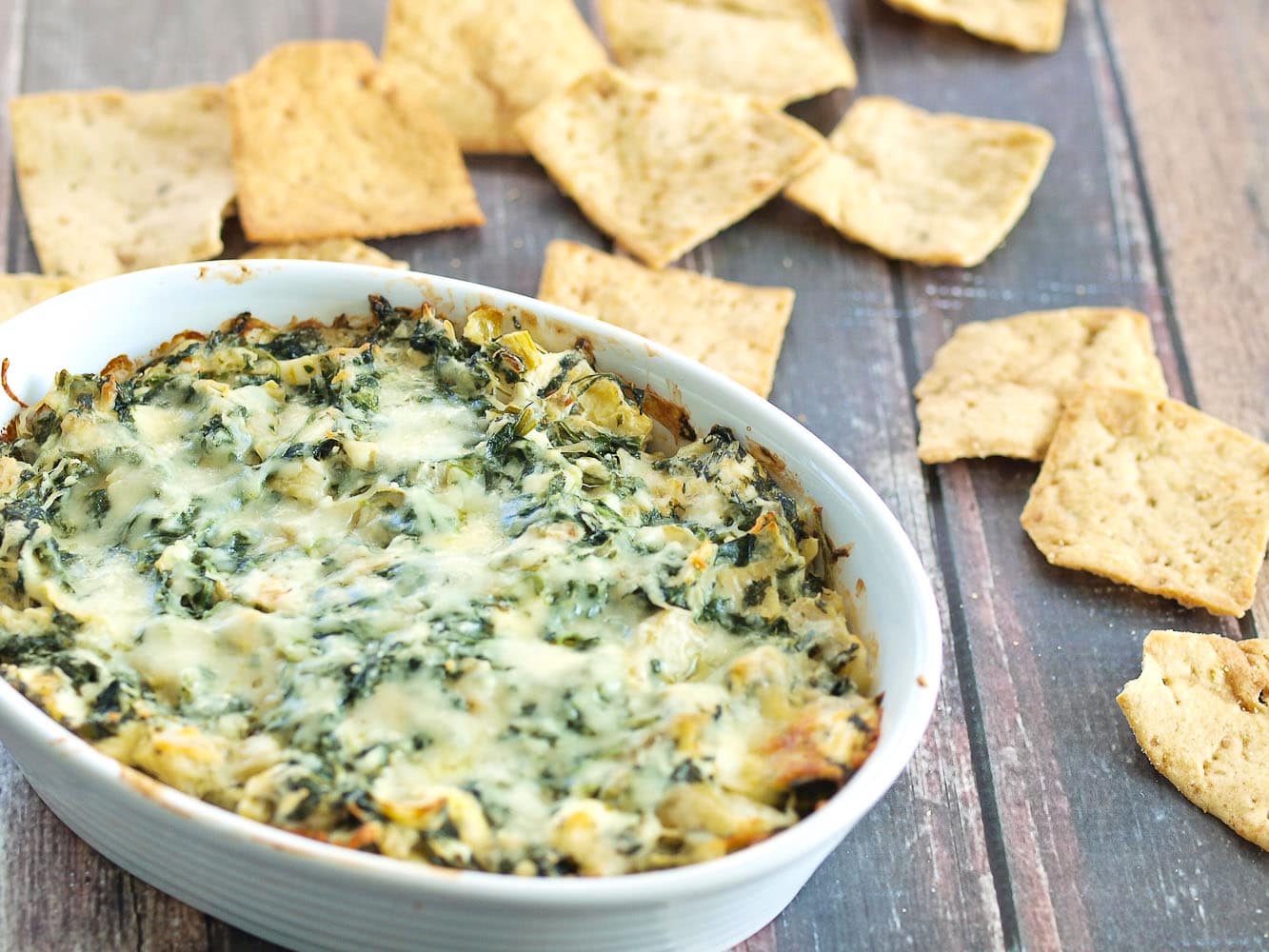 If you haven't figured it out yet, I'm kind of a walking contradiction when it comes to cheese.  On one hand, my logical brain knows I should stay away from the stuff.  On the other hand, well, it's cheese.  And it's dang good.
When game day rolls around, or any party opportunity, really, it gets fifty million times harder to avoid it.  In everyday life I try to enjoy cheese in strict moderation, and that's the philosophy I brought to this recipe.  I'm not one to sub low-fat cheese and mayo to a recipe and call it skinny.  What I did here was use less cheese rather than the same amount of the low-fat stuff. It's still plenty cheesy, trust me.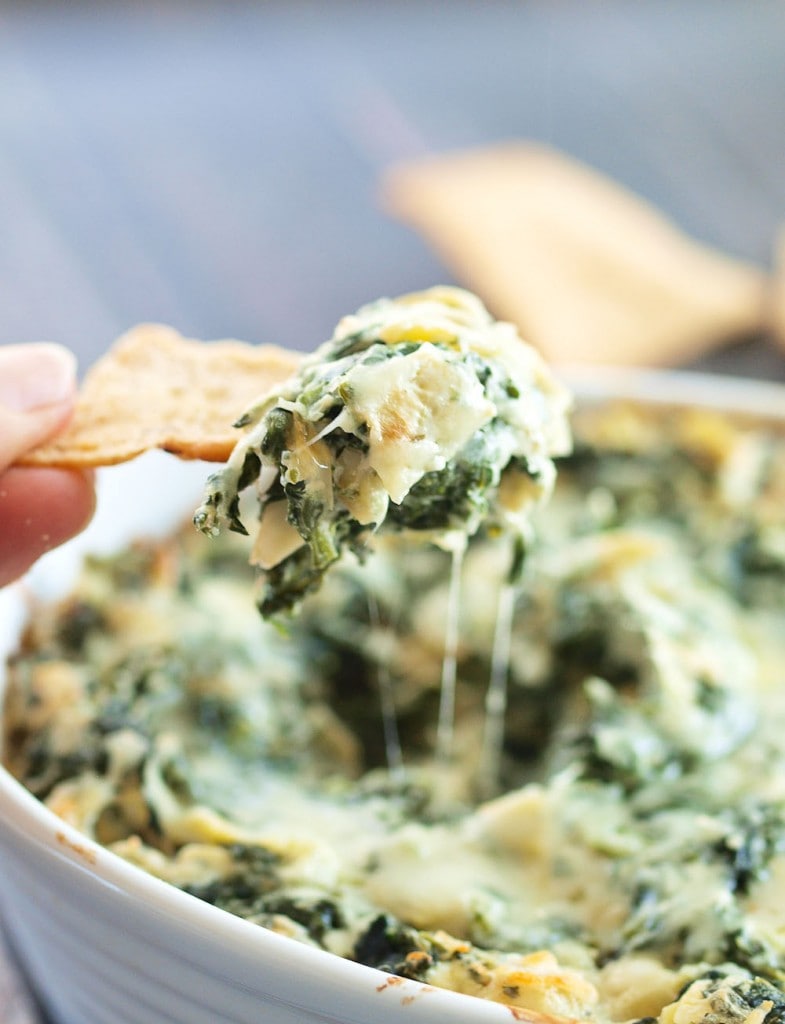 Instead of mayo or sour cream many spinach artichoke dip recipes call for, I used greek yogurt.  I also used a small amount of cream cheese to add to the creamy texture everyone loves.
The end result was a flavorful appetizer that didn't leave me feeling sluggish and overstuffed.  It was just the right amount of cheese mixed with the spinach and artichokes.
If you are looking for a lighter option for your Super Bowl Party spread, this Skinny Spinach Artichoke Dip is a perfect recipe for you.  It'll be a hit!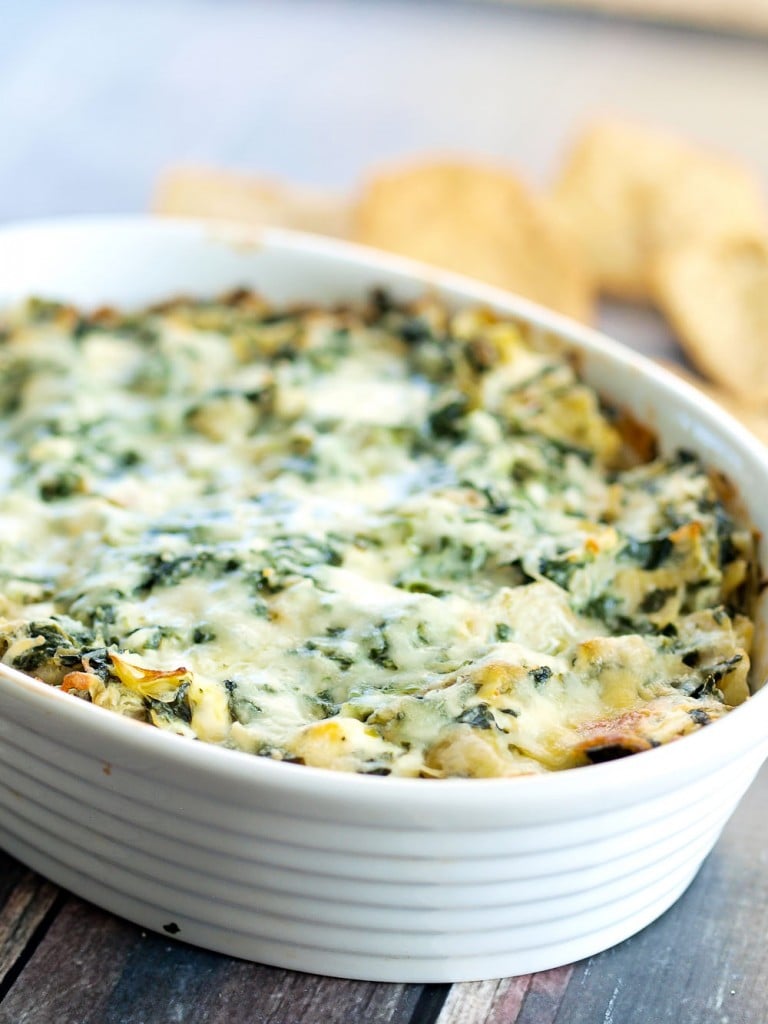 [print_this]Skinny Spinach Artichoke Dip
4 ounces cream cheese
1/3 cup Greek yogurt
1/4 cup Parmesan-Reggiano cheese
2 cloves garlic, minced
10 ounces frozen spinach, thawed and drained of moisture
10 ounce jar marinated artichoke quarters, drained and coarsely chopped
1/4 cup shredded mozzarella cheese
Preheat the oven to 375 degrees.  Using a hand mixer, blend together the cream cheese, Greek yogurt, Parmesan-Reggiano cheese, and garlic cloves.  Make sure all of the water has been pressed out of your spinach.  Add the spinach and chopped artichoke hearts to the cheese mixture.  Transfer the mixture to a small baking dish and top with the shredded mozzarella cheese.  Bake in the preheated oven until the cheese is bubbling and starting to brown, 20-30 minutes.  Serve hot.  Enjoy![/print_this]