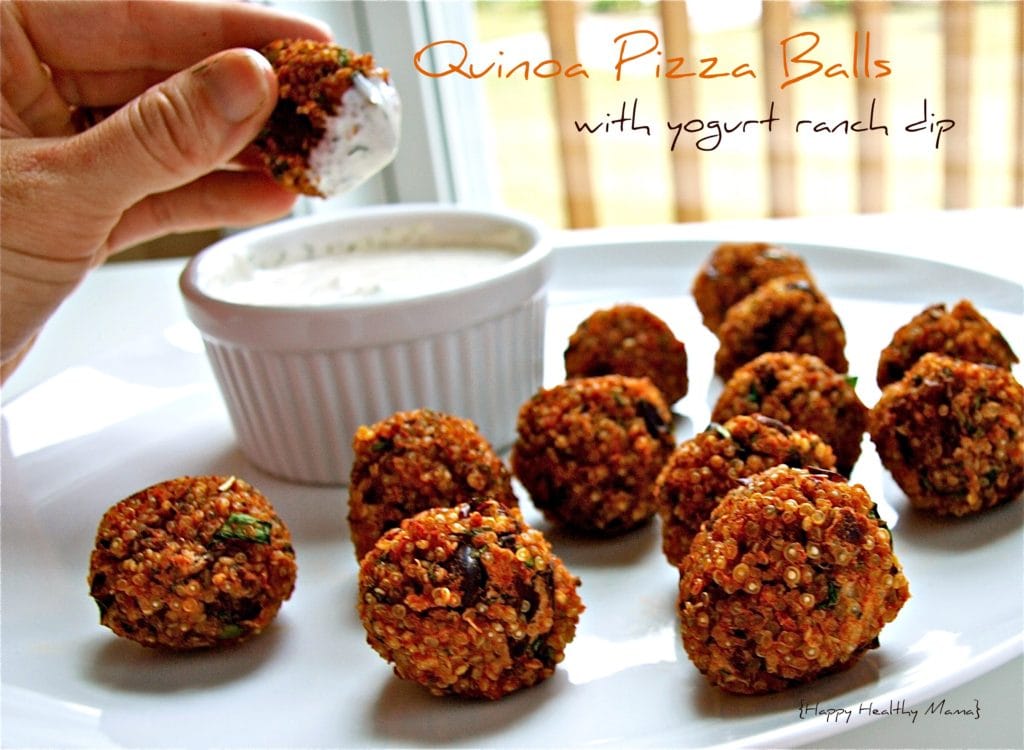 The other day I had a flash back to my college days.  Specifically, the food I ate during my college days.  I couldn't get my mind off of one of my favorite college foods:  pizza dipped in ranch dressing.
When a pregnant woman gets her mind focused on a certain food, watch out.  Suddenly, I needed some pizza with ranch dressing.  Or at least something with those flavors.  These quinoa pizza balls with yogurt ranch dip are the perfect healthier stand-in for my old college favorite.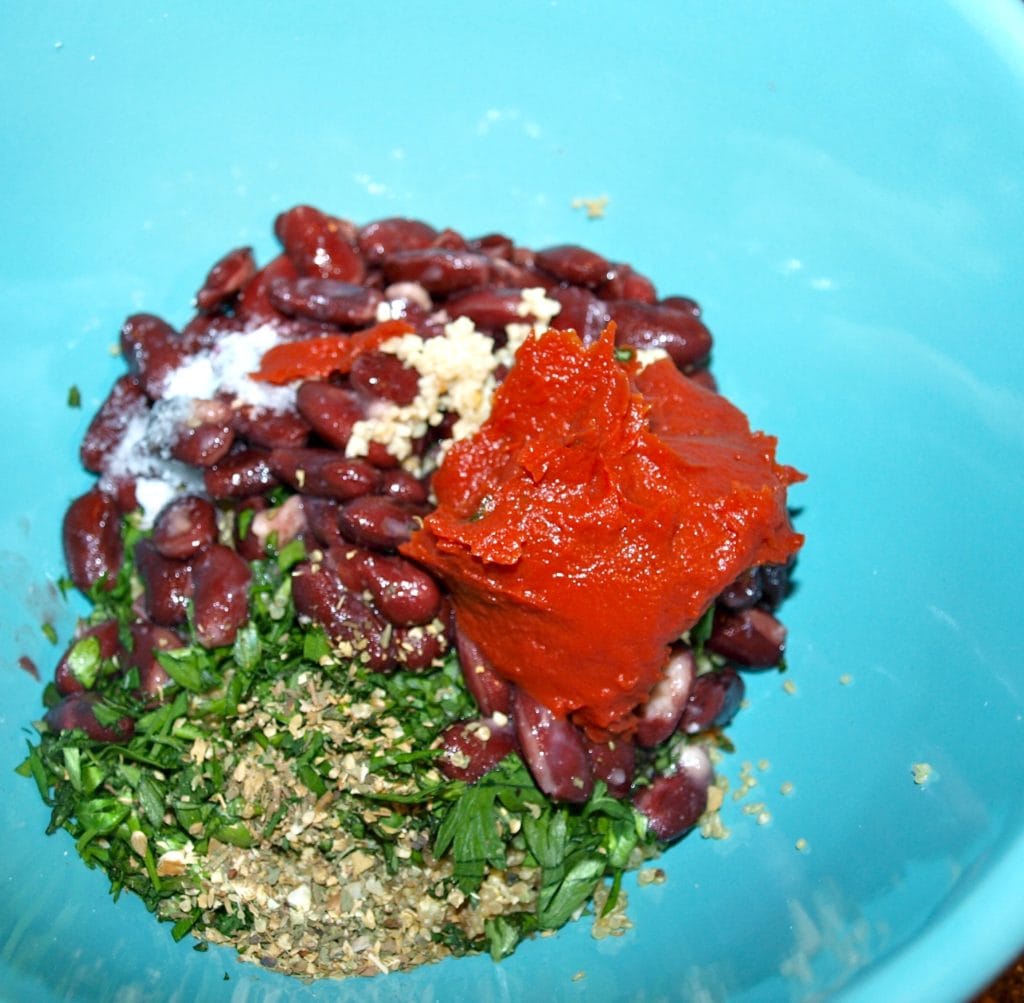 The pizza balls are bursting with pizza flavor and the modified ranch dip is just as good as the chemical-y, over-processed bottled stuff.  And the best part?  You can eat this as a snack, meal, or appetizer and not feel like you gained 10 pounds in one sitting afterwards.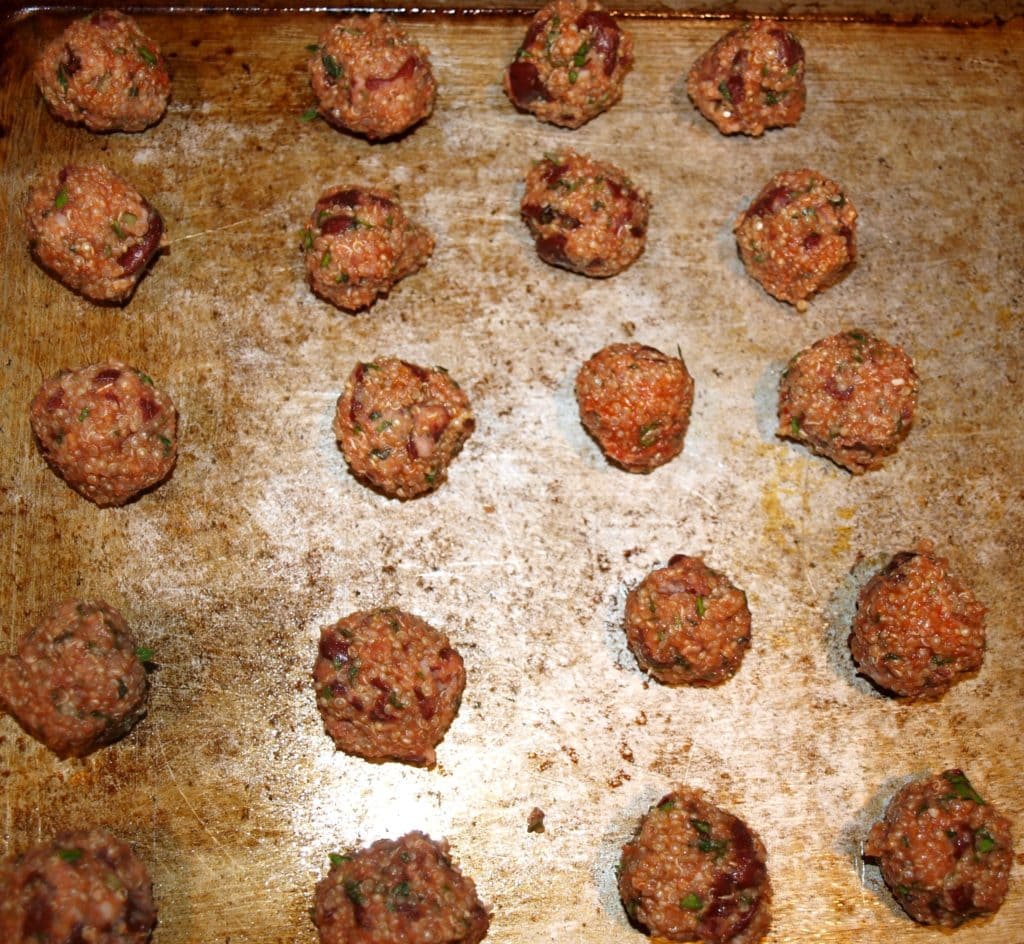 These are the balls just before putting them into the oven.  I have to admit, I couldn't stop taking little bites of the mixture before baking them.  It is so flavorful!  Once they are baked, it's even better.  I'm already thinking about making another batch.
Want some nutritional stats?  Each quinoa pizza ball is just 25 calories, yet boasts 1 gram of fiber, 1 1/2 grams of protein, .5 mg of iron, and 7 mg of calcium.  Each tablespoon of the dip has about 36 calories and 3 grams of fat.
More important than the stats, though, is the flavor, and these little bites really pack the flavor.  And there's so much you can do with them.
I think they taste good at room temperature and are totally kid-friendly, so these would be great for school lunches.  I crumbled a few over my salad for lunch today and loved the added nutrition and flavor.  They are a wonderful part of a toddler lunch.  Eat a few for a quick, nutritious snack.  Put them in hoagie bun, add some marinara sauce, and turn it into a vegetarian "meat"ball sub.  Go ahead, get carried away.
However you eat them, they are sure to be a crowd-pleaser.  You might want to make a double batch.