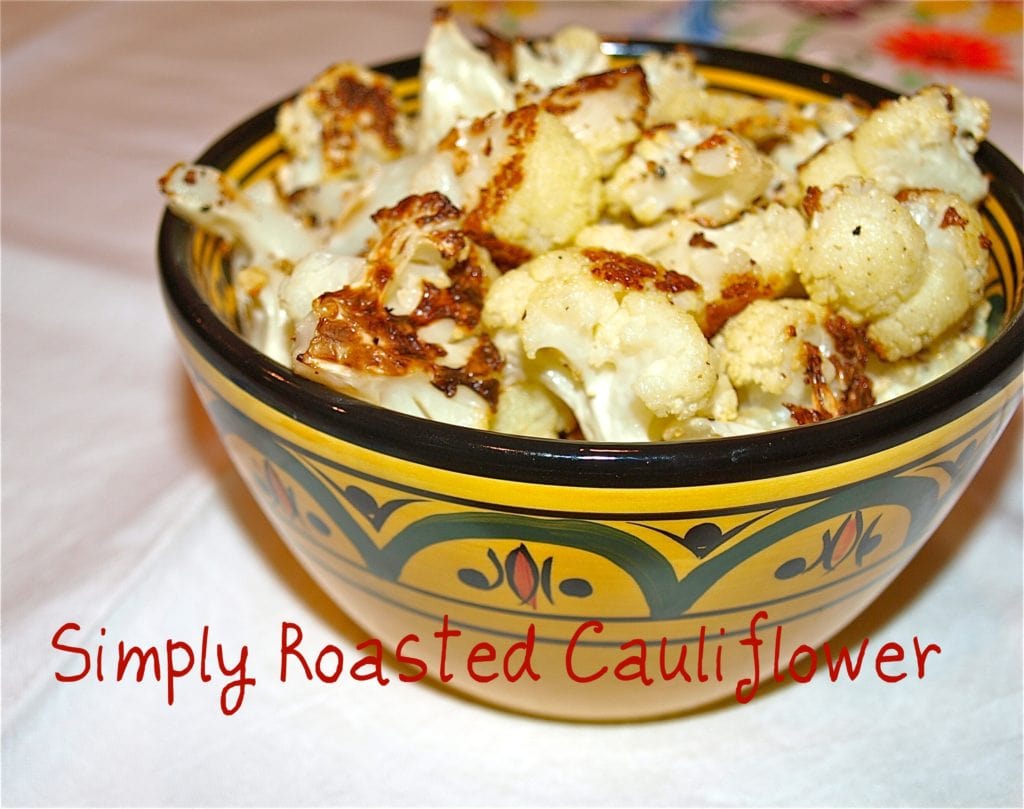 I have spent the last week or so debating with myself as to whether I should post this recipe or not.   I mean, it barely even qualifies as a recipe, so I kept telling myself it wasn't post worthy.  It's roasted cauliflower.  No special seasonings.  Just simply roasted cauliflower.
Meghan, however, has been eating this stuff like it's crack, or candy, or some other deliciously naughty thing a 2-year-old shouldn't eat.  But it's roasted cauliflower.  Since my toddler is eating this simply roasted cauliflower and loving it, even asking for it when I'm not serving it,  I thought I had to share it with you in case you haven't discovered the magic that happens when you roast cauliflower.  It elevates it to a whole new level, a level that makes Tim, who hates raw cauliflower and will not even look at it, want to devour it.
Print
Simply Roasted Cauliflower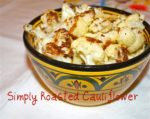 A simple and tasty vegetable side dish
Author:
Prep Time:

5 minutes

Cook Time:

30 minutes

Total Time:

35 minutes

Yield:

Makes barely enough for 2 hungry adults and 1 toddler

Category:

Side Dish

Cuisine:

American
Ingredients
1 cauliflower, cut into small florets
extra virgin olive oil
sea salt
freshly ground black pepper
Instructions
Preheat your oven to 400 degrees.
After you wash and cut up your cauliflower, place it, in one layer, on a cookie sheet.  Drizzle with olive oil (2-3 tablespoons), sea salt (about a teaspoon), and freshly ground black pepper (about 1/4 teaspoon).    Toss with your hands so the cauliflower is evenly coated with the oil, salt, and pepper.  Roast in the preheated oven for 25-30 minutes, stirring once or twice to ensure even roasting.  Watch it carefully to prevent burning.
Nutrition
Serving Size:

1 of 2 servings

Calories:

225

Sugar:

10g

Sodium:

1284mg

Fat:

14.5g

Carbohydrates:

22.5g

Protein:

8.5g
Keywords: Vegetable side dish
Not necessary at all, but occasionally I use the following adaptation:
-add the juice from half a lemon to brighten the flavors
-add a few cloves minced garlic
-top with Parmesan cheese for the last few minutes of roasting.
Roasted cauliflower makes a great side dish for any meal, but it also makes a great snack.  If you're really in a hurry, crank up the oven to 500 degrees and reduce the roasting time to about 15 minutes.  This past weekend Meghan was enjoying a bowl of roasted cauliflower for a snack, and she looked so funny putting one piece in her mouth quickly after the other, I grabbed the video camera.  Of course, by the time I started recording, she was almost done and the moment had passed, but I thought I would share it with you anyway.
A few things you should know before watching this video:
-Whenever I pull out the video camera, Meghan immediately wants to watch herself. That is why she yells, "See Meghan!" at the beginning.
-My husband is watching football in the background.
-I have an annoying voice.  Please ignore it.