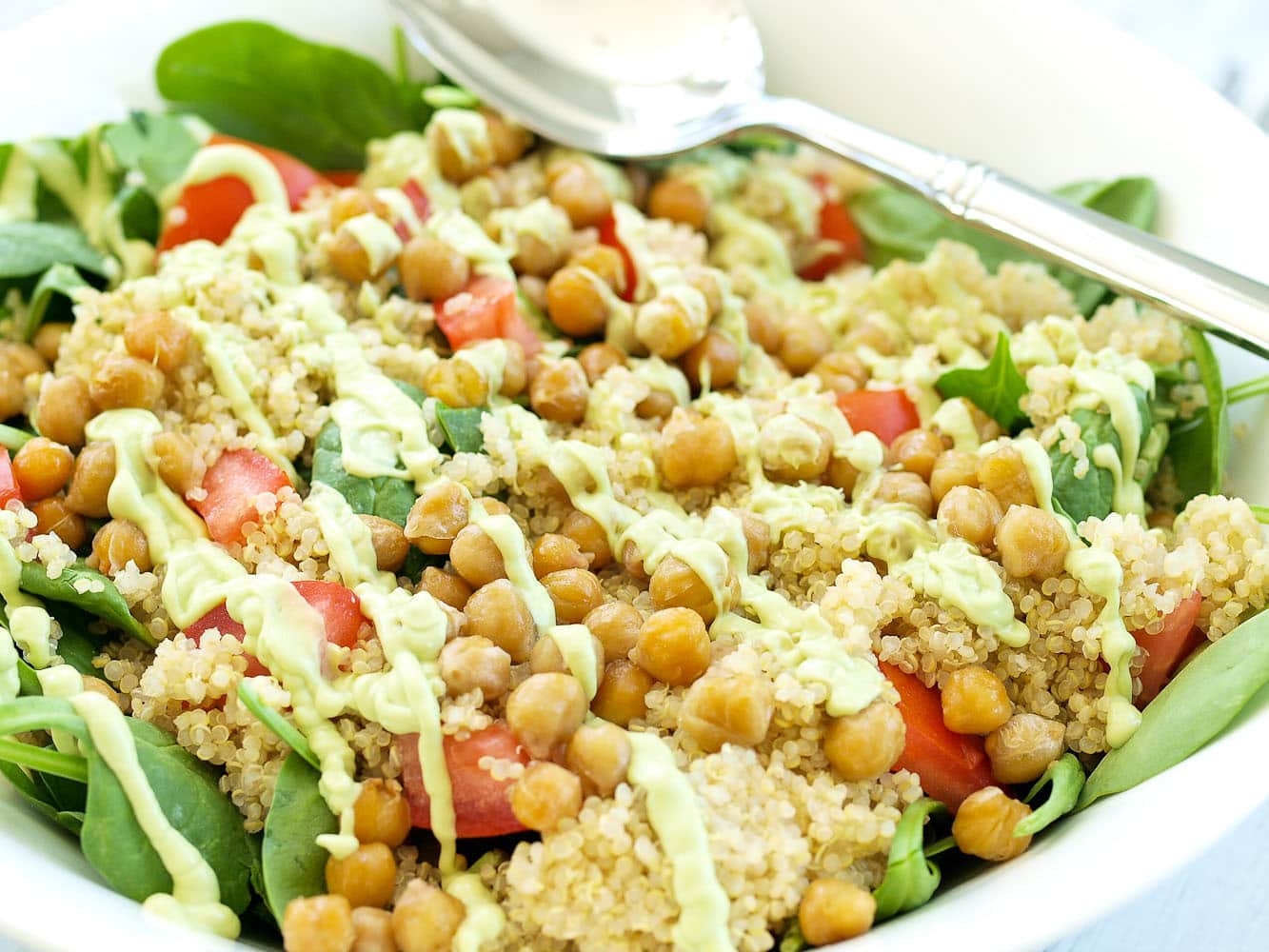 Who is ready to get their salad on?  This salad has everything a salad could ever want.  It's hearty and filling thanks to the addition of quinoa and crispy chickpeas.  It's got greens. A fresh tomato thrown in the mix, along with an Avocado Basil Dressing that is salad dressing perfection.  This salad wants for nothing.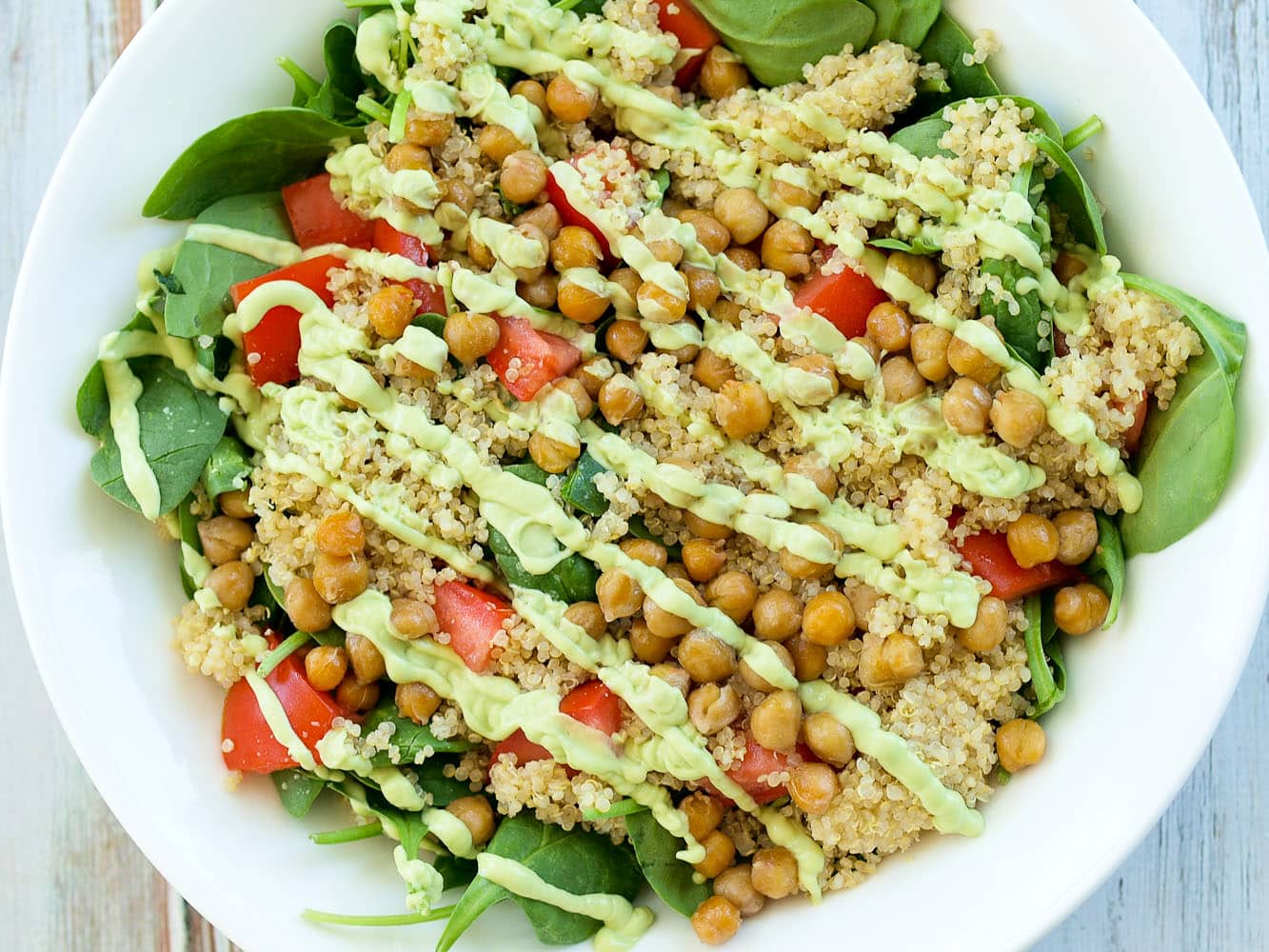 Avocados are my favorite way to make creamy salad dressings without adding any dairy.  Adding fresh basil to it gives this salad a flavor that screams summer. Can you tell I'm ready? My girl Meghan only has 13 days of school until summer break.  The weather's been glorious.  Bring on the summer salads.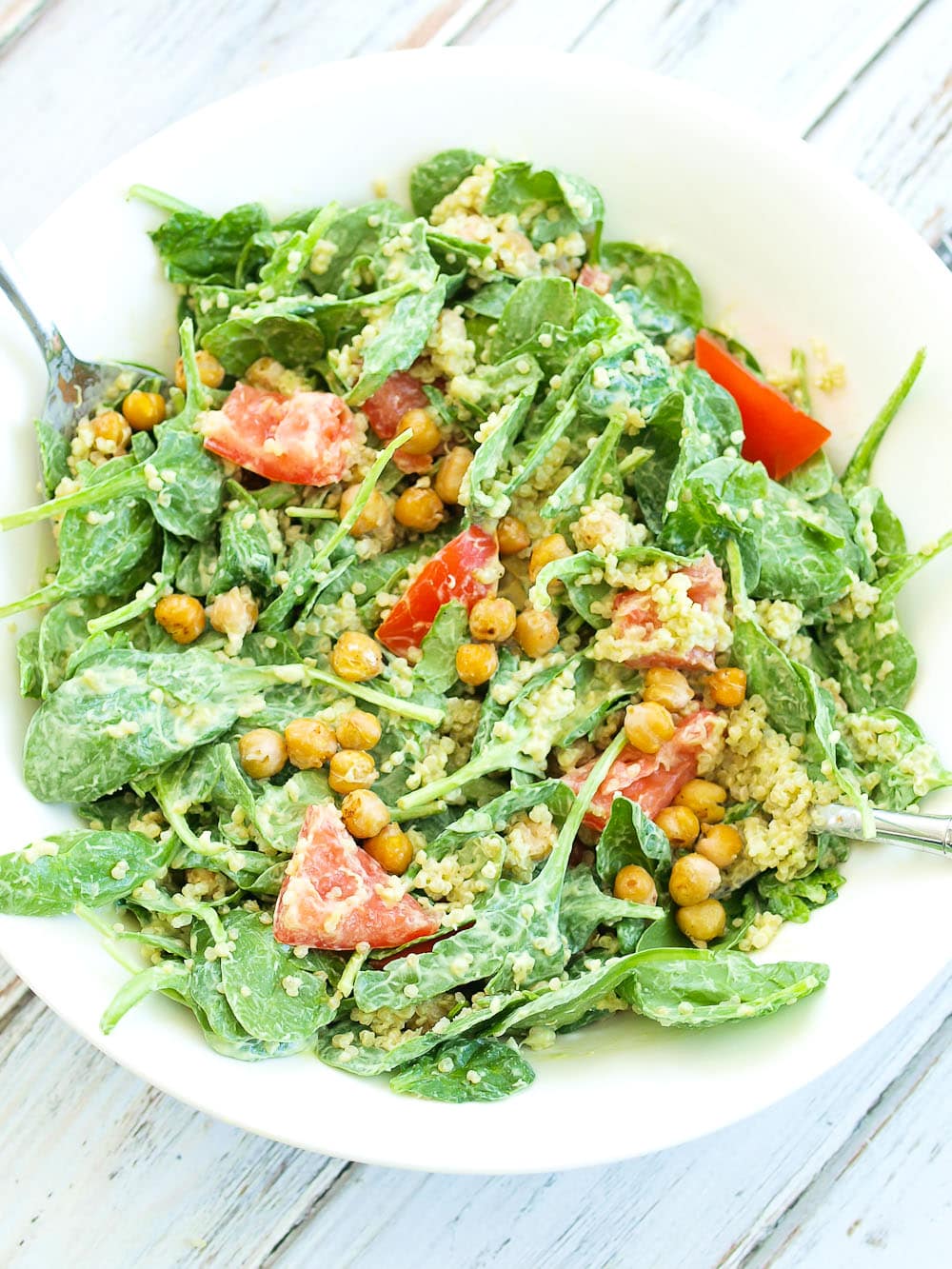 I started out drizzling the dressing for the sake of pictures, but the magic of this salad comes when you toss everything together, and every leaf is covered in the creamy avocado dressing.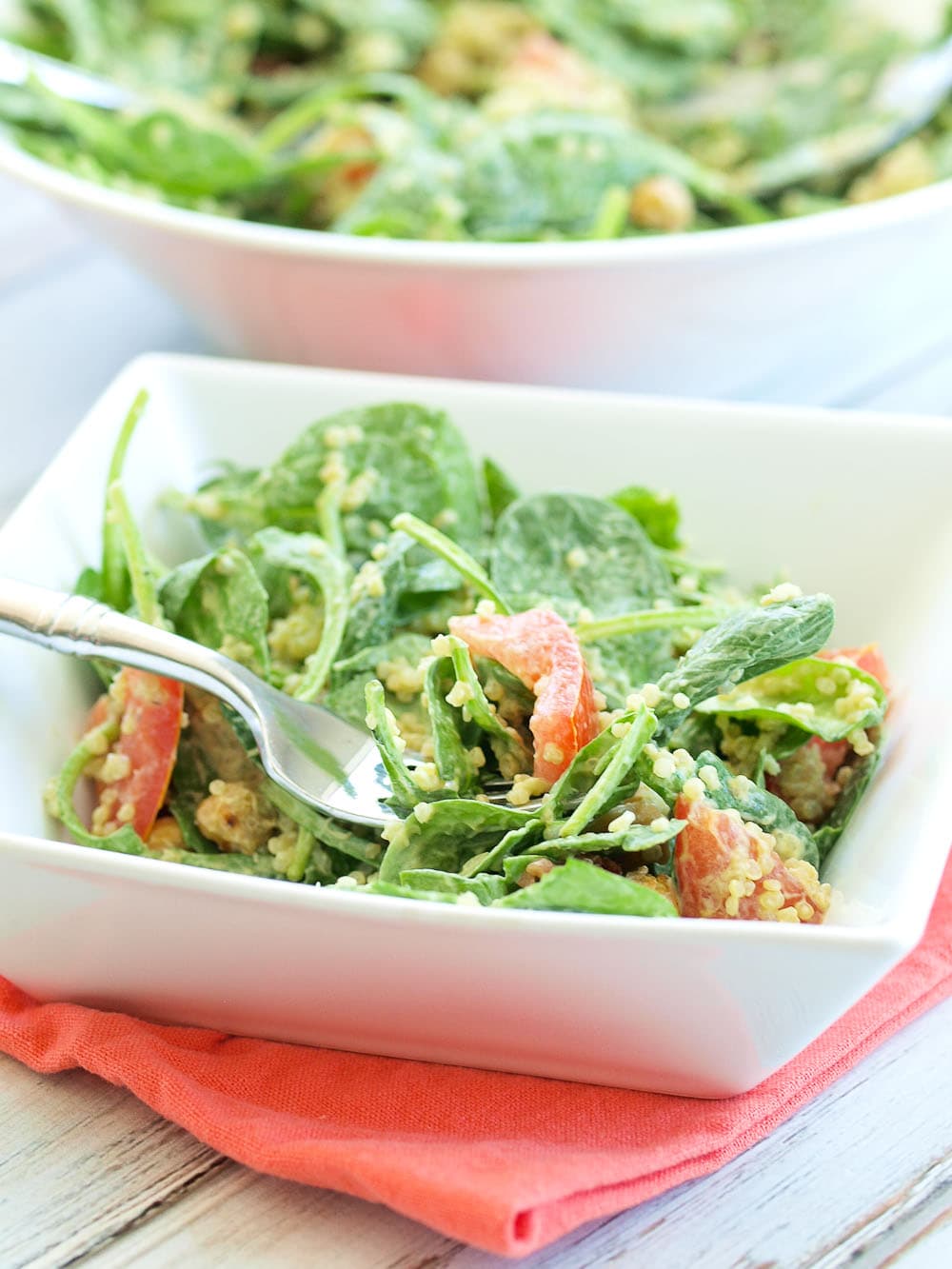 This is one salad I'm going to be making over and over again.  I hope you do, too!
Spinach Salad with Quinoa, Crispy Chickpeas, Tomatoes, and Avocado Basil Dressing
Serves 4 (2 as a main course)
1/2 cup dry quinoa, rinsed well
1 cup water
1 (15 ounce) can chickpeas, drained and rinsed
1 tablespoon avocado or olive oil
1/2 teaspoon coarse salt
5 ounces baby spinach leaves
1 large tomato, cored, seeded, and cut into chunks
for the dressing
1 avocado
3-5 basil leaves (depending on their size)
1 small garlic clove, minced
2 tablespoons lemon juice
a pinch or two of salt
water (1/4-1 cup)
Put the quinoa and water in a small saucepan and bring to a boil. Reduce the heat, cover, and cook until the water is absorbed, about 15 minutes.
Meanwhile, heat the oil in a small pan over medium heat.  Add the chickpeas and salt and sauté until the chickpeas are browned and crispy, about 15 minutes.
Meanwhile, make the dressing.  Put the avocado, basil leaves, garlic, lemon juice, and salt in the blender.  Blend and add 1/4 cup water.  Add more water as needed to make the dressing to your desired consistency.  It should be thick and creamy.
To assemble the salad, add the baby spinach to a large bowl.  Top with the quinoa, chickpeas, tomato chunks, and drizzle with part of the dressing.  Toss and add more dressing so everything in the salad is coated.  Enjoy!
Note: The amount of water you need and the amount of dressing you have will depend on the size of your avocado.  I recommend a medium-sized avocado.  If it's too small it might not yield enough dressing, and if it's huge you may have too much.