This Coconut Curry Lentil Bowl is a one-pot dinner that comes together in about 30 minutes. This vegan, gluten-free meal is full of flavor and is immensely satisfying. It pairs perfectly with warm naan bread.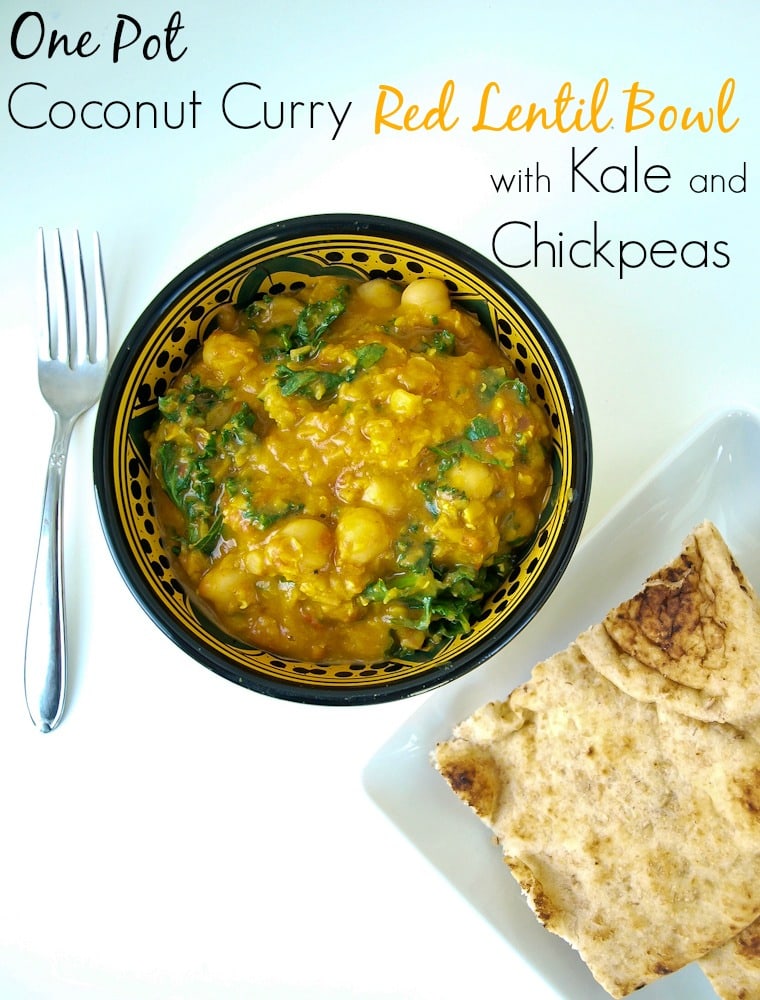 Do you want to know what's an absolute tragedy?  My kids don't enjoy any meals where their food is mixed together or with any type of sauce.  Yes, the one-pot meal, a busy mom's dream dinner, is my kids' worst nightmare.
I'm a persistent gal, though, and one thing I've learned about feeding children is that their tastes and preferences do change, especially if you continue to serve them a variety of foods over time.  I haven't given up on the one-pot meal.  I keep trying.
I served this Coconut Curry Lentil Bowl to Meghan and Luke along with whole grain naan bread, raw vegetables, and applesauce.  I added more to the meal (easy things I didn't have to cook) because I knew they wouldn't eat a lot, if any, of the one-pot meal I was serving as the main entree.
I reminded Meghan that she loves chickpeas, and even though she was reluctant, she picked them out and ate them.  Luke will do what Meghan does usually, so he followed his big sister and ate his chickpeas.  They both were a n0-go to try the kale or saucy mix of lentils, and I didn't push it.  They devoured their naan (a favorite) and also ate all of their carrots, red peppers, and applesauce.
I didn't mean to talk so much about how this meal worked for my kids, but I know a lot of moms read and are probably interested in how dinner time looks at other houses.  I know I am always curious.  But let me move on to the dynamics of the dish before I lose your interest!  (Too late?)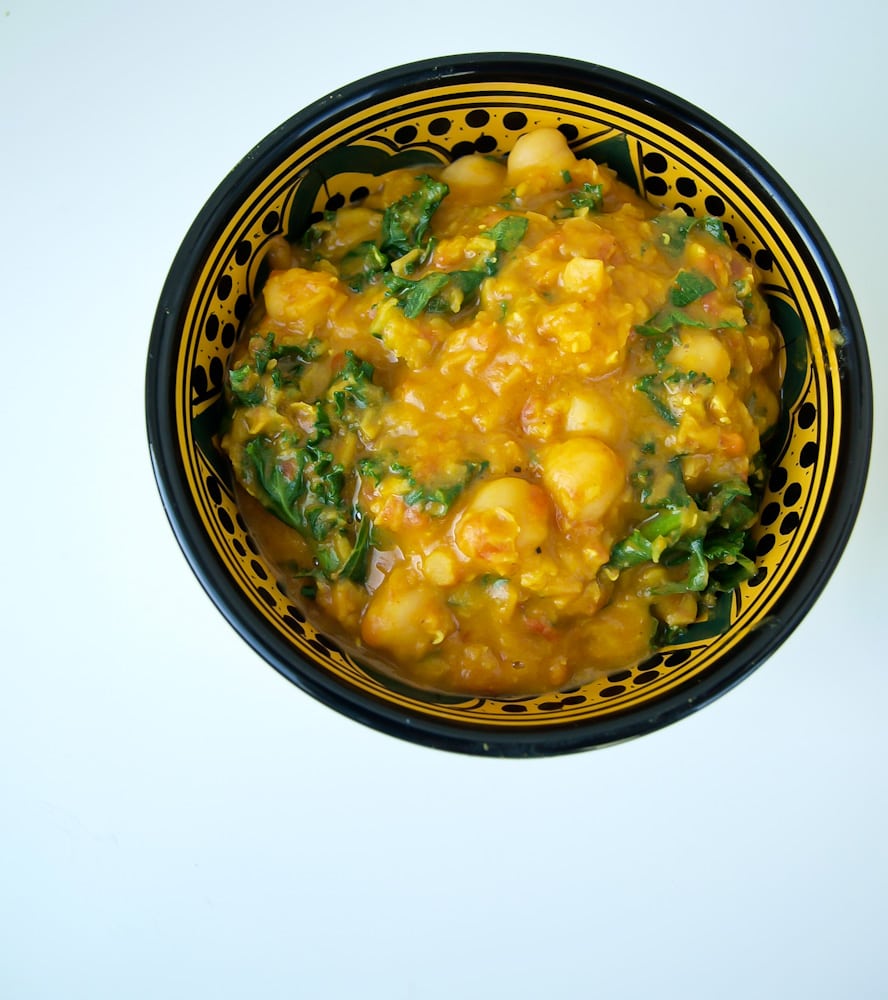 This is a super quick and easy dinner.  Quick, easy, AND healthy.  Not an easy-to-come-by combination!  Oh, and full of flavor.  I just love coconut+curry together, and there's also fresh ginger, lime, and cilantro that bring the whole thing together.  I ate just this because of my anti-inflammation diet, but it's perfect with warm naan bread.  If you need a vegan, gluten-free, weeknight meal that is super satisfying, this Coconut Curry Lentil Bowl is exactly what you need.
Print
One pot coconut curry lentil bowl with chickpeas and kale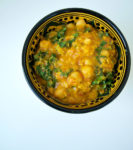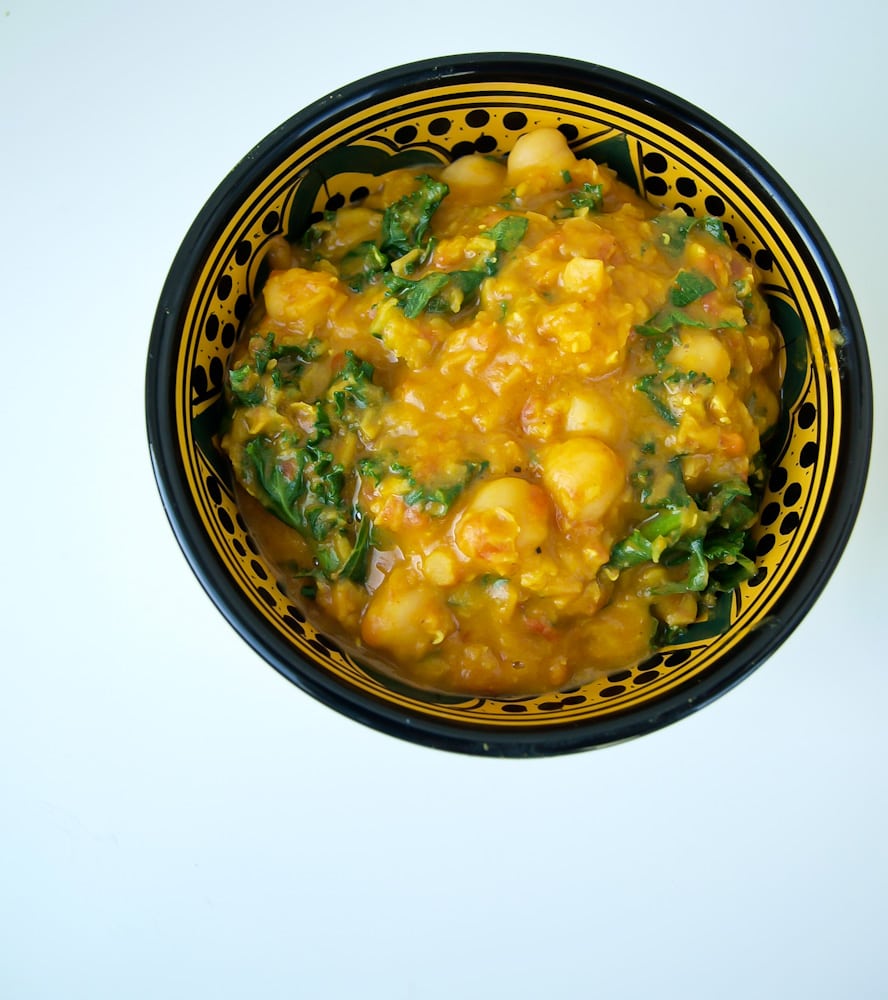 This is a one-pot dinner that comes together in about 30 minutes. This vegan, gluten-free meal is full of flavor and is immensely satisfying. It pairs perfectly with warm naan bread.
Author:
Prep Time:

5 minutes

Cook Time:

25 minutes

Total Time:

30 minutes

Yield:

4

servings

1

x
Category:

main meal

Cuisine:

Indian
Scale
Ingredients
3/4 cup

red lentils

1

(15 1/2) ounce can diced tomatoes with garlic and onion with juices (I blended mine a little to avoid big tomato chunks that my family dislikes, but that is optional)

1

(15 1/2) can lite coconut milk

1 cup

water or vegetable broth

1

heaping tablespoon curry powder
~1 1/2 inch piece of fresh ginger, minced

1 teaspoon

turmeric

1 teaspoon

salt

1

(15 1/2 oz.) can chickpeas, drained and rinsed

4 cup

s roughly chopped, deveined kale

1 tablespoon

lime juice

1/3 cup

roughly chopped fresh cilantro
Instructions
In a Dutch oven or large high-sided skillet, combine the red lentils, tomatoes with their juices, coconut milk, water or broth, curry powder, ginger, turmeric, and salt.
Bring the mixture to a boil, then reduce the heat, cover, and simmer for about 18 minutes.
Stir in the chickpeas and kale and allow to cook another 3-5 minutes, until the kale is wilted and bright green.
Stir in the lime and cilantro and serve. Enjoy!
Nutrition
Serving Size:

1 serving

Calories:

610

Sugar:

12.5g

Sodium:

655mg

Fat:

15g

Carbohydrates:

97.3g

Protein:

32.8g
Keywords: easy dinner recipe
Even though I am going to wait a month to give you a detailed update of how things are going with my new diet and finger pain, I can't wait to tell you how things are going. After one week on an anti-inflammation diet, I have seen a significant improvement in my finger pain!
One week ago, I could not bend my finger in the morning and throughout the day making a fist was impossible. I can do both of those things now and the pain is much less. I did not expect to feel a difference so quickly, but I am more determined than ever to continue with the changes I've made.  I'll give you more details in time, but I just wanted to give you a quick update since I'm so excited about the results so far.  Thanks again for all of your comments and support.