Healthy Smoothies are a great way to load a variety of nutrients into your meals or snacks. These make ahead smoothie packs are an easy way to prep healthy smoothies for the week!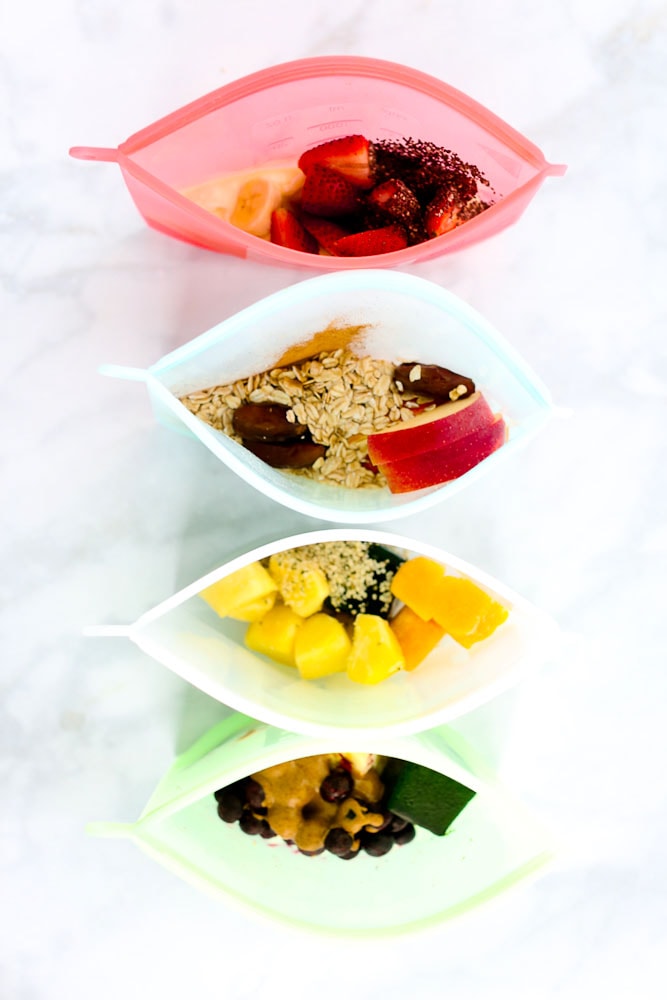 Please note that links to products may be affiliate links. Thank you for supporting Happy Healthy Mama!
A few years back (okay, it was FOUR years ago!!), I shared with you this Tropical Green Smoothie and showed you how I like to make healthy smoothies ahead of time and store them in glass jars.
Well, well, well.
Today, I'm going to talk again about how you can prep your healthy smoothies ahead of time and make freezer smoothie packs, but I've found a more space-saving way to do it that doesn't include plastic zip lock bags! WOOT WOOT!
These Reusable Silicone Food Storage Bags are a game changer!
They are PERFECT for healthy smoothies you can make ahead!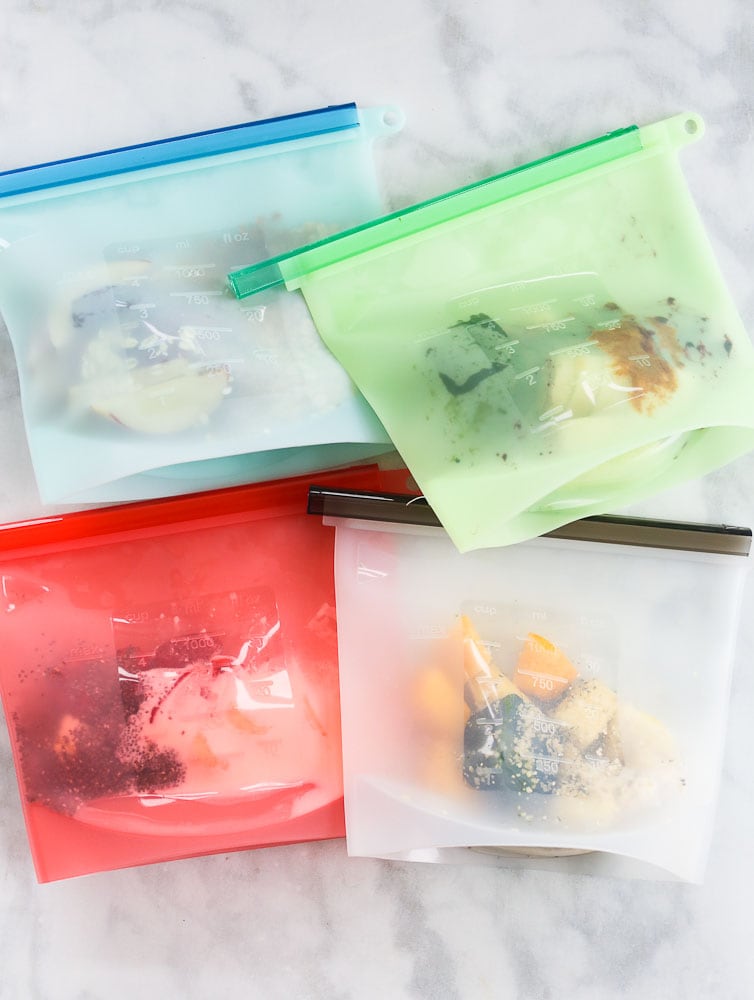 Can you tell I'm excited about this find? I seriously dreamed of this product like seven years ago, and was ready to go ahead and start a company to manufacture my own since I couldn't find what I needed anywhere.
Then I found some and they were $20 for one.
Now these are not the cheapest ever, but at $18 for four bags that you can use over and over and over again, I'd say these are affordable. I have two sets and they are fantastic.
They are great for these make ahead smoothie packs, but you can use them for so much more! They are cold and hot safe, good for liquids or solids, and can be cleaned in the dishwasher. I love them so much.
I promise this post is about healthy smoothies, not just these silicone bags I'm swooning over. Moving on! 😉
How to Prep Smoothies for the Week
I don't necessarily thinking making a smoothie without having it prepped is hard or even that time consuming. But there's something about not having to get seven different ingredients out in the morning (or afternoon) and then put them away that really makes me happy.
Prepping your smoothies for the week might take you ten minutes, but it really is nice to just grab a bag of frozen goodies out of the freezer and dump it in the blender.
To prep your smoothies for the week, you can freeze everything you'd want to put in the smoothie except the liquid. I even throw the chia seeds or oats in the bag. It just saves one more step.
Then, when I'm ready to make the smoothie, I dump the frozen ingredients into the blender, add my liquid, and blend, blend, blend!
You can use fresh or frozen fruit to start with. I tend to use a mix of both. Berries are only in season for a short time here, so I usually get big bags of frozen berries at Costco and use those for smoothies. Other fruits I'll start with fresh.
When it comes to greens, I often use these frozen spinach cubes. But it's totally fine if you don't have those; you can just freeze fresh leaves for the green smoothies. No biggie!
I have a Vitamix blender, and it is really powerful. I'm not sure how well a less powerful blender would handle so much frozen bulk. A professional-grade blender like the Vitamix is a great investment towards your healthy lifestyle and I highly recommend it.
I have four different healthy smoothies you can make ahead to share with you today, but you can really turn any smoothie recipe into a make ahead smoothie.
Just leave the liquid out of the recipe and freeze everything else!
You're ready to make some healthy smoothie freezer packs! Let's do this.
Four Healthy Smoothies to Make Ahead
These are four different very different healthy smoothies that you can make ahead. Find your favorite or customize and create your own!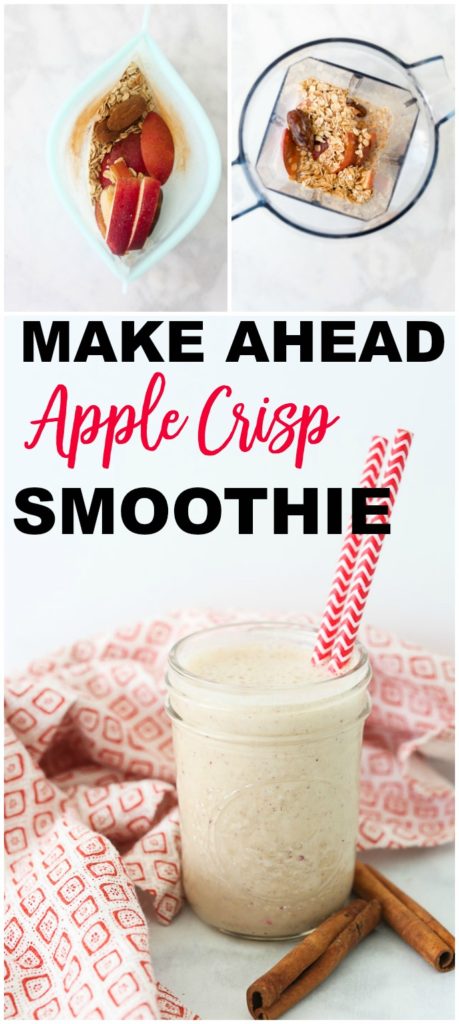 This Apple Crisp smoothie has oats, apple, dates, and cinnamon, and tastes like dessert in smoothie form! Chia seeds add some extra protein.
Print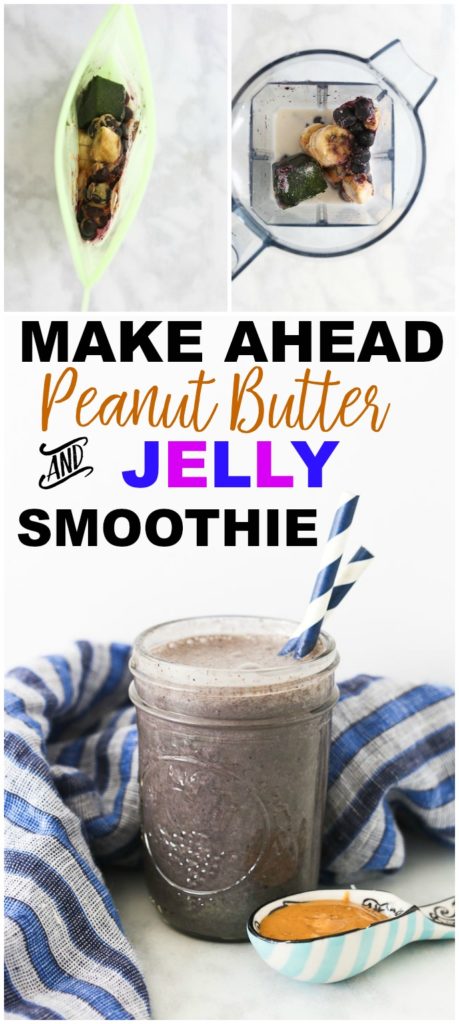 You can't go wrong with blueberries and peanut butter! This is a classic that I love.
Print

Sweet and tart, this is a refreshing smoothie to start your day!
Print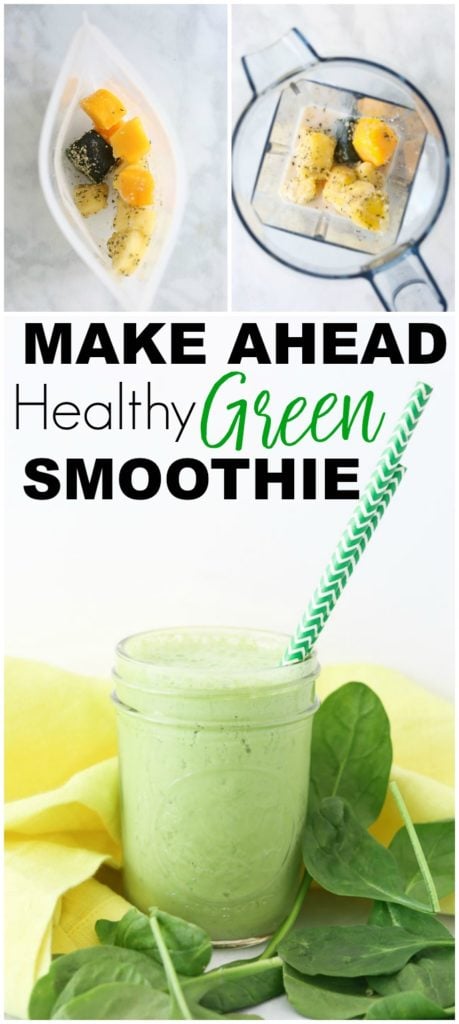 Pineapple and mango make this green smoothie sweet and creamy!
Print
Let me know if you try any of these make ahead smoothies!