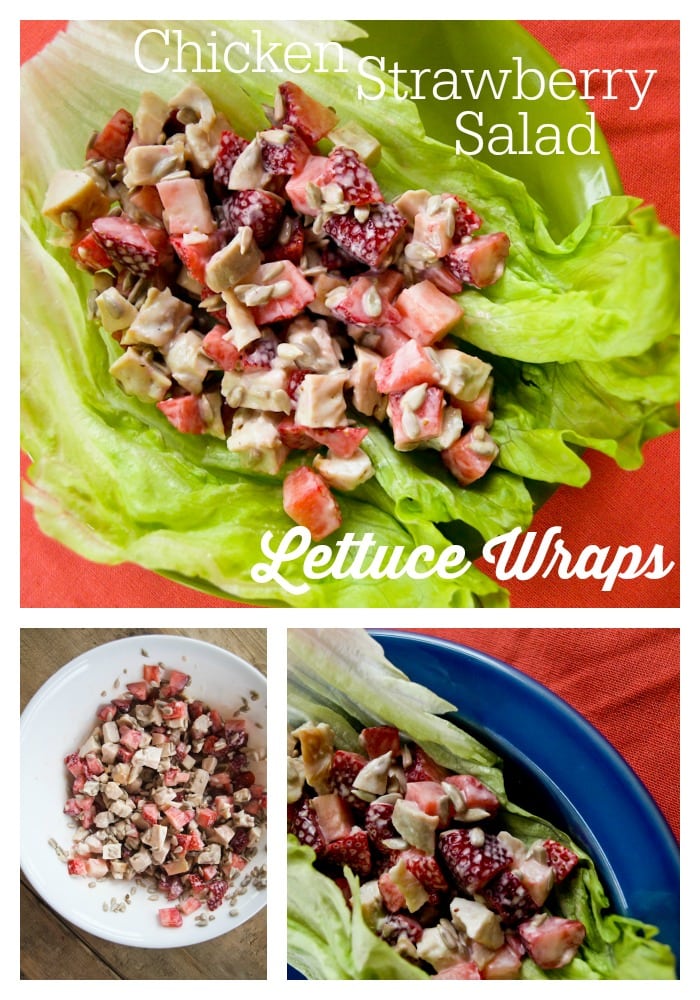 You know what I love about spring?  Of course I love how the warmer weather lets us get outside more, when the grass turns green, and how the flowers bloom.  I love all of those things.
But I also love how our food lightens up with the weather.  Temperatures start rising and I automatically start craving fresher, lighter foods.
Hello, chicken strawberry salad lettuce wraps.  And you thought Asian flavors had the monopoly on lettuce wraps.  Not so, my friends, not so.
Strawberries aren't quite in season here, but soon enough I'll be getting them in my CSA box and going strawberry picking.  With only 7 simple ingredients, I know I'll be eating these chicken strawberry lettuce wraps all spring and summer long.  You should, too!
Chicken Strawberry Salad Lettuce Wraps
Makes 3-5 lettuce wraps, depending on the size of your lettuce leaves
3-5 iceberg lettuce leaves
1 cup cooked cubed chicken
1 cup diced strawberries
1/3 cup sunflower seeds
for the dressing
2 1/2 tablespoons mayonnaise 
1 tablespoon lime juice
1 tablespoon honey
In a medium bowl, whisk together the mayonnaise, lime juice, and honey.  Add the chicken, strawberries, and sunflower seeds and mix everything together.  Evenly divide the mixture between your lettuce leaves.  Enjoy!
I hope everyone is having a great week!