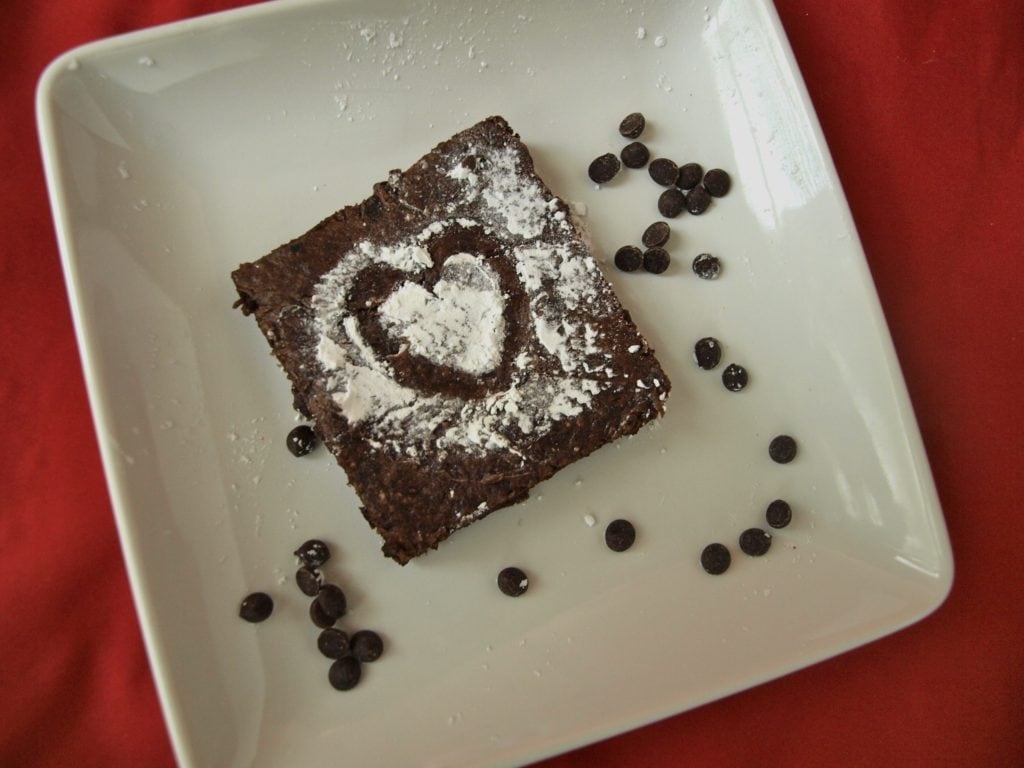 Happy Fat Tuesday!  It's a little weird to have a "healthy" dessert for you on Fat Tuesday of all days.  With Fat Tuesday and Valentine's Day this week, I knew I had to bring you a chocolate recipe.  And I guess I just can't help myself, I went and made it healthy.
So what is it about this brownie that earns it the title World's Healthiest Brownie?  That quite a statement, right?  All right, let's talk about the ingredients.
Black beans.  Probably not a new thing to many of you as there are countless recipes out there for black bean brownies.  I first made a version of black bean brownies about 3 years ago and was happy that even Tim approved.  Black beans work really well in brownies, adding a level of moisture and fudge-iness, not to mention fiber, iron, calcium, folate, and manganese.
Avocado.  I cut out all butter or oil and added avocado as the fat in this recipe.  So now instead of just (healthy!) fat, we're getting more fiber, vitamin C, vitamin K, potassium, and magnesium.
No flour.  Yep, I cut out the flour.  There are some rolled oats, which give us even more fiber (have I mentioned these are high in fiber?), protein, manganese, zinc, and selenium.
Flax.  Instead of eggs, I used flax for this recipe.  The flax seeds add fiber, tons of minerals including calcium and iron, and the all-important omega-3 fatty acid.
So with all that healthiness, can these actually taste good?  I'm not delusional when it comes to healthy desserts.  These don't taste exactly like a regular, white flour, butter,  loads of sugar brownie.  But I had a hard time eating just one.  And my four-year-old said they were "suuuuper duuuper delicious!" so they work for this family.  They are fudge-y, rich, and chocolatey.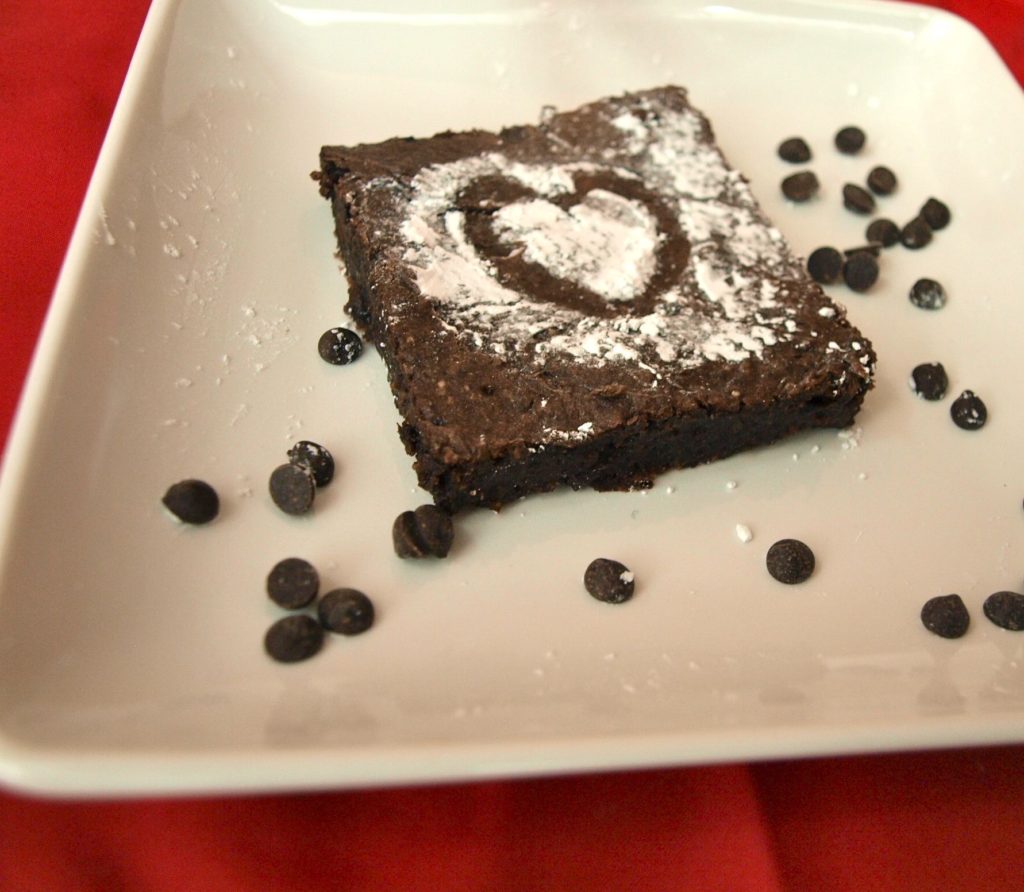 So go ahead and eat your brownie and get your nutrients, too.
The World's Healthiest Brownie
These vegan, gluten-free brownies utilize black beans, avocado, and flax to make an ultra-healthy, fudge-y treat!  You can feel good about eating these healthy brownies for dessert everyday. 
Makes 1 9X9 pan of brownies
1/3 cup quick cooking rolled oats
3/4 cup cooked black beans
1/2 cup mashed avocado (about 1 avocado)
1/4 cup cocoa powder
2 tablespoons ground flaxseed meal+6 tablespoons water
1 teaspoon pure vanilla extract
2/3 cup sugar
1/2 cup mini chocolate chips, divided (I use Enjoy Life brand, which is dairy-free and soy-free)
1/2 teaspoon salt
1/2 teaspoon baking powder
powdered sugar for dusting, optional
Preheat the oven to 350 degrees.  Grease a 9X9 inch pan and set aside.  In a small bowl, mix together the ground flaxseed meal and water and set aside to give it time to form a gel.
In a food processor, process the oats until they are a crumb.  Add the beans and process until very smooth.
Melt half of the chocolate chips (I do this in the microwave–30 seconds and then stir, additional 10 second increments as necessary.)
Next add the avocado, cocoa powder, flaxseed mixture, vanilla extract, sugar, and melted chips to the food processor and again process until smooth.
Add the salt and baking powder and pulse the processor until they are incorporated.  Stir in the remaining chocolate chips.
Transfer the batter to the greased 9X9 pan and use a spatula to smooth it out and distribute it evenly.  Bake in the preheated oven 22-26 minutes, depending on your desired level of doneness.  22 minutes yields a gooey brownie, which is just how I prefer them.  Allow to cool before slicing, dust with powdered sugar if you prefer, and then store in the refrigerator.  Enjoy!
While these are delicious warm right out of the oven, I think the texture and taste actually improves the next day.  I think you'll agree if they last that long in your house!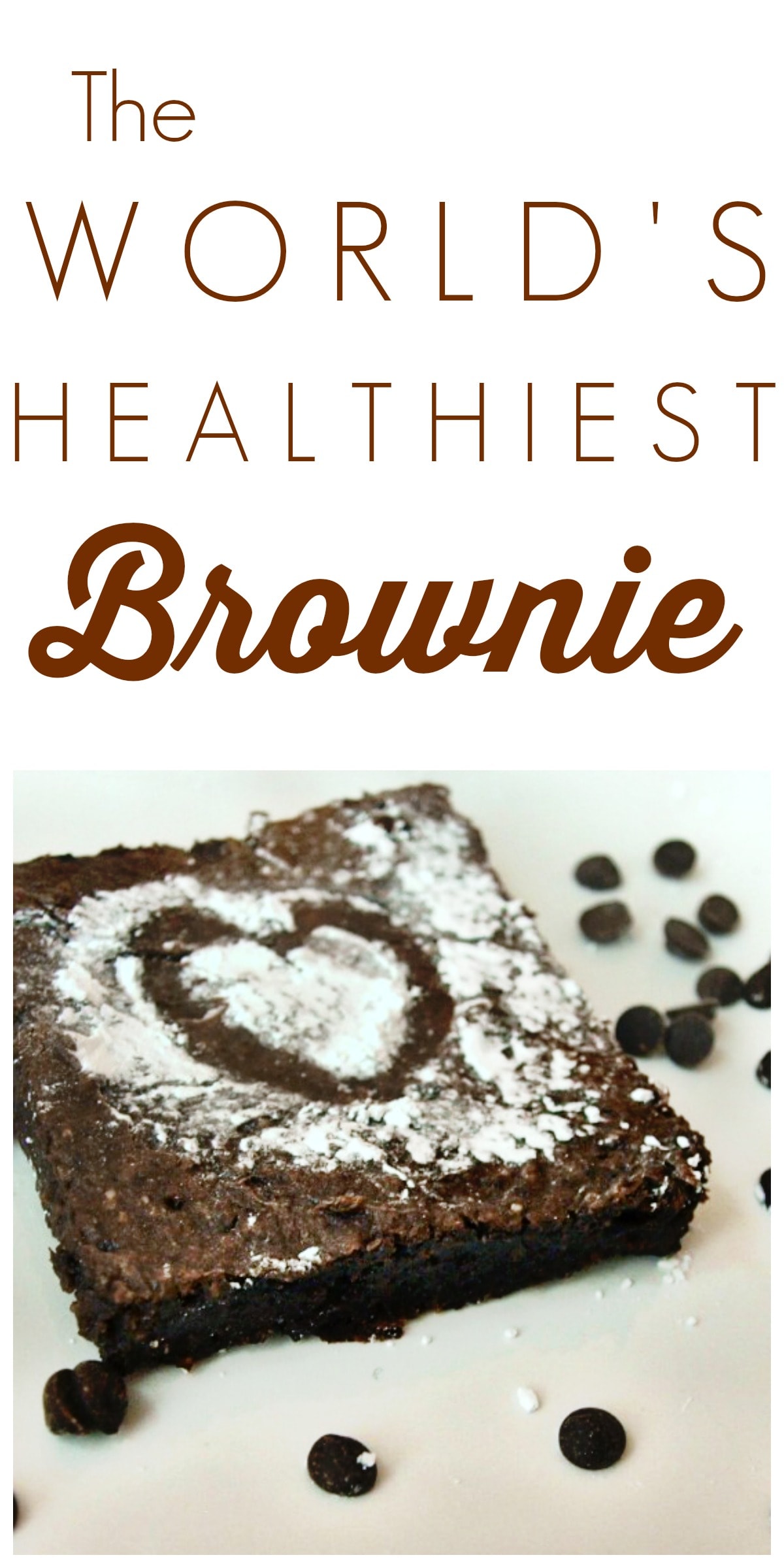 Reader Feedback:  What is your favorite "healthy" dessert?