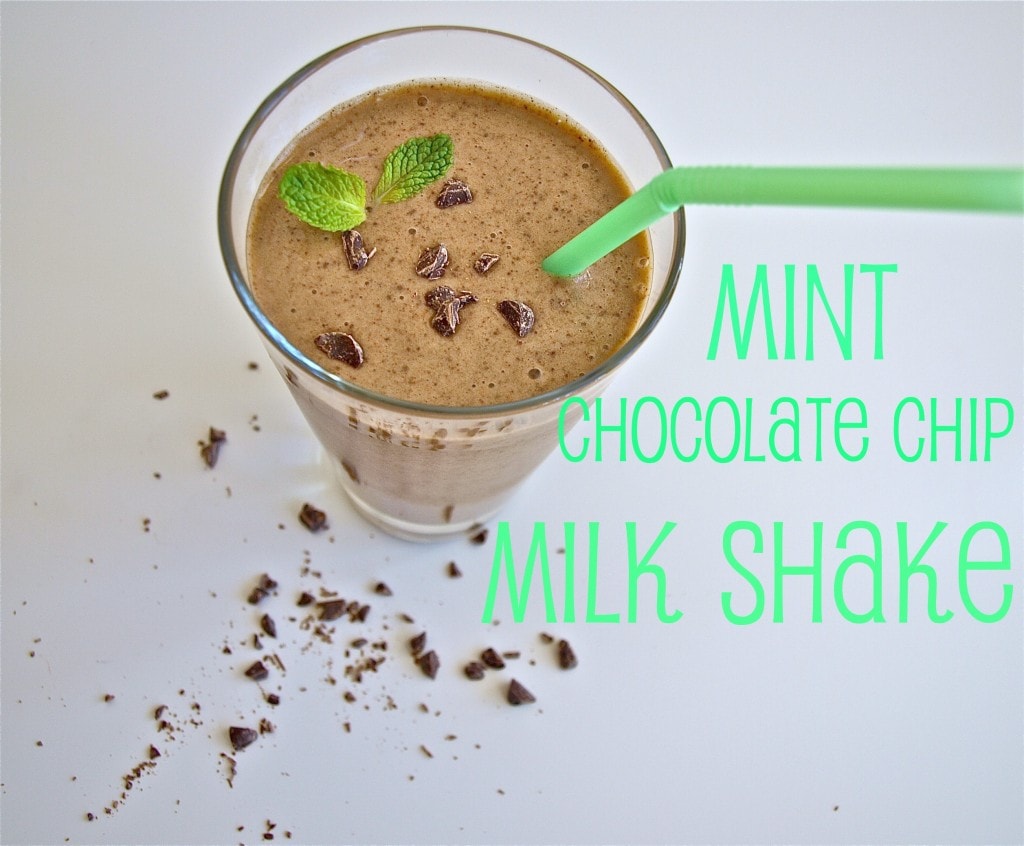 Is is possible to have a milkshake that is low in calories and sugar that actually tastes good?  You're looking at one.  This is a fake-out milkshake that's actually totally vegan.  It gets its creaminess from frozen bananas and I used unsweetened vanilla almond milk for the milk.  Any milk will work for this recipe whether you drink cow's milk, goat's milk, soy, coconut–get creative!  Different milks may alter the flavor a bit, but it will still be delicious.
This recipe came about when I was trying to figure out what to do with my leftover fresh mint after making the Mango and Avocado Coleslaw with it.  I immediately thought of one of Tim's favorite ice cream flavors:  mint chocolate chip.  I set out to create a sweet, satisfying milkshake-like drink that was still on the healthy side of things.  It totally fits the bill.  One serving of this milkshake is only about 150 calories and has 15 grams of sugar (some of which comes from the bananas, of course).
There is a very subtle banana flavor, but it isn't overpowering at all.  The fresh mint makes it so refreshing and the chocolate flavor is just enough.  You will really think you are drinking one of those Baskin-Robbins' milkshakes.  You know the ones that make you gain 15 pounds just by looking at them?   Have one of these instead.  I can't think of a better weekend treat.  It's totally worth the extra trip to the grocery store for fresh mint.  Go ahead; you know you want to!
Healthy Mint Chocolate Chip Milkshake
Inspired by this recipe on Chocolate Covered Katie
Makes ~3 servings
3 medium or large frozen* bananas
1 1/3 cup unsweetened vanilla almond milk
1/4 cup fresh mint leaves, lightly packed, or to taste (I thought this was just right, but start with less if you prefer and add to your preference)
1/4 cup semi-sweet vegan chocolate chips
*To freeze bananas, simply peel the banana and place it in the freezer in a plastic bag or glass container.
Coarsely chop your mint leaves and cut your bananas into small chunks.  Put the almond milk, bananas, milk, and mint leaves in a blender.  Blend until smooth.  I tried not to make it completely smooth because I enjoy the small chocolate chip pieces.  You decide how smooth you want it!  Serve immediately.
Have a happy, healthy weekend!