Do you have a favorite meal that you adore, but never make at home? A meal that you'll order anytime you see it on a restaurant menu, yet have never thought to recreate in your own kitchen? That was fish tacos for me. I love fish tacos, but until 100 Days of Real Food:Fast and Fabulous showed up on my doorstep, I'd only eaten them at a restaurant.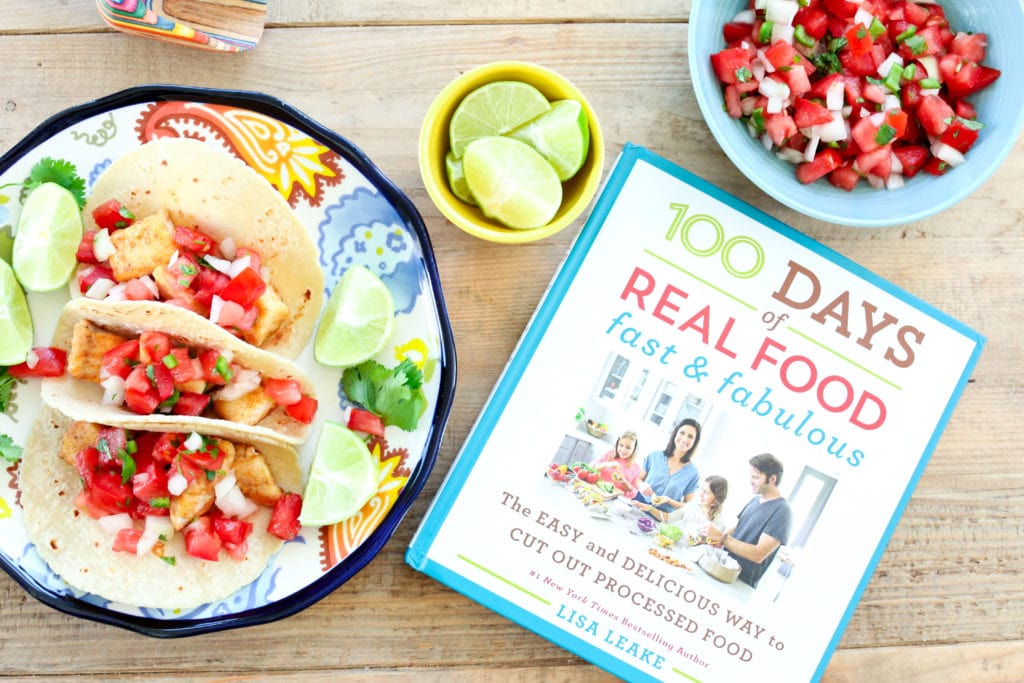 What a mistake. This fish tacos recipe is exactly what the title of the cookbook implies: it's both fast and it is undeniably fabulous. I'm kicking myself for waiting so long to make a fish tacos recipe at home!
You're familiar with the popular blog, 100 Days of Real Food, right? Lisa Leake's blog is an amazing resource for anyone who is looking to ditch processed foods and serve their family more whole food meals and snacks. I have and love Lisa's first cookbook, 100 Days of Real Food: How We Did It, What We Learned, and 100 Easy, Wholesome Recipes Your Family Will Love, which is a New York Time's Bestseller. I jumped at the chance to be an ambassador for her second cookbook, 100 Days of Real Food: Fast and Fabulous: The Easy and Delicious Way to Cut out Processed Food. (affiliate links)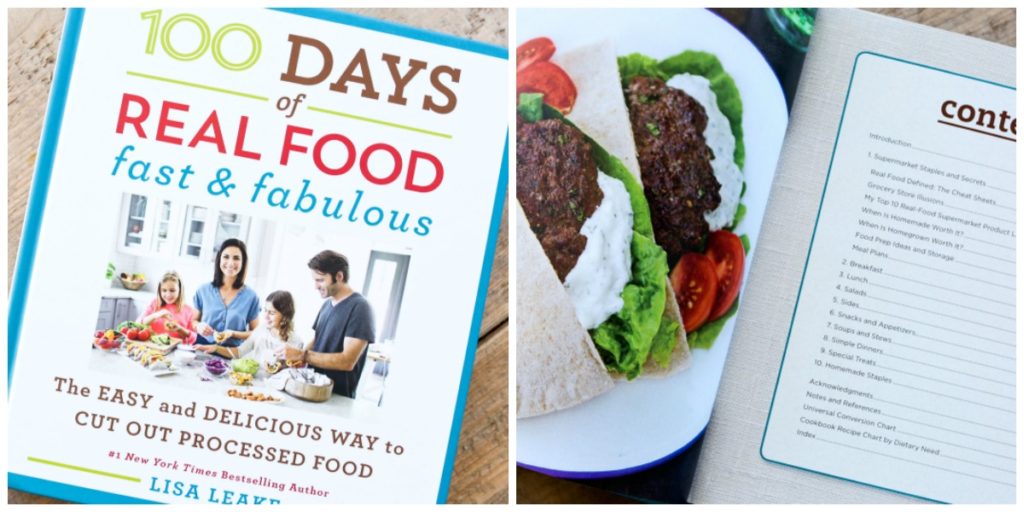 This recipe for fish tacos comes from her second cookbook, which just came out! This cookbook is full of recipes that are super fast and your whole family will love. These are the recipes that will become staples in your home, just like this fish tacos recipe is going to be for our family after making it once. Trust me–you want this cookbook.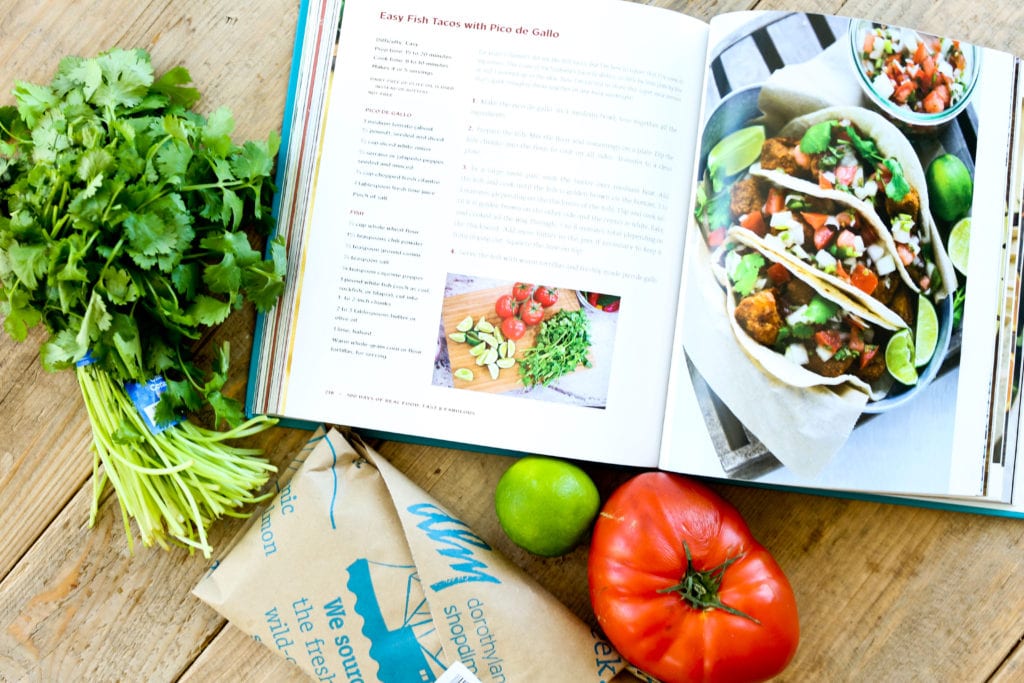 I am giving away a copy of 100 Days of Real Food: Fast and Fabulous: The Easy and Delicious Way to Cut out Processed Food,  so make sure you scroll to the bottom of this post after the recipe to see how you can enter to win! 
Let's get back to the fish tacos recipe. Even though this would typically be a dinner recipe for us, I made it for lunch so I'd have good lighting for the photos. It was just as fast as promised and super easy to make.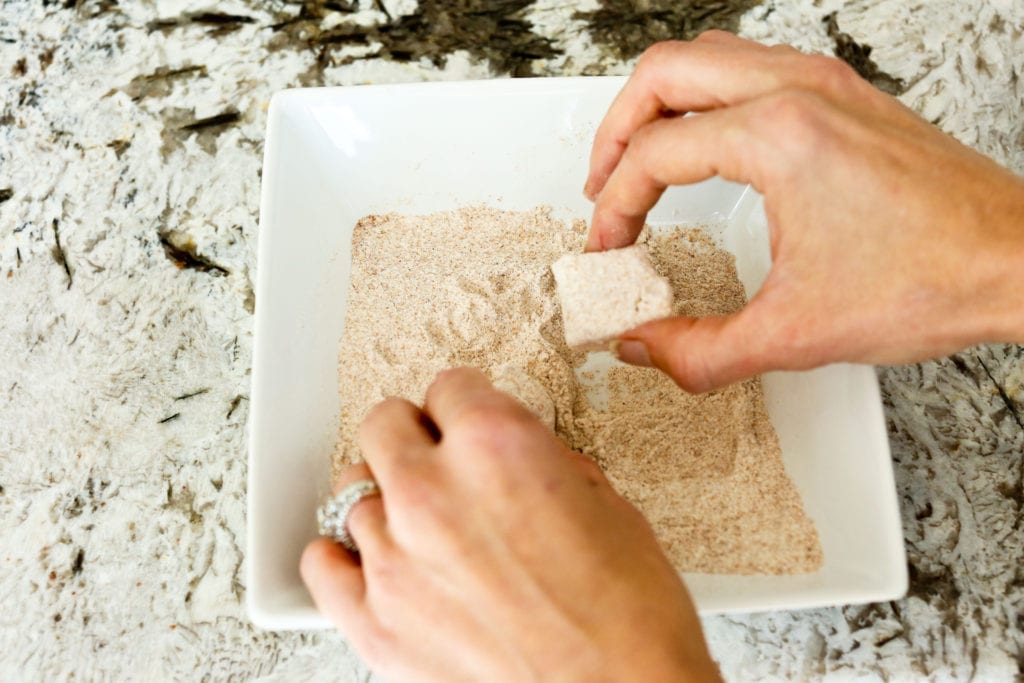 I used kitchen shears to cut the fish into pieces and then coated it in whole wheat flour and some spices. You could absolutely use a gluten-free flour if needed here. Then you pan fry it in butter or oil and the fish cooks very quickly.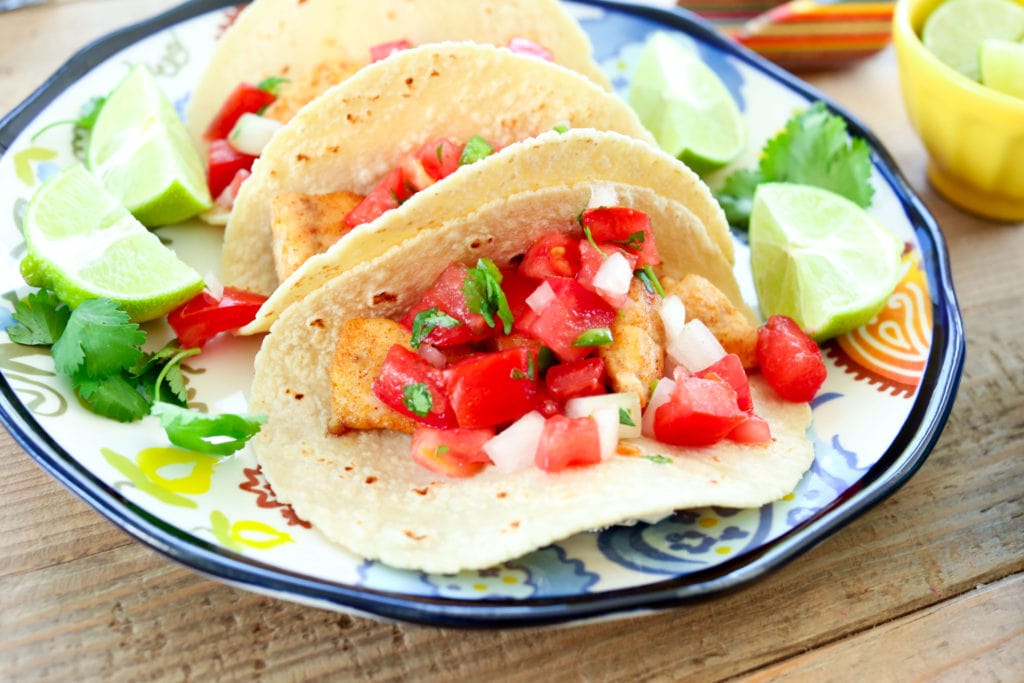 We used corn tortillas, but you can use regular flour tortillas also. The fish is topped with a homemade pico de gallo which is also quick and easy to make. The result? Easy, fresh, and flavorful! I'm so excited to have this recipe in my easy weeknight meal arsenal.
My kids, as I've lamented many times, don't typically eat foods together. I served them the fish on the tortillas, but they quickly deconstructed them and ate the tortillas separately.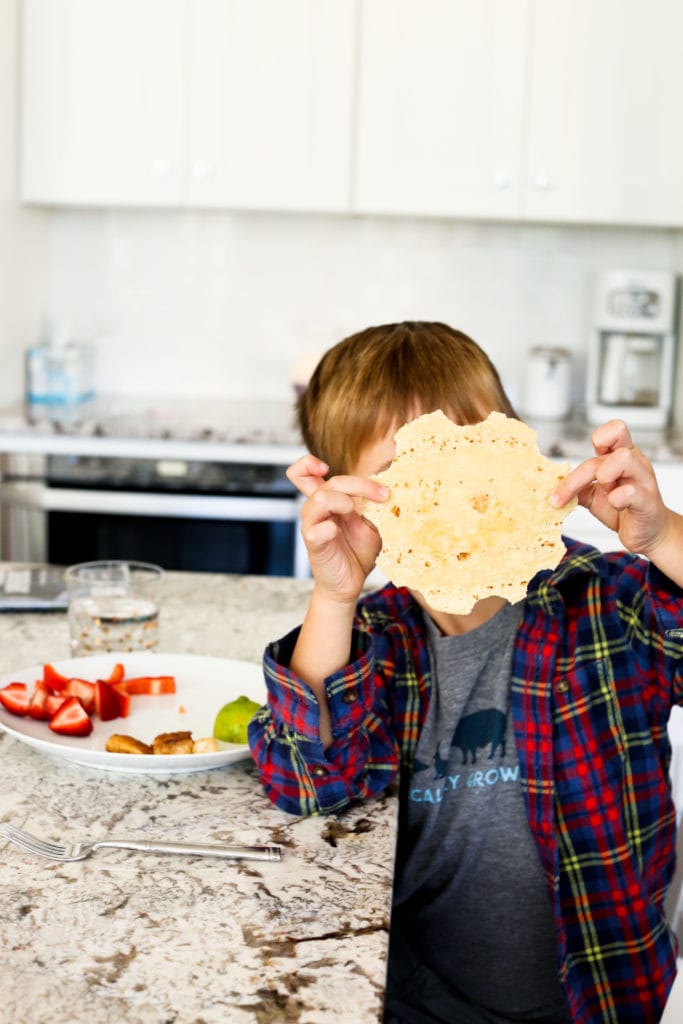 The good news is that they did eat the fish, even though not in taco form. I am starting to wonder if they are going to be eating their foods deconstructed their whole lives?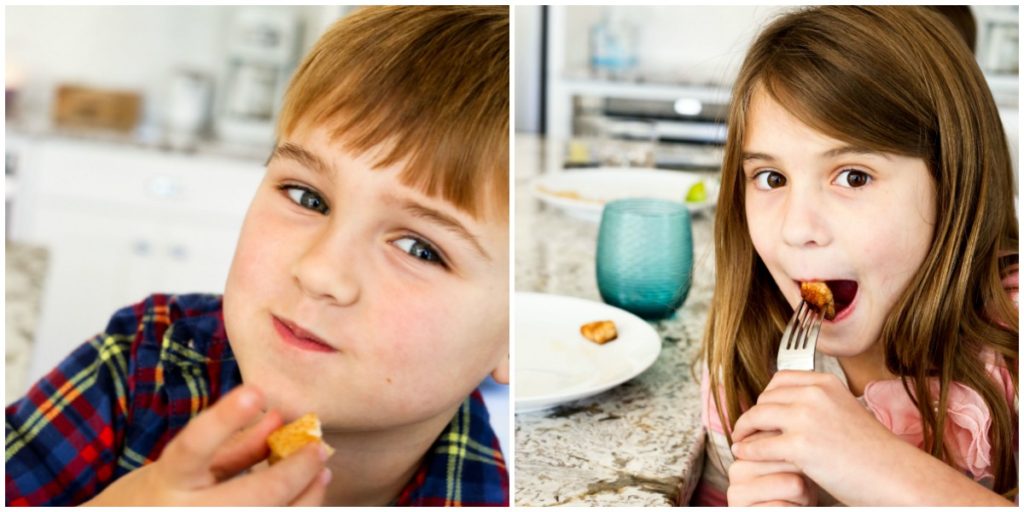 I guess I shouldn't complain how they are eating their food, as long as they are eating fresh, wholesome food!

Fish Tacos Recipe
Author:
from 100 Days of Real Food: Fast and Fabulous
Prep time:
Cook time:
Total time:
Ingredients
PICO DE GALLO
1 medium tomato (about ½ pound), seeded and diced
½ cup diced white onion 1/2 serrano or jalapeño pepper, seeded and minced
¼ cup chopped fresh cilantro
1 tablespoon fresh lime juice
Pinch of salt
FISH
½ cup whole wheat flour
1½ teaspoons chili powder
½ teaspoon ground cumin
½ teaspoon salt
⅛ teaspoon cayenne pepper
1 pound white fish (such as cod, rockfish, or tilapia), cut into 1- to 2-inch chunks
2 to 3 tablespoons butter or olive oil
1 lime, halved
Warm whole-grain corn or flour tortillas, for serving
Instructions
Make the pico de gallo: In a medium bowl, toss together all the ingredients.
Prepare the fish: Mix the flour and seasonings on a plate.
Dip the fish chunks into the flour to coat on all sides. Transfer to a clean plate.
In a large sauté pan, melt the butter over medium heat.
Add the fish and cook until the fish is golden brown on the bottom, 3 to 4 minutes (depending on the thickness of the fish).
Flip and cook until it is golden brown on the other side and the center is white, flaky, and cooked all the way through, 7 to 8 minutes total (depending on the thickness).
Add more butter to the pan if necessary to keep it from drying out. Squeeze the lime on top.
Serve the fish with warm tortillas and freshly made pico de gallo.
We all loved this meal and I'm excited to make more recipes from 
100 Days of Real Food: Fast and Fabulous: The Easy and Delicious Way to Cut out Processed Food
. I have an extra copy of this great cookbook to giveaway to one of you! All you need to do is
leave a comment
and you are entered to win. You must have a US shipping address to be eligible.
I will announce the randomly selected winner right here on this post next Monday, October 31st.
Edited to add: Tara Marconi is the winner! This giveaway is now closed. 
Do you like this post? Let's keep in touch on social media! You can follow me on Facebook, Instagram, and Pinterest. I also send out a weekly newsletter where I share healthy living tips, recipes, and inspiration. Enter your email address in the box below and I'll send you my Top 10 N0-Bake Snacks Recipe eBook as a thank you for subscribing!