Some of you who have been following my blog might be thinking, "Wait a minute! I thought this was a vegan blog!".  Please allow me to clarify any misconceptions.  While my husband and I challenged ourselves to eat vegan for a month in January, I am not a true vegan.   I consider myself more of a flexitarian.  I think eating a plant-based diet is the healthiest way to live and I strive to eat 90% vegan, but old habits die hard and I haven't been able to give up 100% of animal products.  Cheese, without a doubt, is the hardest to give up, although I have cut back on that indulgence drastically since our vegan challenge. Because my husband loves meat, I prepare him a meat (usually chicken or turkey) dinner approximately once per week.  Sometimes I eat a small portion of the meat, maybe two ounces, other times I don't.  I also occasionally eat fish, as you can tell from the title of this post.
Whenever I don't feel much like cooking, I turn to my oven.  Roasting foods is an easy way to create a delicious dinner with minimal prep.  Roasting vegetables produces a deep, concentrated flavor that is difficult to beat.  Roasted vegetables are perfect during the chilly fall or freezing winter months, but also work on a rainy, spring day like today.  Roasted vegetables can go with just about anything.  I often toss them with whole wheat linguine with just a little olive oil and maybe a squeeze of fresh lemon.  They are a great side dish that can round out any meal, as well.  It's a great way to use up the hodgepodge of leftover veggies in your fridge at the end of the week.
I prefer to keep small portions of fish in my diet because I feel that is the best source of the all-important omega-3 fatty acids.  While you can get omega-3's from plant sources, such as flaxseeds, the omega 3's in plants come in the form of ALA, which our bodies cannot efficiently convert to the types the experts agree are most beneficial:  EPA and DHA, both of which are found in fatty fish such as salmon.
There is a legitimate concern, however, about mercury content and contaminants found in fish sources today.  In order to ensure I am eating the purest fish possible, I avoid farm-raised salmon and only purchase wild Alaskan salmon.  While no fish is going to be 100% pure, wild Alaskan salmon is the closest you will find, with much higher levels of omega 3's than farmed.  Farmed salmon are injected with chemicals, artificial coloring, and antibiotics.  No thanks!
Price, however, can become a serious issue. My beloved local grocery store, Dorothy Lane Market, prices their wild Alaskan salmon at a cool 32 bucks a pound.  Wowzers.  Needless to say, we didn't have any salmon at our house for quite a while.  Then I discovered these frozen wild salmon fillets at Wal-Mart. Now, obviously fish that has never been frozen has superior taste to fish that has been frozen, but at $4.00 a pound, I am willing to sacrifice a little taste.
Tonight's dinner was truly a result of using up the last of the groceries before my weekly trip to the store to restock.  I had the salmon in the freezer, a bunch of random vegetables to use up, and picked the sauce based on what I had on hand.  The Dill-Tahini sauce I used is a slight variation from a recipe in Veganomicon. It paired well with the salmon even though it clearly was not created to be a sauce for salmon.  I made the sauce at lunch time so that dinner preparation would go even faster.
Print
Dill-Tahini Sauce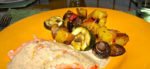 A delicious sauce to accompany some salmon!
Author:
Prep Time:

5 minutes

Cook Time:

0 minutes

Total Time:

5 minutes

Yield:

10

servings

1

x
Category:

Condiment

Cuisine:

American
Scale
Ingredients
1/2 cup

room temperature tahini*

1/2 cup

room temperature water

1

clove garlic, minced
juice of

one

lemon

2 tablespoon

s olive oil

1 tablespoon

balsamic vinegar

1/2 teaspoon

paprika

1/4 teaspoon

salt

1/8

generous cup dried dill weed
Instructions
Combine all ingredients in a blender or food processor and blend it until smooth.  Serve at room temperature.
Notes
*If you aren't familiar with tahini, it's sesame seed paste, and very delicious!  You can find it in either the Asian or health food section of your supermarket.  It's great on sandwiches, in soups, or as a base for dips and sauces.
Nutrition
Serving Size:

1 serving

Calories:

205

Sugar:

0.5g

Sodium:

113mg

Fat:

18g

Carbohydrates:

4g

Protein:

7.1g
I didn't use a recipe for the salmon or vegetables, but I will give you a rough idea of the process (very easy!).
Print
Basic Roasted Vegetables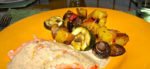 A delicious roasted vegetable side dish
Author:
Prep Time:

10 minutes

Cook Time:

50 minutes

Total Time:

60 minutes

Yield:

2

servings

1

x
Category:

Side Dish

Cuisine:

American
Scale
Ingredients
approximately

1

pound Yukon gold potatoes, cut into

1

-inch wedges

1

large red bell pepper, cut into

2

-inch pieces

1

medium zucchini, cut into thick slices

8 oz

. white mushrooms, halved
olive oil
salt
pepper
rosemary
thyme
Instructions
Preheat oven to 425 degrees.  Place prepared veggies in large baking dish.  Drizzle with olive oil.  Sprinkle with sea salt, freshly ground black pepper, and dried spices of your choice.  (Today I used rosemary and thyme)  Roast in the oven, uncovered, for 40-50 minutes, until vegetables are browned and vegetables are tender.  (Check the potatoes as those take the longest to cook)  You can roast just about any vegetable, so be creative with your choices and combinations.
Nutrition
Serving Size:

1 serving

Calories:

252

Sugar:

9g

Sodium:

649mg

Fat:

3g

Carbohydrates:

66g

Protein:

9g
Keywords: roasted vegetables
Print
Roasted Salmon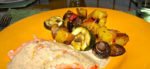 Author:
Prep Time:

5 minutes

Cook Time:

15 minutes

Total Time:

20 minutes

Yield:

2

servings

1

x
Category:

main meal

Cuisine:

American
Scale
Ingredients
4

–

4

oz. salmon fillets
juice from

1/2

lemon
salt
pepper
olive oil
Instructions
Preheat the oven to 425 degrees (mine was already preheated and had veggies cooking).  Lightly oil a baking dish and place your fillets in the dish.  Lightly brush a small amount of olive oil on each fillet.  Sprinkle the fillets with kosher salt and freshly ground black pepper.  Squeeze the lemon so the juice is evenly distributed among the fillets.  Place in oven and cook approximately 15 minutes, until salmon easily flakes with a fork.
Nutrition
Serving Size:

1 serving

Calories:

484

Sugar:

1g

Sodium:

72mg

Fat:

2.5g

Carbohydrates:

0.8g

Protein:

45g
This was enough to feed me, my husband, and my 18-month-old daughter.  Tim ate 3 of the fillets and Meghan and I shared the fourth.  We all polished off the vegetables.  I tend to think we have larger appetites than the average family, so if you have a bigger family this may be plenty for you.