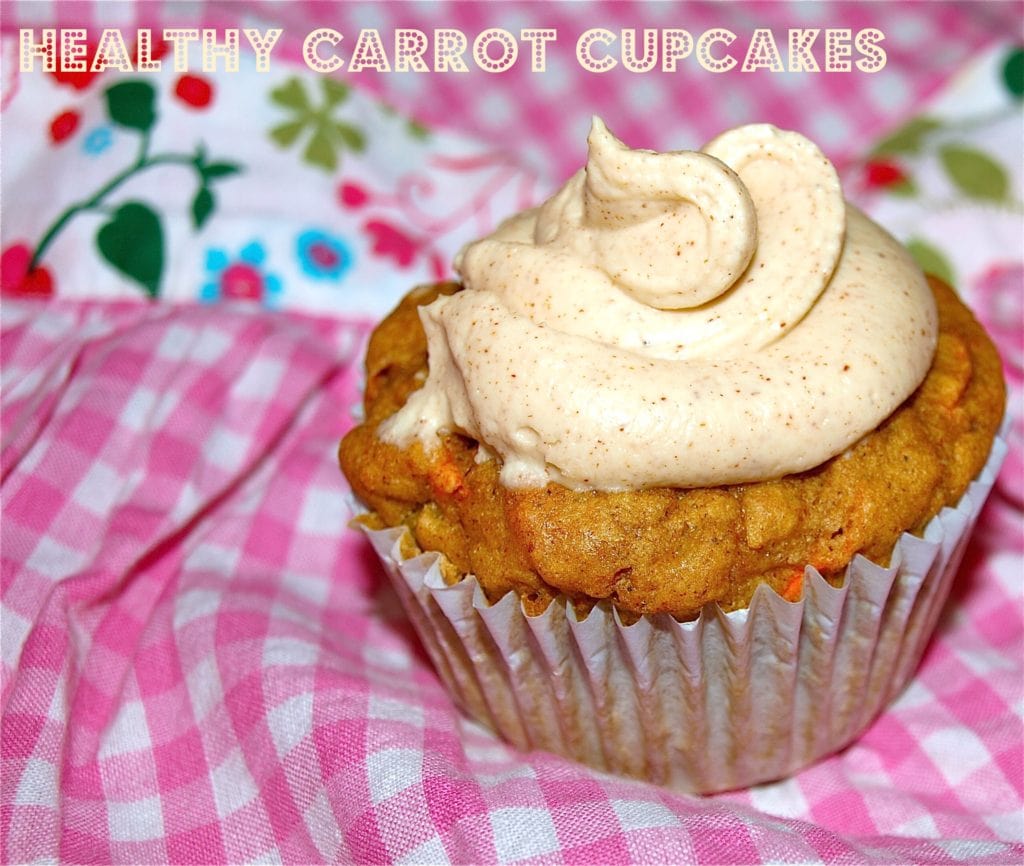 There are a million (maybe more!) carrot cake and carrot cupcake recipes on the Internet.  You will have no trouble finding one if you look.  What there aren't so many of are healthy carrot cupcake recipes .  I know what you're thinking, but having carrots in it doesn't automatically qualify it as healthy.  You know who you are.  Most of the recipes for carrot cupcakes have the two main ingredients I usually avoid when baking:  white flour and refined sugar.
So I set out to make a healthier version of an old favorite.  I used white whole wheat flour instead of regular old white and sweetened it with just a tinge of maple syrup.  These carrot cupcakes are definitely not overly sweet, but it works.  Traditional cupcakes can be a bit much, so for me the sweetness level is perfect.  While I don't usually shy away from fats, I decided not to use oil in these.  My purpose was to keep the calorie count in check as I knew I was going to top my cupcake with cream cheese frosting.  So unsweetened apple sauce stands in where the oil would be, which makes a moist, almost muffin-like cupcake.  (Not to be confused with a muffcake!)
Speaking of frosting, the maple-cinnamon cream cheese frosting I created for these cupcakes is amazing.  Again I used maple syrup as my sweetener of choice and the result was fantastic.  Trust me, I love traditional cream cheese frosting with the 2+ cups of powdered sugar.  I think that's why I fell in love with carrot cake in the first place.  But this maple syrup sweetened cream cheese frosting does the trick.
This is a cupcake that I can feel good about Meghan eating and would be perfect for a 1st birthday cake.  I might even call this a legit breakfast.  Go ahead; when your cupcake is healthy, you can eat it for breakfast.
Carrot Cupcakes with Maple Cream Cheese Frosting
For the Cupcakes
1 1/2 cups white whole wheat flour
1 1/2 teaspoons baking powder
1/2 teaspoon baking soda
1 1/2 teaspoon cinnamon
1/2 teaspoon ground ginger
1/2 teaspoon ground nutmeg
3/4 teaspoon salt
2 eggs
2/3 cups unsweetened applesauce
1/3 cup maple syrup
2 teaspoon pure vanilla extract
1/4 cup crushed pineapple, drained
2 cups shredded carrots
For the Frosting
8 ounces organic cream cheese, at room temperature
4 tablespoons maple syrup
1 teaspoon pure vanilla extract
1 teaspoon cinnamon
Preheat the oven to 350 degrees.  Line muffin tins with paper liners and spray with non-stick cooking spray.
In a medium bowl, whisk together the flour, baking powder, baking soda, cinnamon, ginger, nutmeg, and salt.  Set aside.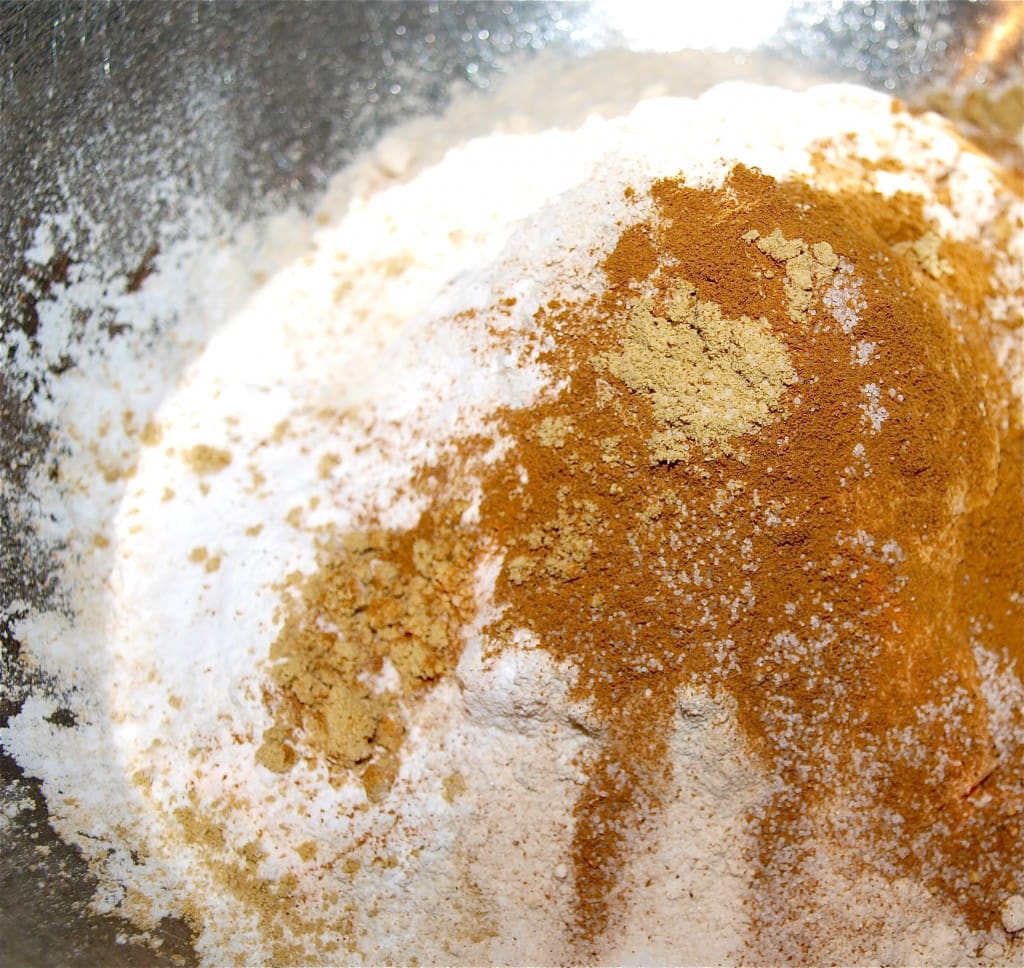 In a separate bowl, whisk together the eggs, applesauce, maple syrup, and vanilla.  Stir in the pineapple and carrots.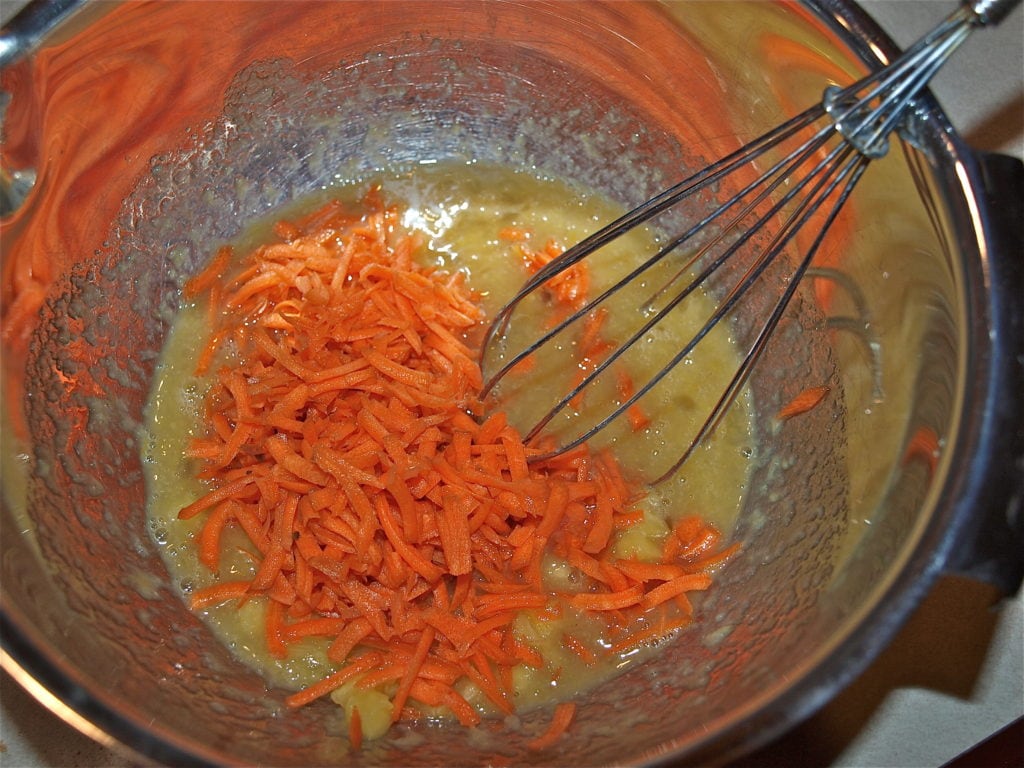 Combine the wet and the dry ingredients and stir until mixture is smooth.
Spoon approximately 1/3 cup of the batter into each muffin liner.  Bake for 22-25 minutes, until a toothpick comes out clean.  Allow to cool on a rack before frosting.
While cupcakes are cooling, prepare the frosting:
In a medium bowl, beat together the cream cheese, maple syrup, vanilla and cinnamon until smooth and whipped.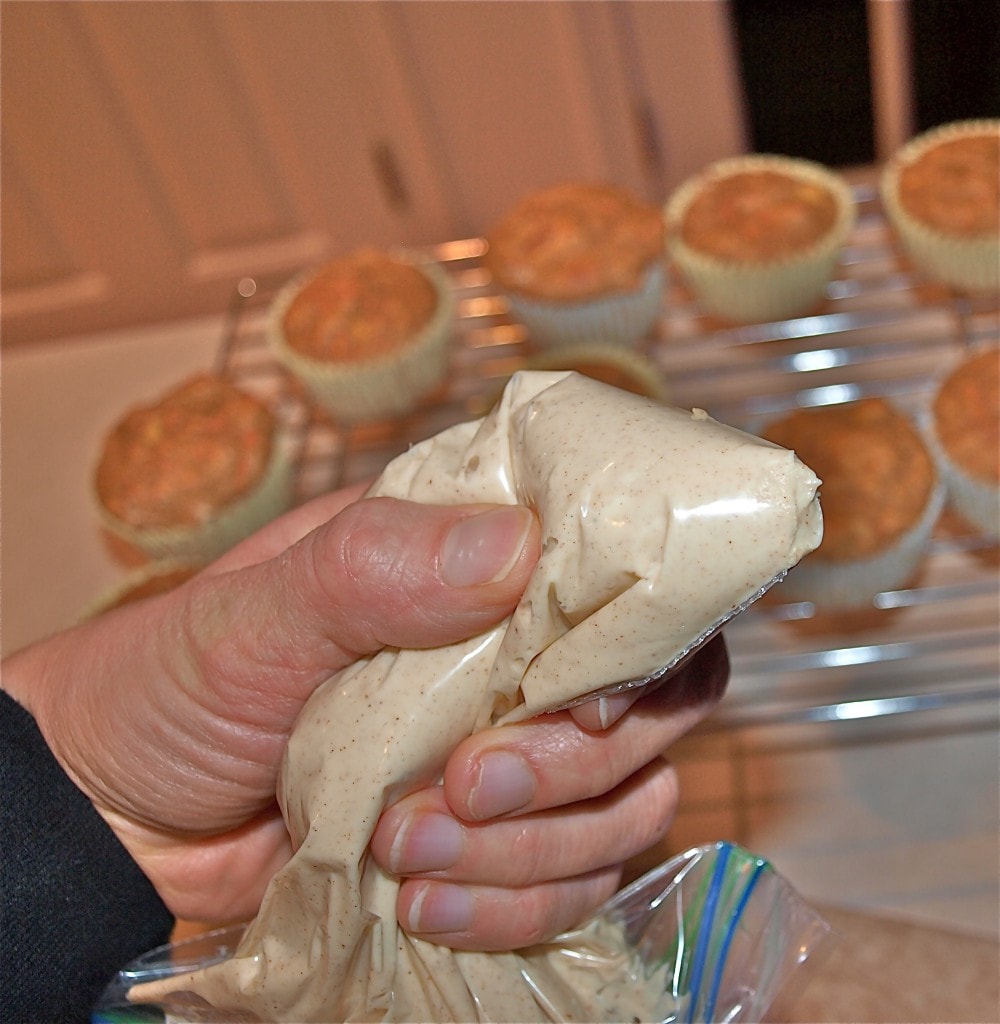 Happy Healthy Mama Tip:  to frost your cupcakes, you can make them pretty by creating a make-shift pastry bag.  Just snip the end of a plastic sandwich bag, put the frosting inside, and squeeze it out onto the cupcake.  Easy!
And yes, I know that I could use a manicure.  Who has time for that with cupcakes to bake?