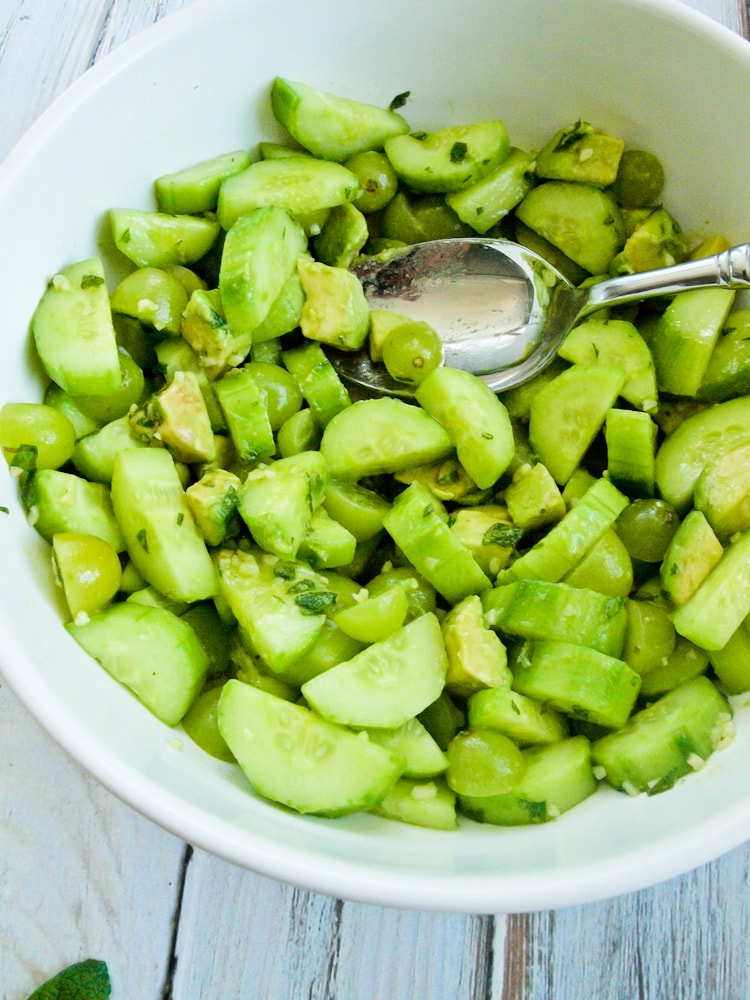 We have a local grocery store where, if you go the right day and the right time, you can make a full meal, including dessert, out of their sample offerings.  Whenever I tell the kids we are going to the grocery store they ask, "Which store?  Dorothy Lane Market?"
They know.  They know if we go to Kroger they aren't going to have the same grocery-shopping experience.  (Although my wallet thanks me when we do.)
This salad comes from one of those famous samples.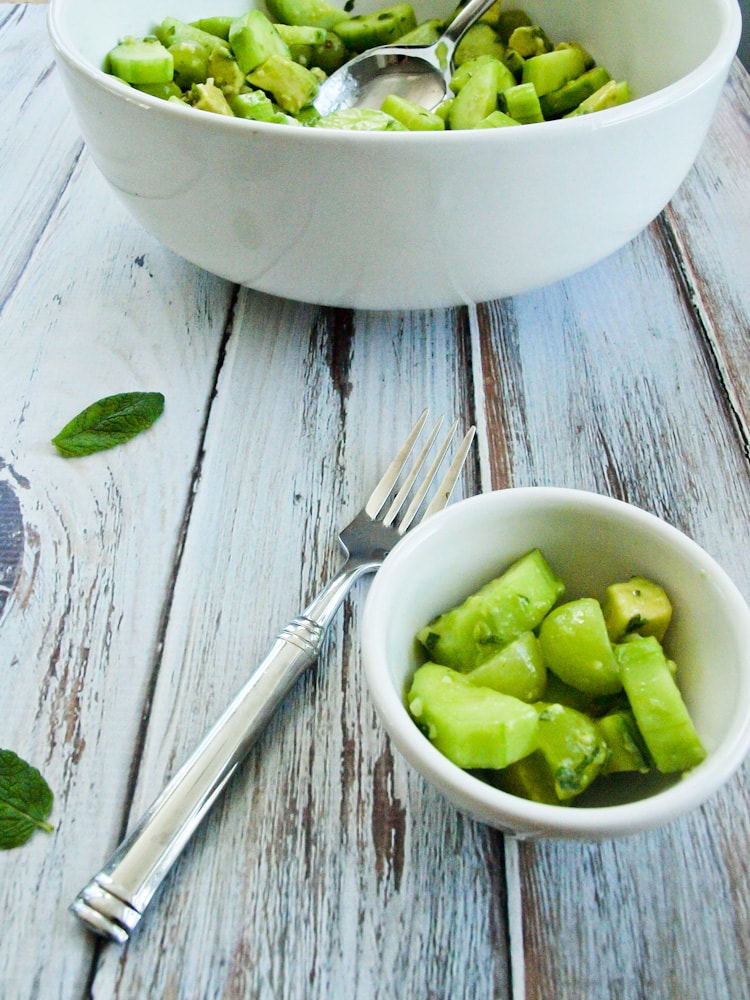 The Dorothy Lane salad was a Cucumber Salad with Grapes and with the sample came a typed up recipe card so I could see exactly what went into it. While I liked their salad, I thought it could use a little tweaking. First, I added avocado for contrasting texture. The cucumbers and grapes are both crisp and I wanted a creamy element. The Dorothy Lane salad used a simple oil and vinegar dressing, which I amped up by increasing the garlic and adding some some fresh mint from my container garden (new this year! I'm actually growing something!).
I love the result.  This salad is fresh and satisfying with a lovely flavor.  I hope you love it as much as I do!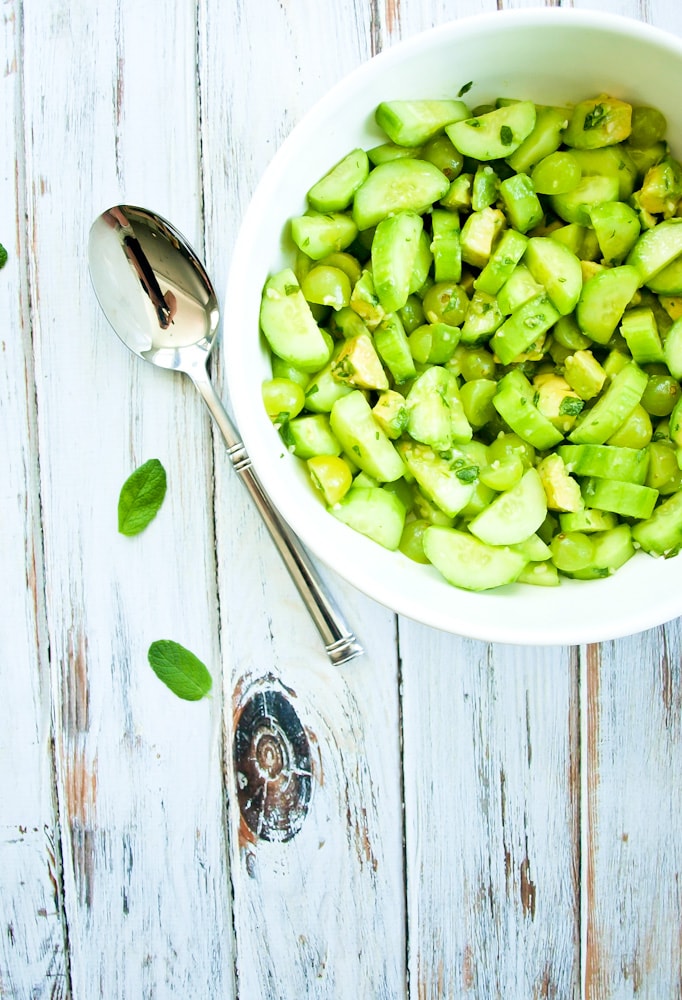 Cucumber, Green Grape, and Avocado Salad
Serves 4-6
1 1/2 lbs seedless cucumbers (about 2 large cucumbers), peeled or unpeeled*
kosher salt
Approximately 30 green grapes, sliced in half
1 avocado, cut into small chunks
2 1/2 tablespoons extra virgin olive oil
1 1/2 teaspoons white wine vinegar
1 1/2 teaspoons minced garlic
1/4 cup fresh mint leaves, chopped
Slice the cucumbers in half lengthwise.  (*If using cucumbers with seeds, use a spoon to scoop out the middle and discard the seeds.)  Then cut the cucumbers crosswise into 1/4″-1/2″ slices.  Place in a  large bowl and sprinkle with about a teaspoon of kosher salt.  Toss to distribute the salt evenly around the cucumber pieces.  Let sit for 20 to 25 minutes while the salt helps pull excess moisture out of the cucumbers.  Then rinse off the salt, drain the cucumbers, and squeeze out any more excess moisture with a cloth or paper towels.
Mix the cucumbers, grapes, and avocado in a large bowl.  In a small, separate bowl, whisk together the olive oil, vinegar, garlic, and mint.  Drizzle the dressing over the cucumber mixture and carefully stir to evenly coat everything.  Add more salt to taste, if preferred.  (I did not add extra salt.)  Enjoy!
If you make this simple salad, just think of how many extra plant foods you can add to your 40 Plant Foods Challenge list! I'm really enjoying seeing all of your lists; keep them coming!