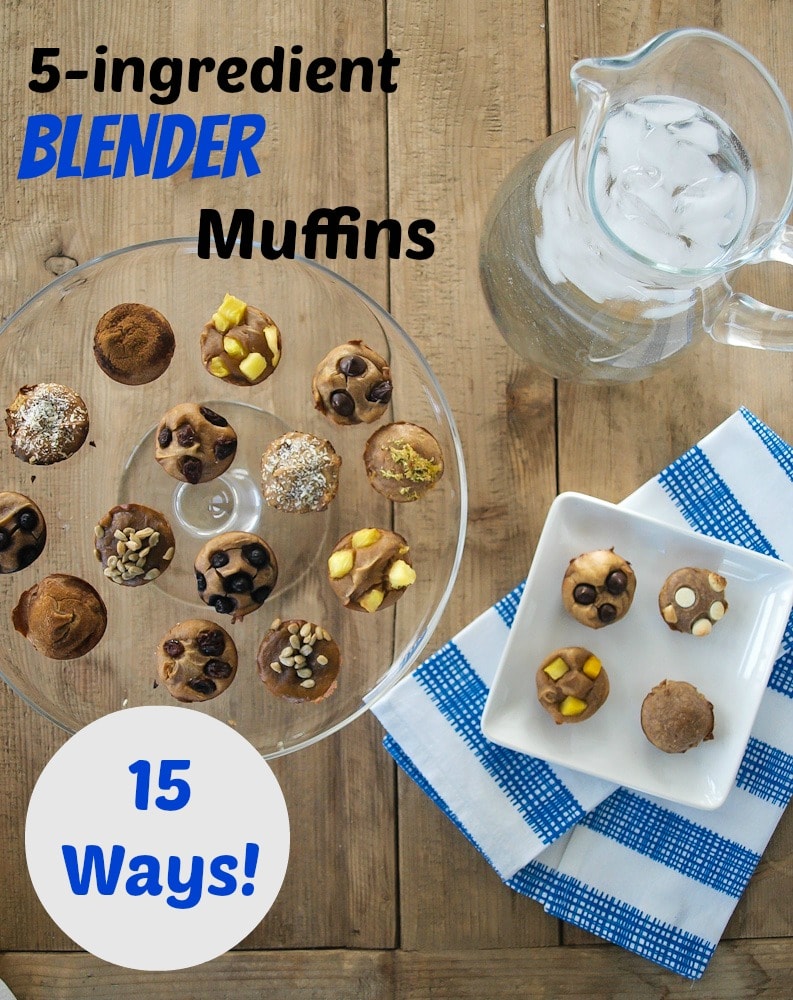 When I first heard someone talk about "blender muffins" it sounded too good to be true.  You really just put 5 ingredients in a blender, blend it up, bake it, and it becomes a muffin?  Can't be.  Wait–what?  No flour, either?  No oil? Come on.  I was skeptical.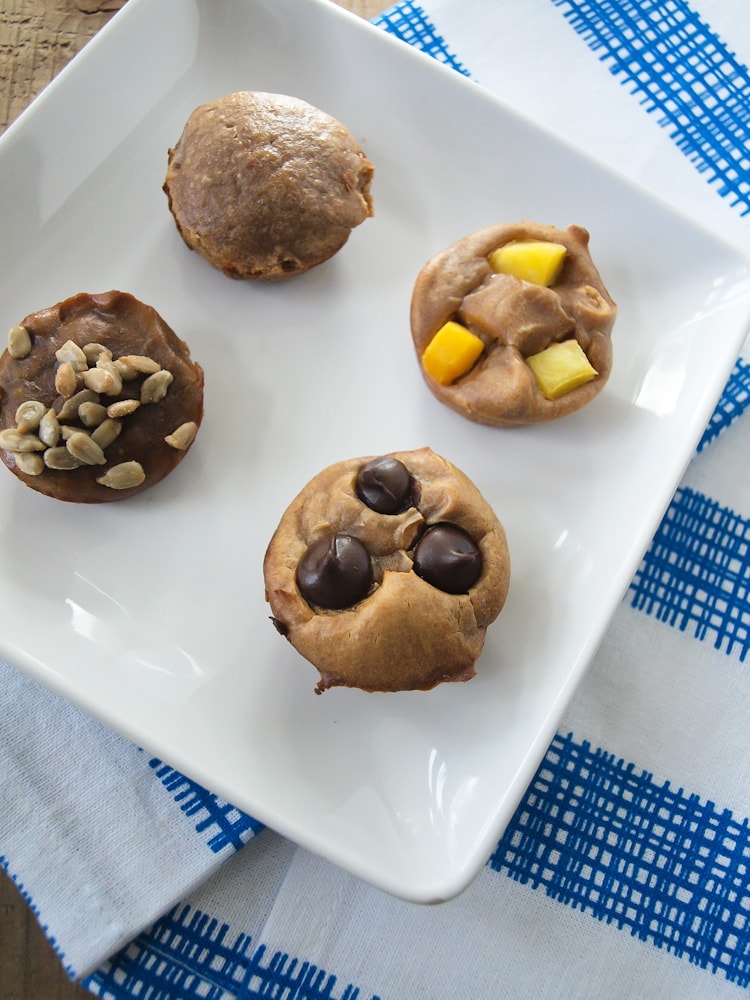 I'm not skeptical anymore because I've made these 5-ingredient blender muffins almost a dozen times and they are the easiest muffins ever.  Not only are they easy, but they taste wonderful, too.  My family gobbles these up as quick as I can bake them.
I first saw blender muffins here and then after a little searching found this recipe.  I started out making the plain variety:  peanut butter, banana, eggs, vanilla, a  liquid sweetener (honey, maple syrup, or agave nectar) and just a touch of baking powder. They were heaven.  Then I started adding things here or there, trying new variations.  That brings me to today where I present to you 15 different variations of these super easy blender muffins.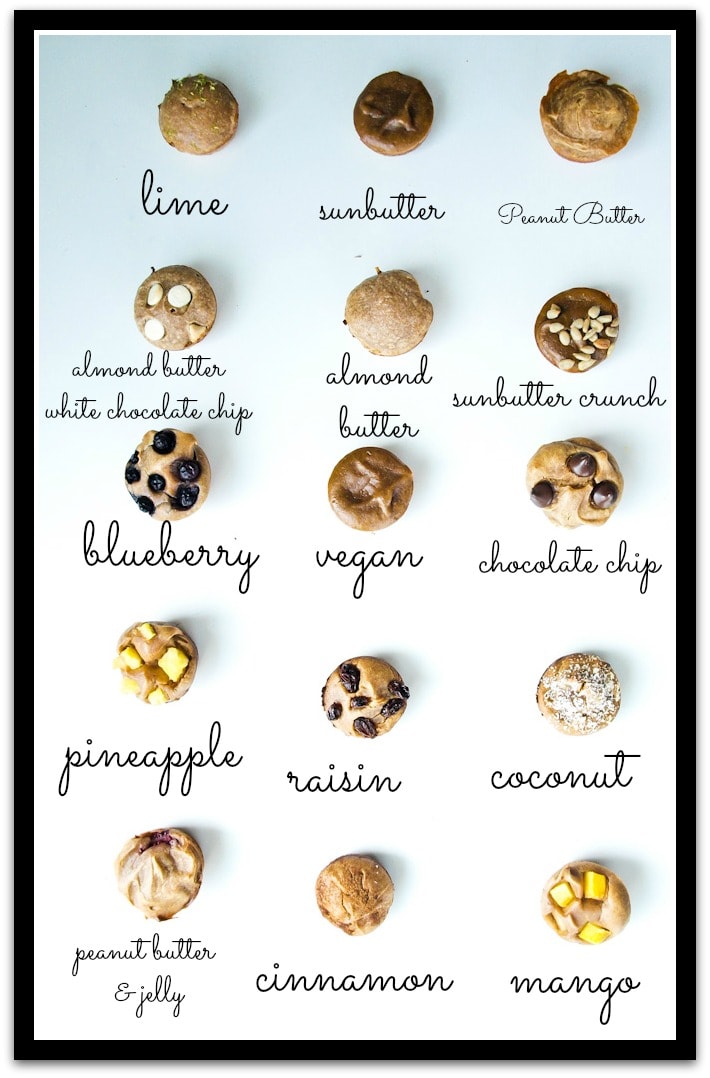 I've had a lot of fun experimenting with these flavor combinations and I think you'll like what I've come up with. I've got a nut-free version.  Don't do eggs? There's a vegan version.  Do you avoid peanuts?  There's an almond butter version. There's a few sinful versions and of course some fruity variations.  There is truly something for everyone.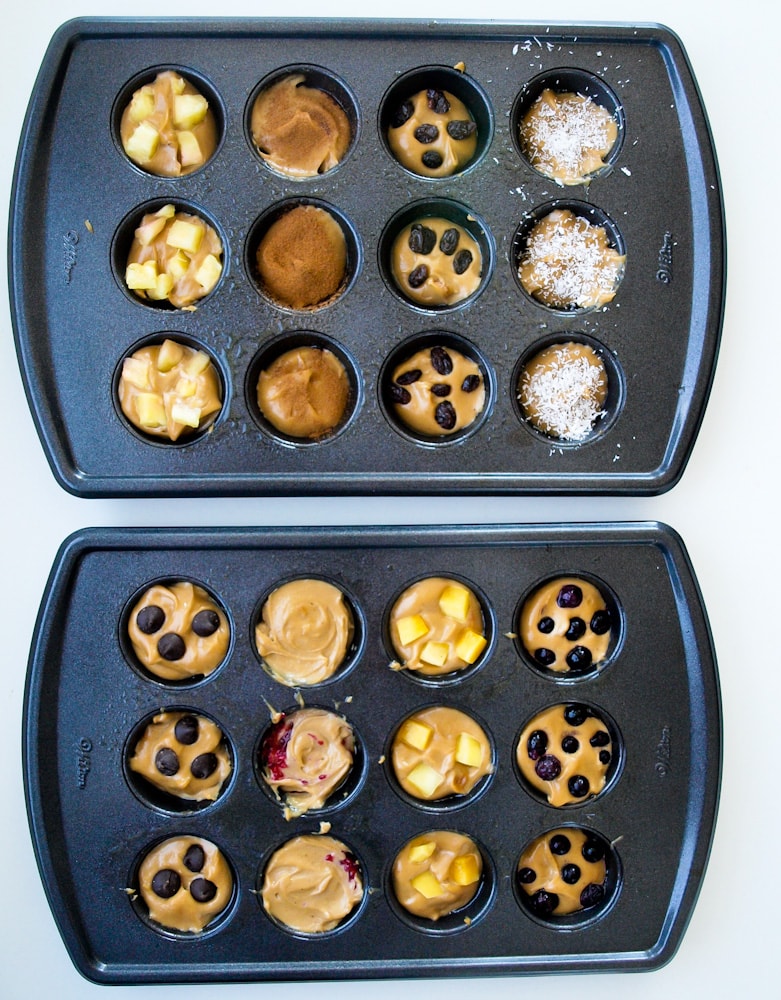 I have only made mine into mini-muffins, but if you don't have a mini-muffin pan, go ahead and make full-sized muffins, just increase the baking time a bit.  Edited to add:  I have since tried making full-sized muffins, and I had trouble getting them to cook through.  Another reader commented and said she had the same problem.  Try making them full-sized muffins at your own risk, but if you do, I suggest making them on the smaller side–only fill the muffin tin about half full.
 Edited (Again) to Add:  I have since figured out the trick to getting them to cook properly as a full sized muffin.  See the notes in the recipe!
But I love the mini-muffin size, especially for the kids.  It's amazing how these bake up like muffins without any flour.  They don't have the exact texture of a regular muffin, but they are very muffin-like.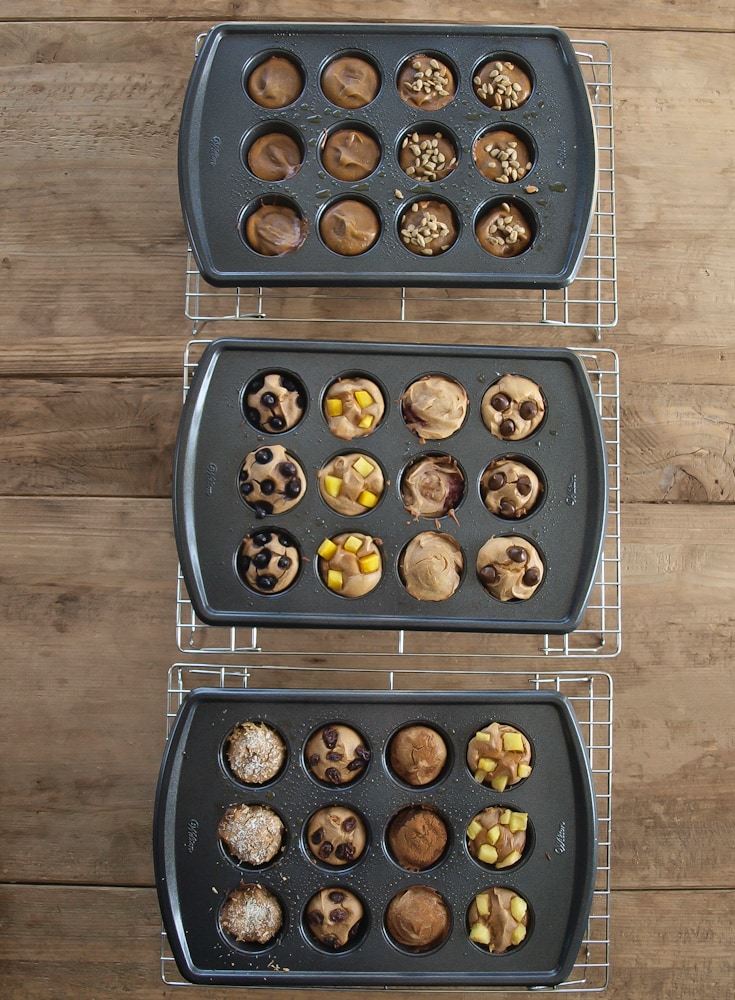 I love these all so much I don't know if I can pick a favorite.  The ones that top my list, however, are sunbutter crunch, peanut butter and jelly, chocolate chip, plain almond butter or peanut butter, and blueberry.  Meghan loves the cinnamon version.
These also freeze well, so you can make a big batch and have them on hand whenever you need a quick breakfast or snack.  These would be a great lunch box addition, too.  I just pop them in the microwave for about 20 seconds and they are ready.
So what are you waiting for?  Get that blender ready!
5-ingredient Blender Muffins–with 15 varieties
These blender muffins are the easiest little muffins you will ever make.  They boast a clean-eating ingredient list and are made without any flour, oil, or refined sugar.  They are naturally gluten-free.  Use the base recipe and then check out the many variations you can create.  The base recipe makes 12 mini-muffins, but can easily be doubled.  
Base Recipe
1/2 cup natural peanut butter
1 medium ripe banana
1 large egg
1/2 teaspoon vanilla extract
2 tablespoons honey, agave nectar, or maple syrup
1/4 teaspoon baking powder
Preheat the oven to 400 degrees.  Spray a muffin tin with cooking oil and set aside.  Place all ingredients in a blender and blend until very smooth.  Fill each mini-muffin cup until it is almost full.  Bake in the preheated oven until the muffins are cooked through, 8-10 minutes.
To Make Full-Sized Muffins:  Preheat the oven to 400 degrees.  Double the base recipe.  Oil a full-sized muffin tin well, or line with silicone baking liners. (I use these
 and they work beautifully–no sticking!) Fill the muffin cups about 3/4 of the way to the top.  Reduce the heat in the oven to 350 degrees and bake for 15 minutes, or until a toothpick inserted into the center comes out clean.  
Variations
Sunbutter (nut-free):  Substitute sunflower seed butter for the peanut butter.
Sunbutter Crunch (nut-free):  Substitute  sunflower seed butter for the peanut butter and top each mini-muffin with a sprinkle of sunflower seeds.
Almond Butter:  Substitute almond butter for the peanut butter.
Almond Butter White Chocolate Chip:  Substitute almond butter for the peanut butter and stir 1/4-1/2 cup white chocolate chips into the batter, or top the muffins with the chips after your pour the batter into the muffin tin.
Lime:  Use any nut butter as your base and add 2 tablespoons of lime juice to the batter.  Top each muffin with lime zest.
Peanut Butter and Jelly:  Fill the muffin tin one-third of the way with batter.  Put about 1/4 teaspoon of raspberry chia seed jam or your favorite jam/jelly in the center, then fill the muffin cup to almost the top with more batter.
Vegan:  Combine 1 tablespoon flaxseed meal with 3 tablespoons water in a small bowl and let it sit for a few minutes to form a gel.  Substitute this "flax egg" for the real egg in the base recipe.
Blueberry:  Add 1/2 cup wild blueberries to the batter, or top each muffin cup with blueberries.
Mango:  Add 1/2 cup diced mango to the batter, or top each muffin cup with the diced mango.
Pineapple:  Add 1/2 cup diced pineapple to the batter or top each muffin cup with the diced pineapple.
Cinnamon:  Follow the base recipe, but sprinkle the tops of the muffins with cinnamon. I like plain cinnamon, but you could do a mixture of cinnamon and sugar.  I use a fine mesh strainer to get an even, fine sprinkle of cinnamon.
Coconut: Sprinkle the top of the muffins with unsweetened shredded coconut.
Chocolate Chip:  Add 1/4-1/2 cup chocolate chips or mini chips to the batter or on top of the muffins.
Raisin:  Add 1/2 cup raisins to the batter or to the top of the muffins.
Note:  I love my Vitamix Blender
 for this recipe!
Using the base recipe, each mini-muffin is about 85 calories, with 5 grams of fat, and 3 grams of protein.  Enjoy!