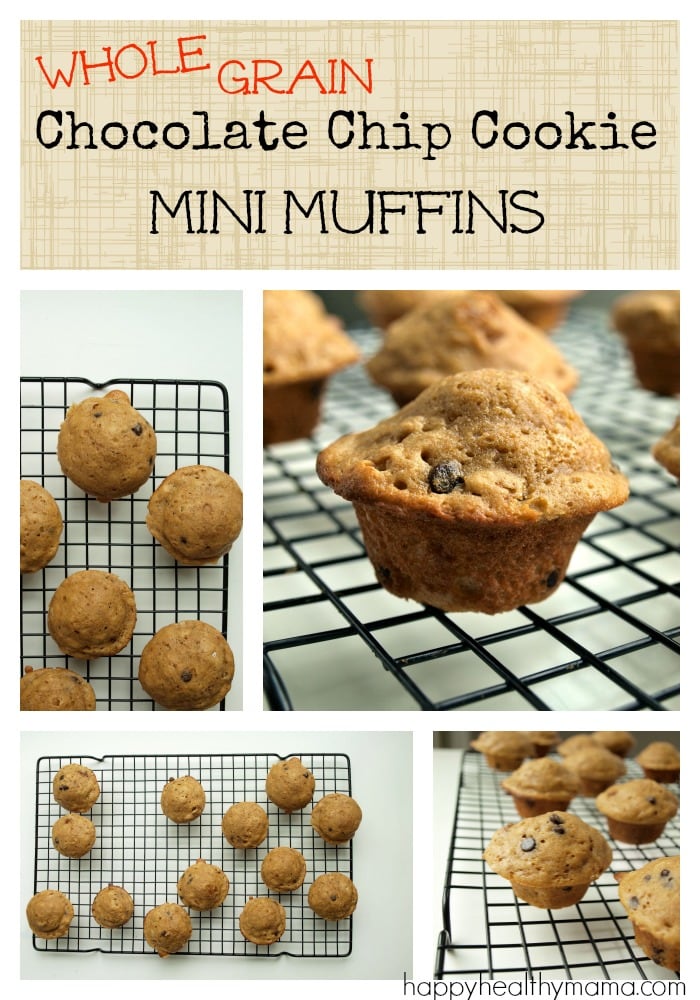 When I asked Meghan what she wanted me to make for her birthday treat at school, her answer was chocolate chip muffins.  I considered making the banana chocolate chip muffins I made for her first day of preschool two years ago, but decided to try something new.
I didn't really plan on these being chocolate chip cookie muffins, but after the first bite I knew that is exactly what they tasted like.  A chocolate chip cookie without all the white flour, butter, and refined sugar?  Yes, please!
These became mini muffins since Meghan was bringing them to school and I thought the mini version would be better for small hands.  You can certainly make these into regular-sized muffins, though, if you choose.  You will probably need to cook them for a bit longer, but that should be the only change needed.
You'll also notice I use rice milk in this recipe.  Normally I bake with unsweetened almond milk, but Meghan's school is a nut-free school this year, so I went with rice milk.  Again, you can substitute different milks and you will likely get similar results, so feel free to use whatever milk you have on hand.
The same generally goes for the oil in this recipe.  I made a batch with melted coconut oil and a batch with grapeseed oil, and I couldn't tell the difference.
In my eyes, these muffins make a perfect special birthday treat.  They are definitely a treat with the sugar and chocolate chips, yet still healthier-than-your-average-treat made with whole grains, no refined sugar, and all real-food ingredients.
These went over very well with the five-and-under crowd at Meghan's school.  One boy, sad that he couldn't have a third helping, exclaimed, "I could eat a thousand of these!" Her teachers all loved them, too.  I recommend these next time you are looking for a special treat!