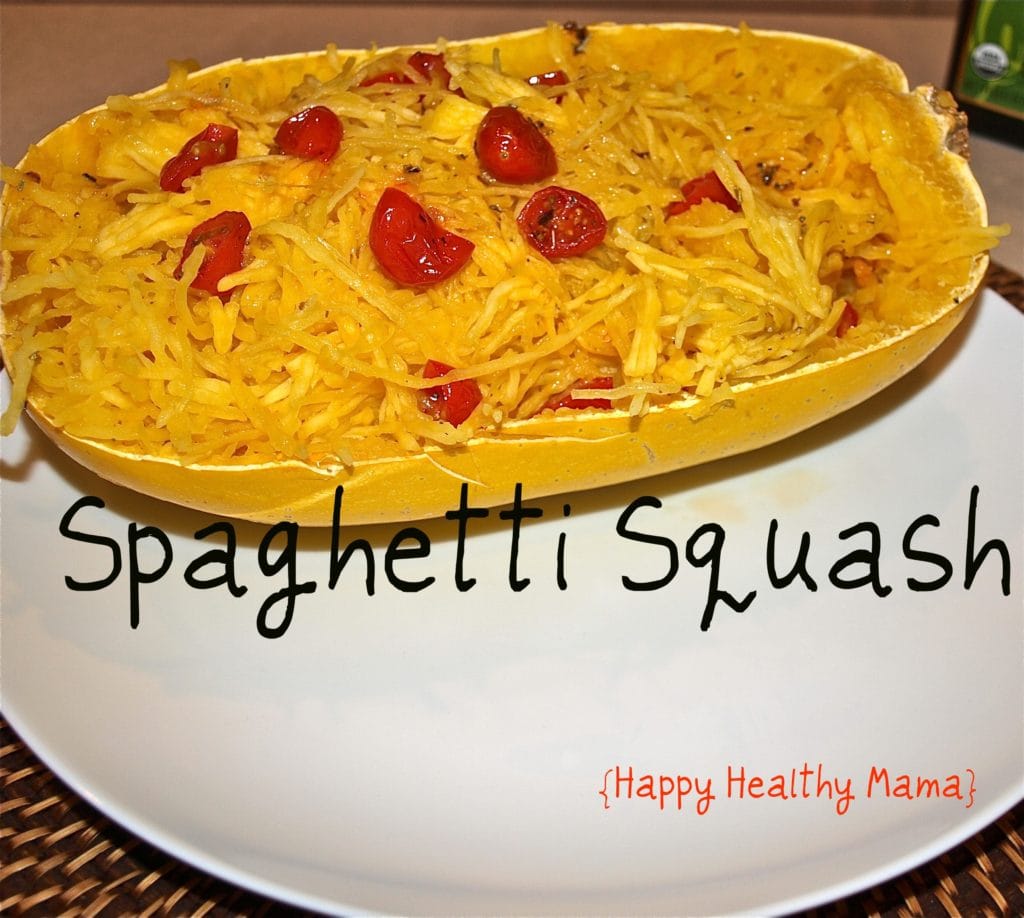 The spaghetti squash is really a gem of a vegetable.  I discovered it not long after I graduated from college and it has been a staple in my diet ever since.  Today's post is a simple introduction on how to cook this versatile squash for those of you who haven't discovered its amazingness.  My computer is telling me that "amazingness" is not a word, but I think it is, so I'm sticking with it.
You really can't go wrong with a vegetable that starts out looking like this: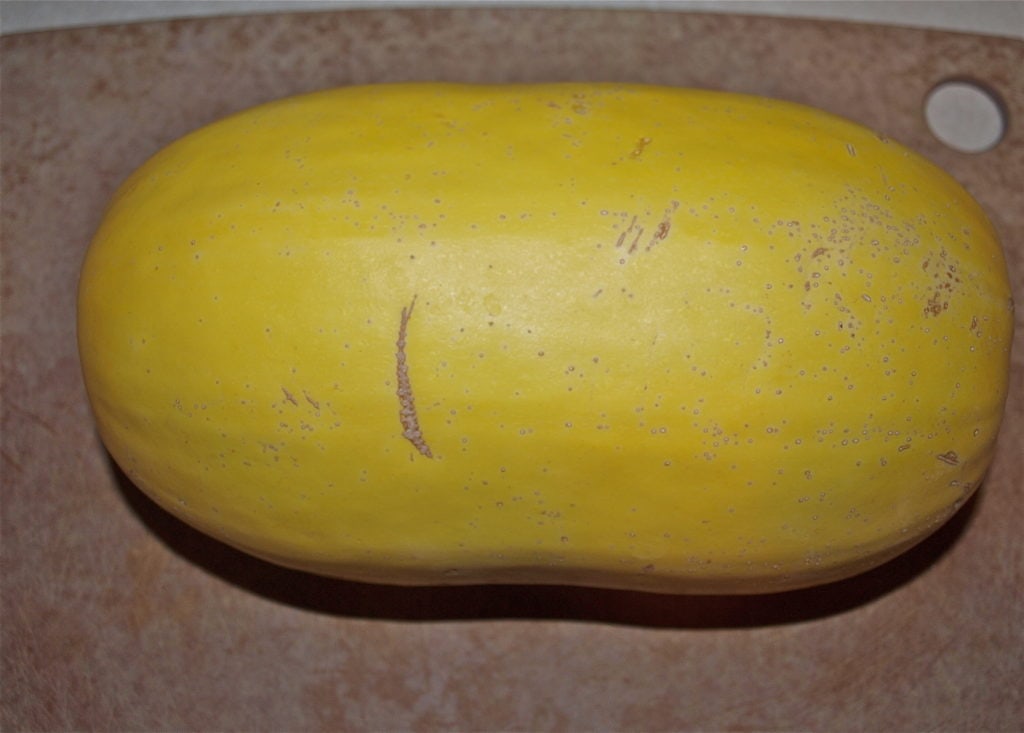 And then turns into a bowl of spaghetti-like noodles: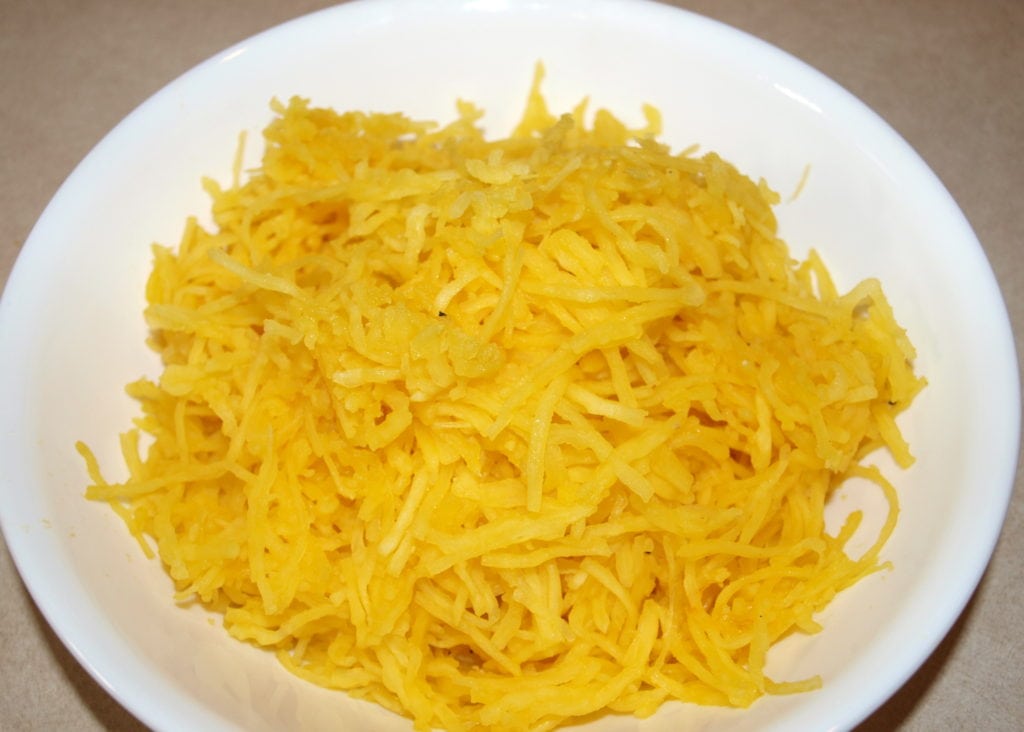 The beauty of spaghetti squash is that you can use its flesh just like you use pasta.  But of course spaghetti squash "noodles" are more nutritious and lower in carbs and calories than real pasta.  Are you ready to learn how to prepare this awesome squash?  It's super easy and can be used in so many ways.  Check it out:
How To Cook a Spaghetti Squash
Step One:
Preheat your oven to 400 degrees and then find a sharp, heavy-duty knife.  This is the toughest part of the job.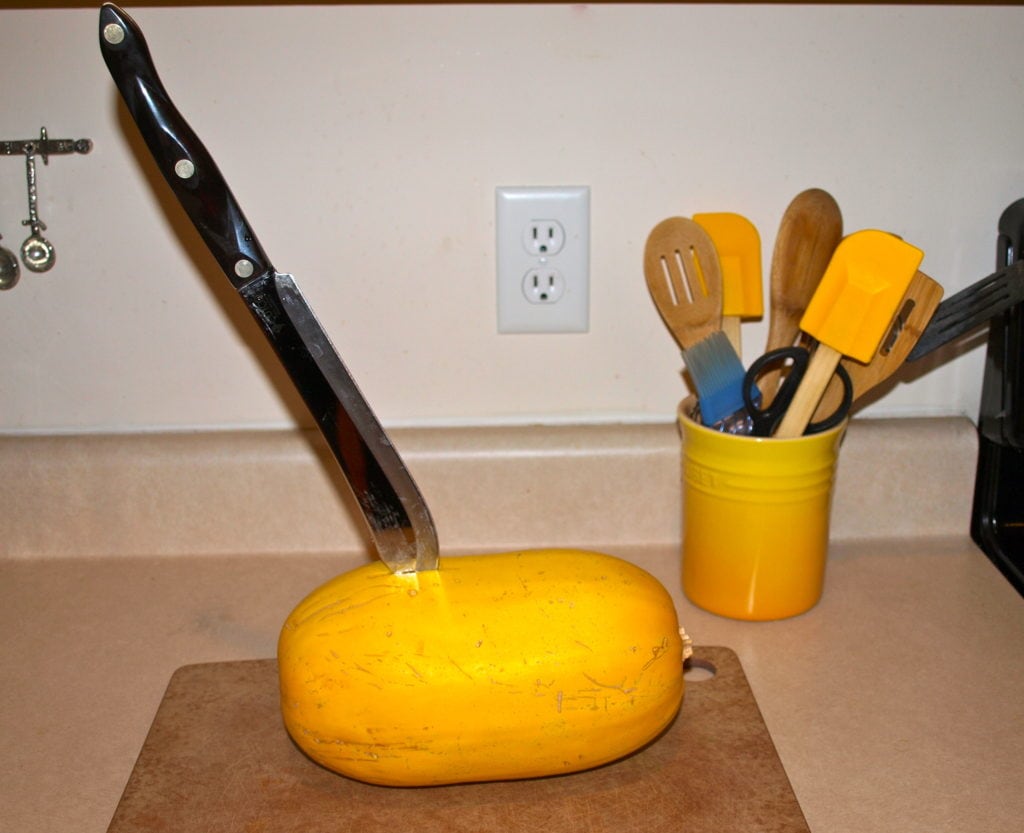 Cutting open a spaghetti squash can be a serious workout.  When Tim's around I elicit his help.  I've done it plenty of times on my own, though, so don't worry, you can do it.  Work the knife into the skin, and slowly move it along the squash length-wise, wiggling it back and forth to crack it open as you go.  You are only going to cut through one side at at time.  Once the first side is done, work your way to the other side until you've cut it almost all the way around and can pry it open. This is what you'll find: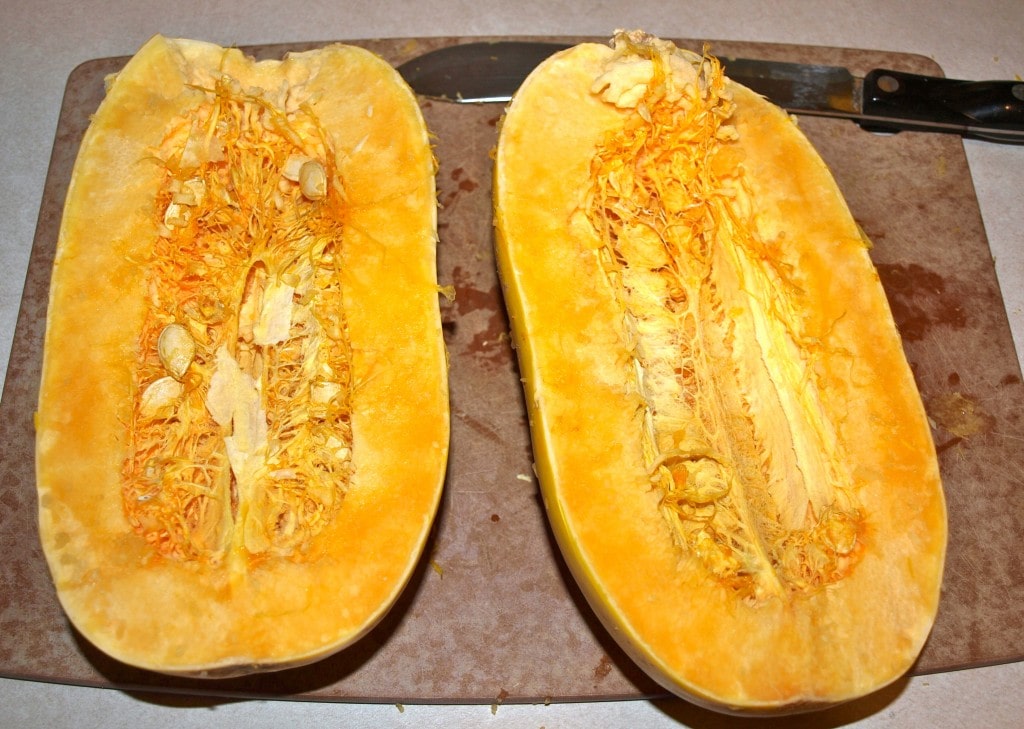 Step Two:
Catch your breath, and then grab a medium-sized spoon.  Start scraping out the seeds and loose flesh and discard them.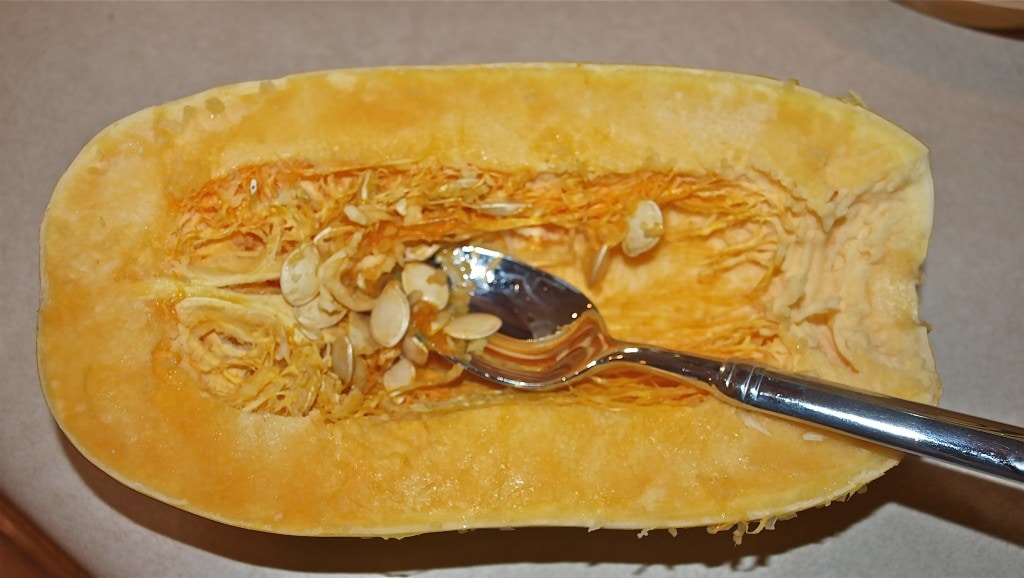 Step 3:
Put both sides of the spaghetti squash in a casserole dish and fill the bottom with 1/4 inch of water.  Sprinkle the squash with sea salt, pepper, and a teaspoon or so of butter, cut into small pieces.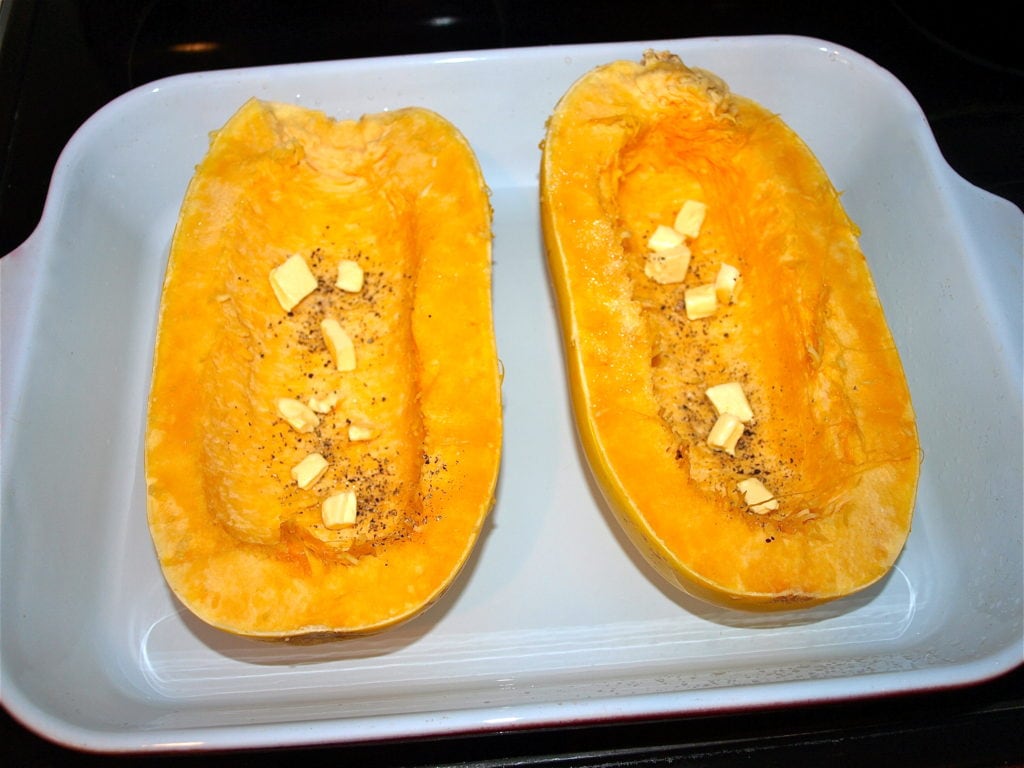 Step 4:
Cover with tin foil and bake in the preheated oven for 30-40 minutes.  The giant squash you see in the pictures took 40 minutes.  If you have a smaller squash, it should be ready sooner.
Step 5:
Remove the squash from the oven, remove the foil, and allow it to cool a little.  Then, using a fork, scrape out the flesh.  It will be long strands that resemble spaghetti.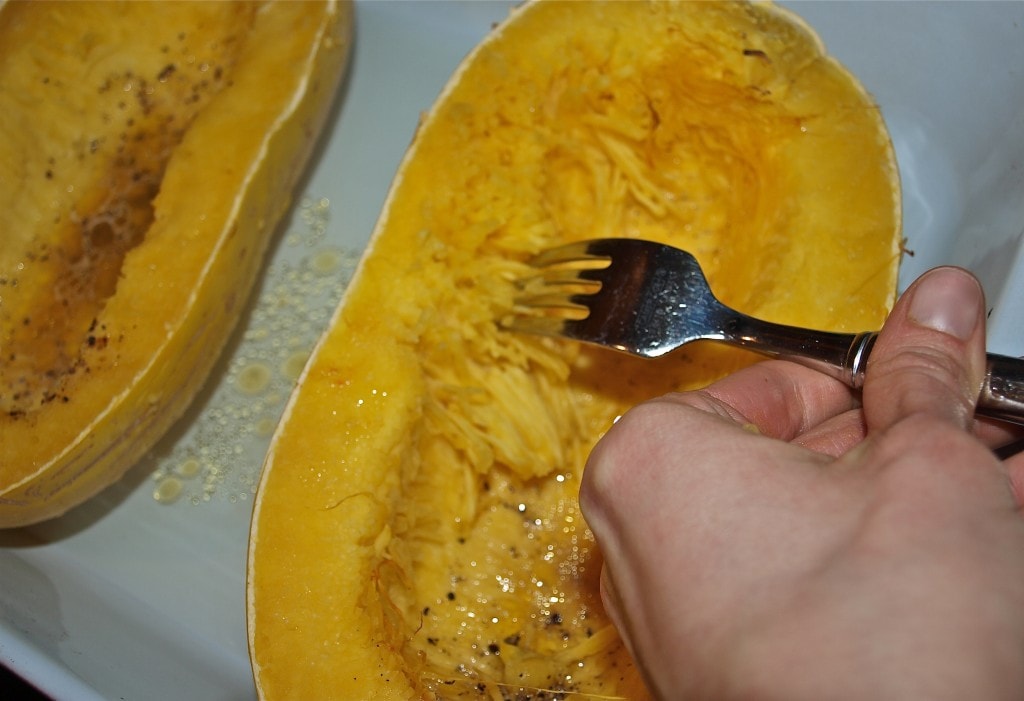 Keep scraping until all you have is a shell.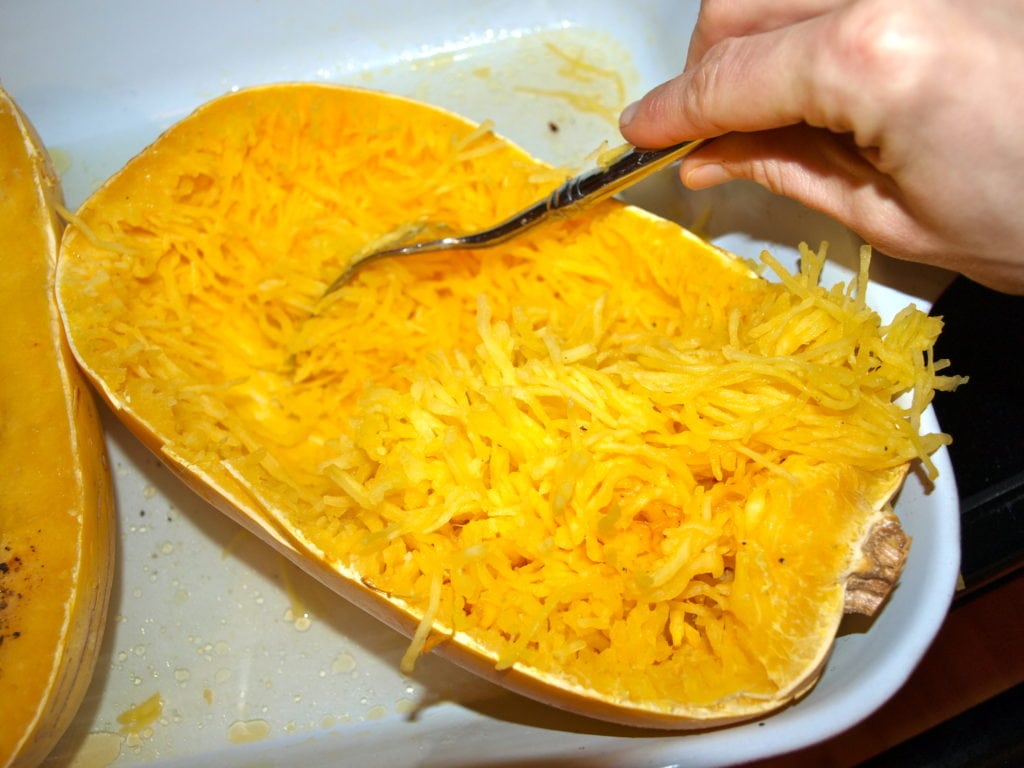 Congratulations!  You have a delicious, ready-to-eat spaghetti squash.  The possibilities are endless.  It actually tastes amazing plain, right out of the oven.  You can make it a meal by adding marinara sauce, a little parmesan cheese, and eat it traditional spaghetti-style.  You can add any sauce you would add to other pasta dishes, actually.  Treat it like you would pasta.  Be creative!
Tim and I had this for lunch today.  I sauteed some halved grape tomatoes in a little olive oil and Italian spices while the squash was cooking.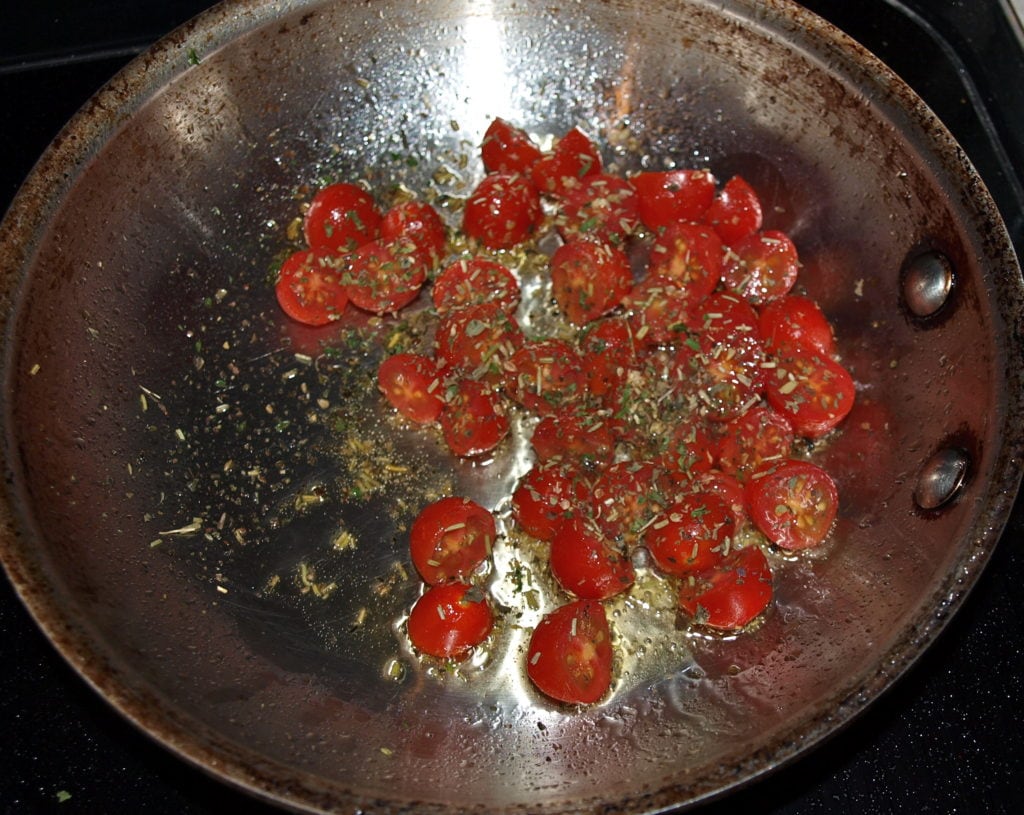 Then, I tossed it with the cooked spaghetti squash.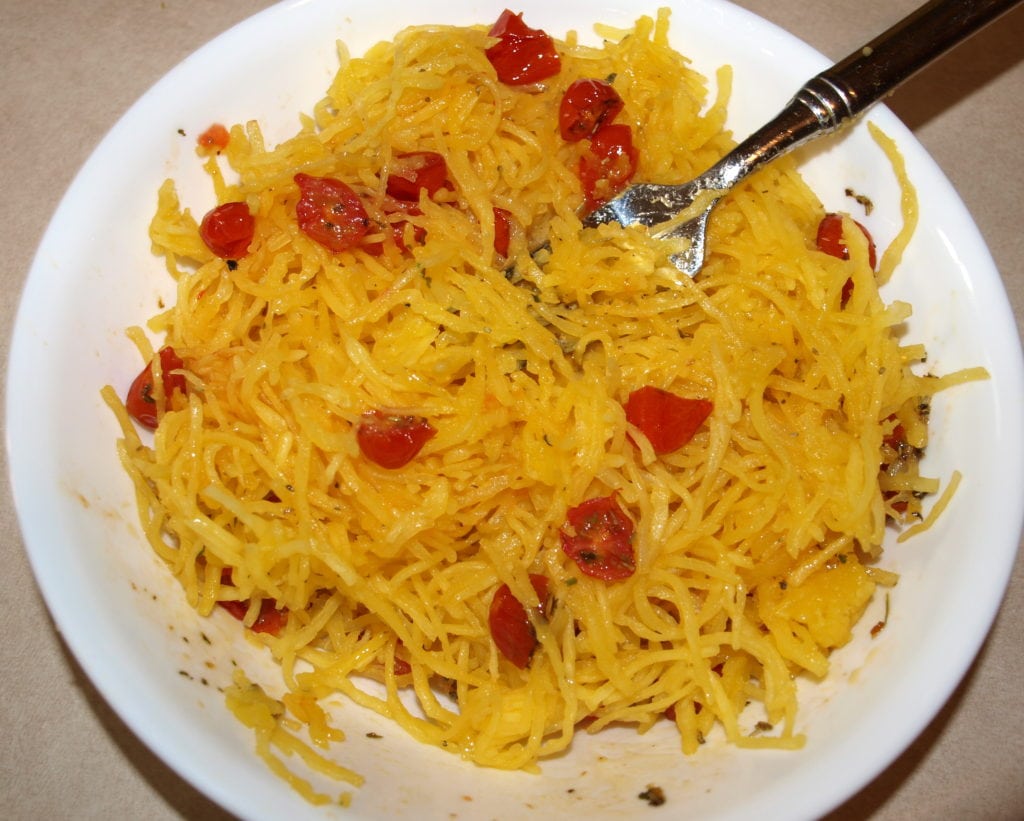 I put the mixture back into the spaghetti squash shell because it's fun to eat it that way.  Okay, I also wanted to use the bowl you see above for Tim's lunch.  No need to dirty two bowls, right?  Half of this gigantic squash was too much for me for lunch, so I have leftovers for tomorrow's lunch.  Perfect.  Tim's half got tossed with olive oil and Italian seasonings and then was topped with (probably way too much) parmesan cheese.
A perfect way to introduce spaghetti squash to your child is to top it with her favorite sauce, whether it be tomato sauce or cheese sauce.  You'll be surprised at how kids love this vegetable when it's treated like traditional pasta.  Enjoy!