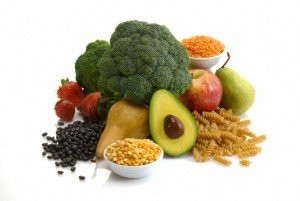 Source
Fiber is a total dietary buzz word these days.  If you add the word "fiber" to a box of processed food, the world thinks it's healthy.  So what's all the buzz about?  Is fiber really that important?
Yep, it is!  Fiber is our friend.  It's known mostly for being a regulator of the digestive system, keeping things moving.  It helps keep me regular even during pregnancy, when many pregnant women are notoriously constipated.  (TMI alert!)  Yes, I still go at least two times a day.  That's a good thing, for sure, as a dirty digestive system can cause all kinds of unwanted problems (think colon cancer).
The benefits of getting lots of fiber don't stop at keeping you on the toilet on a regular basis.  Here are more reasons to keep fiber a priority in your diet:
Fiber controls overeating. The more fiber you have in a meal, the fuller you are going to feel, and the less you are going to eat.  Fiber fills up you on fewer calories than foods without fiber.  Many experts suggest high-fiber diets for weight loss.
Fiber neutralizes blood sugar.

Among other things, our blood sugar level controls how hungry or energetic we feel and determines whether we burn fat or store it.  I prefer to burn the fat, don't you?

Fiber controls fat absorption.

Fiber binds with some of the fat you eat, kindly escorting it out of your body.  Thank you very much, fiber.

Fiber reduces the absorption of cholesterol in the bloodstream.

'Nuff said.
So you know that you want to include fiber in your diet, and a good amount of it.  How much?  The USDA recommends the average person get around 28 grams per day, but I've seen more reliable sources recommend at least 40 grams per day.  Aim for that range and you should be in good shape.  As a reference, the average American falls way short of this goal, consuming only 14 grams per day.
If you are eating a diet that is primarily plant-based, you are likely getting enough fiber.  Here's a hint:  animal foods don't have any fiber. Of course, it's always better to get your fiber from whole, unprocessed foods rather than foods that have fiber added to them.  So the more plants you're eating, the better off you are going to be.
Here's a handy-dandy printable list of high-fiber foods that will do your body good.
Fruits
Note that these are the whole fruits, not fruit juices.  When you juice the fruit, you aren't getting the fiber.
Raspberries or blackberries (1/2 cup)=4 grams
Apple (1 whole)=4 grams
Banana (1 whole)=2-4 grams
Orange (1 whole)=4 grams
Blueberries (1 cup)=4 grams
Pear (1 whole)=5-6 grams
Vegetables
All amounts reference cooked vegetables.
Peas (1/2 cup)=9 grams
Broccoli (3/4 cup)=7 grams
Cauliflower (1 cup)=5 grams
Brussels Sprouts (1 cup)=6 grams
Spinach (1 cup)=4 grams
Collard greens (i cup)=5 grams
Beans
All amounts reference cooked beans.
Black beans (1 cup)=15 grams
Navy beans (1 cup)=19 grams
White beans (1 cup)=19 grams
Pinto beans (1 cup)=15 grams
Lentils (1 cup)=16 grams
Grains
Corn on the cob (1 ear)=5 grams
Amarath (1/4 cup dry)=8 grams
Pearled barley (1 cup cooked)=6 grams
Quinoa (1 cup cooked)=5 grams
Bulgur wheat (1 cup cooked)= 8 grams
Whole wheat spaghetti (1 cup cooked)= 6 grams
Oatmeal (1 1/2 cups cooked)= 6 grams
Nuts and Seeds
Almonds (1 oz)=4 grams
Pistachio nuts (1 oz)=3 grams
Sunflower seeds (1/4 cup)=3 grams
Pumpkin seeds (1/2 cup)=3 grams
Flax seeds (1 oz)=8 grams
Question:  After reading this post, do you think you are getting enough fiber in your diet?