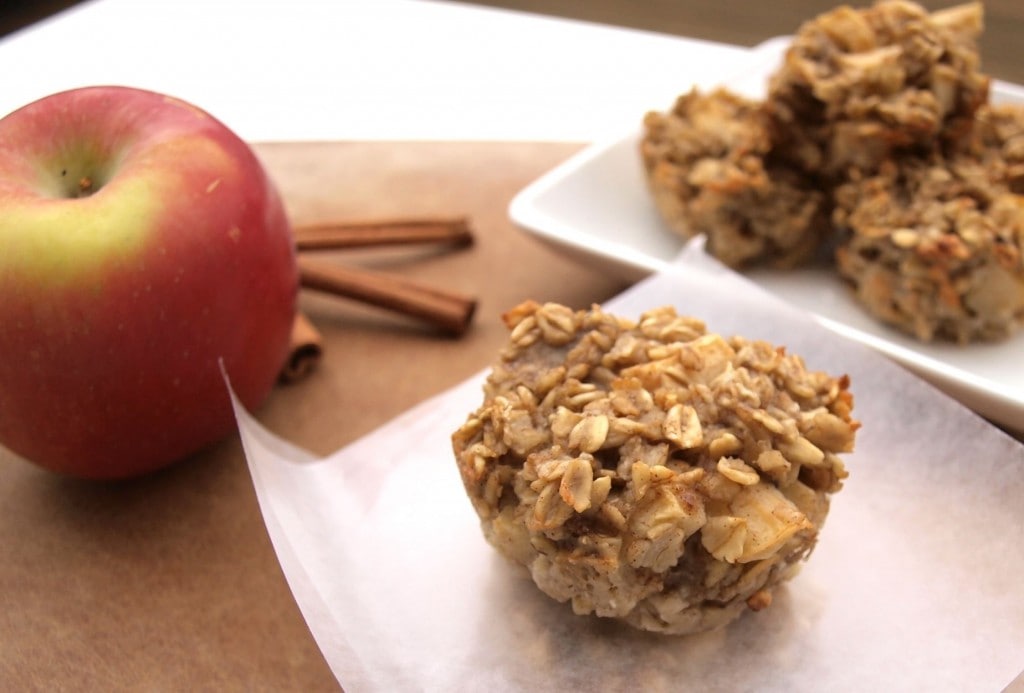 What we have here is the perfect apple-cinnamon oatmeal breakfast.  To go.
When I made my Double Chocolate Strawberry Baked Oatmeal Cups this summer, I promised that more flavors of these portable breakfast cups would be coming out of my kitchen.
Here's the fall version that is absolutely wonderful with a strong cup of black coffee.  Or a cream-filled, sugared up version.  Whatever makes you happy.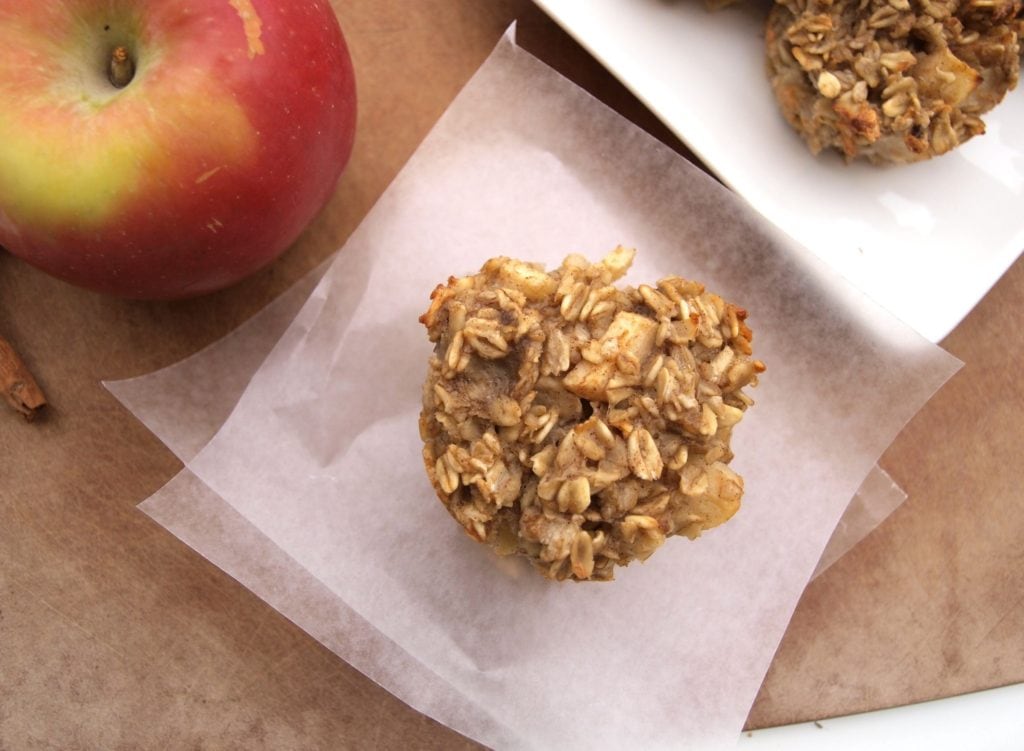 I was actually motivated to make these for Luke, since he refuses to eat anything from a spoon.  Regular oatmeal is way too messy, so I knew a baked version was just what he needed.  These are perfect for his little fingers to pick up. (I broke the cup into pieces for him.)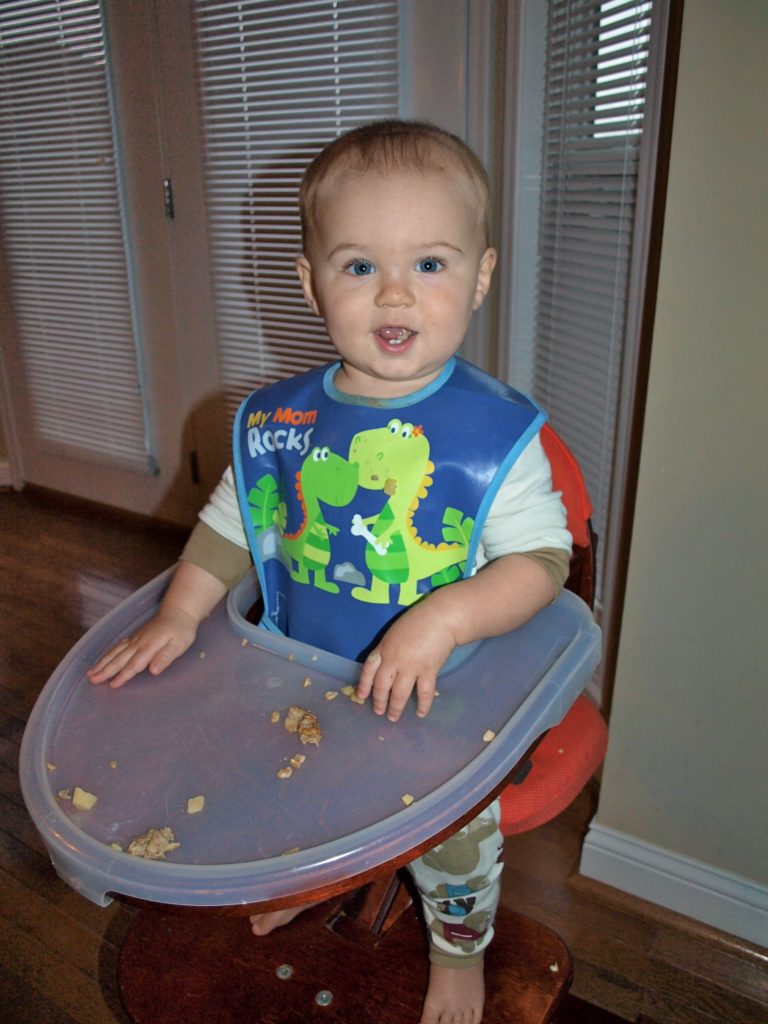 Because I rarely have time to spend a whole lot of time on breakfast, I mixed the ingredients together the night before and then just baked it in the morning.  It worked perfectly.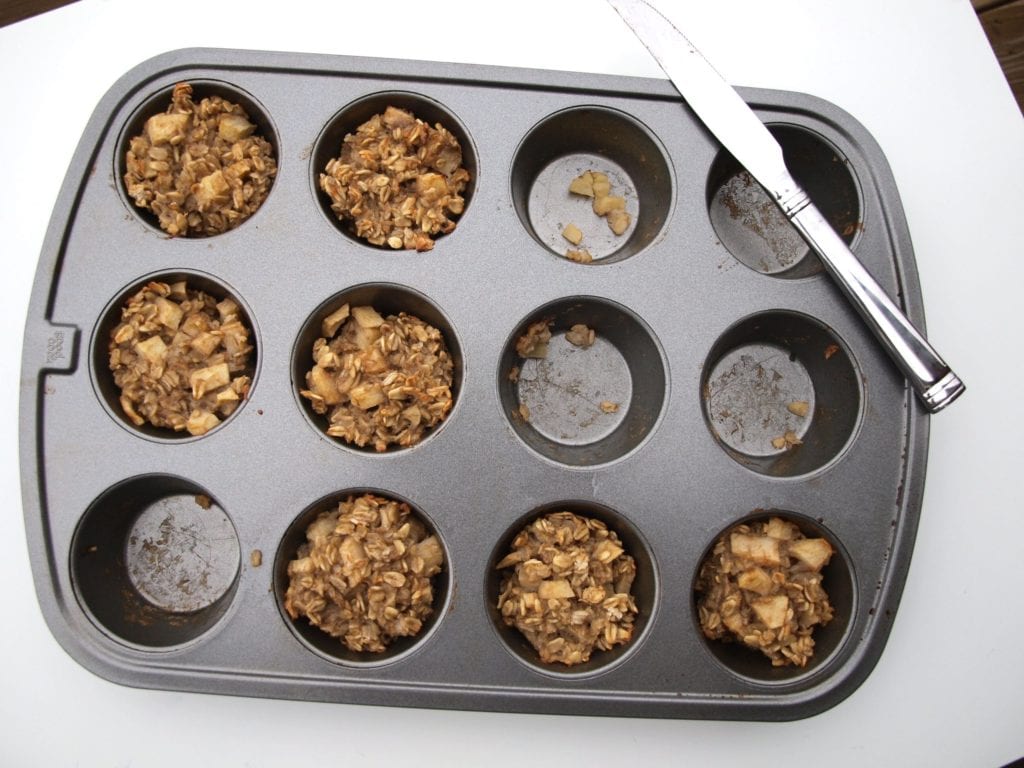 The leftovers make for a great, quick breakfast or a nourishing snack.  They are just barely sweet, with only a little banana acting as a sweetener.  (You can't taste the banana that is baked into these.)  The soft, cinnamon-spiked apple pieces are perfect against the creamy oatmeal center.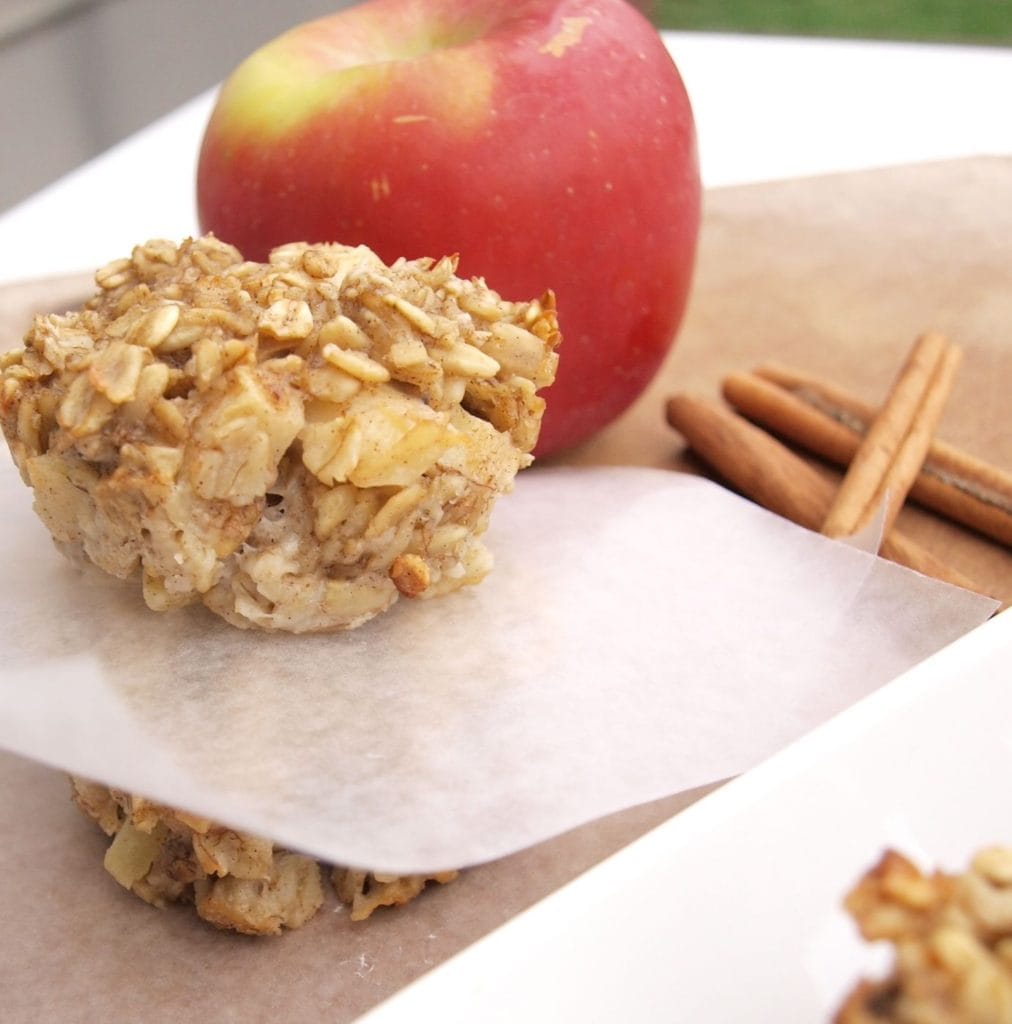 I'm pretty sure that these baked oatmeal cups are the perfect breakfast for busy moms who want a quick, yet healthy breakfast for their kids.  You can even make a double batch and freeze some to have on hand for mornings when everyone sleeps late or you just don't have time to sit down and have breakfast at the table.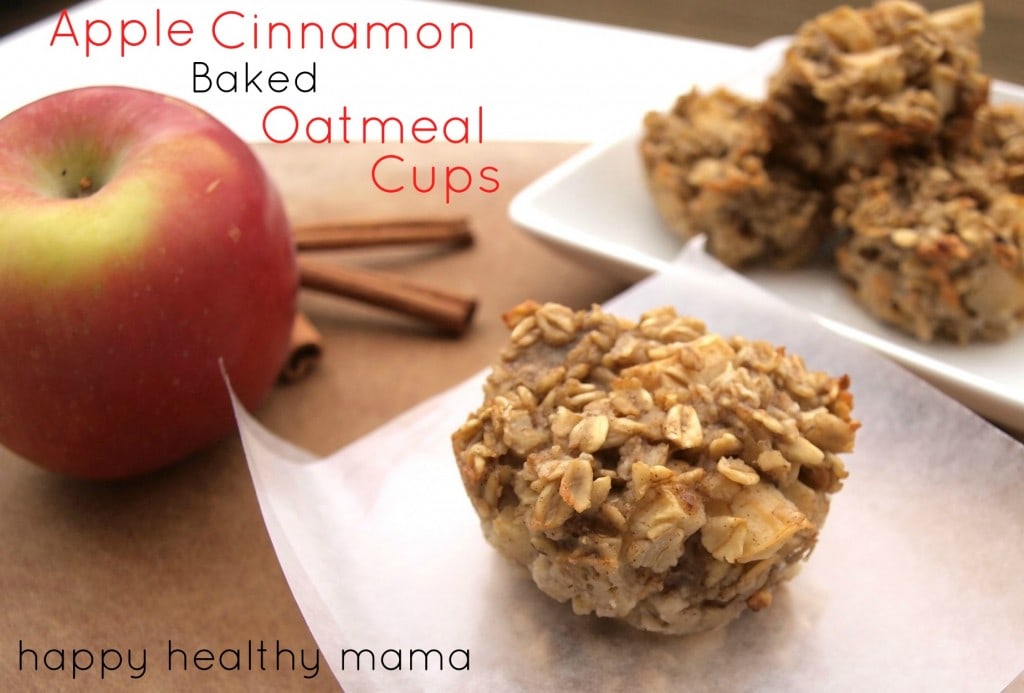 Note: Since publishing this, I have started making these in these silicone baking cups and love them for easy storage.  Either way works!
Apple Cinnamon Baked Oatmeal Cups
Makes 12 oatmeal cups
2 cups old fashioned oats (use certified GF if needed)
1 teaspoon baking powder
1/8 teaspoon salt
1/2 teaspoon cinnamon
1 cup milk (I used unsweetened coconut milk, but dairy or other milks will work, too)
1 egg
1/2 cup mashed banana (about 1 1/2 medium bananas)
1 large apple, peeled, cored, and diced (I used Fuji)
If you plan to bake these right away, preheat your oven to 375 degrees.  If not, that part can wait until the morning.
In a large bowl, combine the oats, baking powder, salt, and cinnamon.  Add the milk, egg, and mashed banana and mix until combined.  Stir in the apple.
You can either put the mixture into the fridge overnight or continue with the directions and bake right away.
Grease a muffin tin and fill each cup with the oatmeal mixture to just about the top.  Bake in a 375 degree oven for 20-25 minutes, until the cups are set.  Store in the fridge or these can also be frozen.  Enjoy!
Recipe Notes:  Because I knew I was making these for my 9 month old son, I only used 1/8 teaspoon salt and 1/2 teaspoon cinnamon.  If you are not making these for a baby and you prefer a stronger cinnamon flavor, increase the salt to 1/4 or 1/2 teaspoon and cinnamon to 1 teaspoon.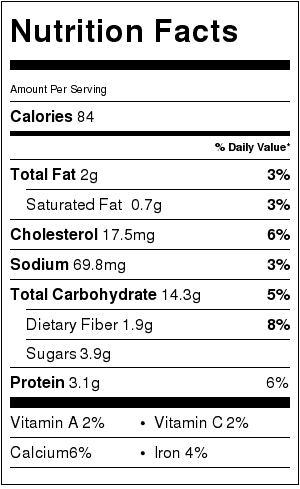 Luke loved these.  He ate three cups.  Meghan ate one cup.  Yes, my 9-month-old son ate more than my 4-year-old daughter.
Meghan liked them, but they weren't her favorite.  After she ate hers she told me she didn't like the apples inside.  What? Umm…that's the best part.  And we eat baked cinnamon apples with dinner about once a week and she loves those.  I don't try to understand a four-year-old mind.
While Luke was continuing to chow down, Meghan had time to finish the craft we'd started the night before.  She was much more interested in her ghost feet than breakfast.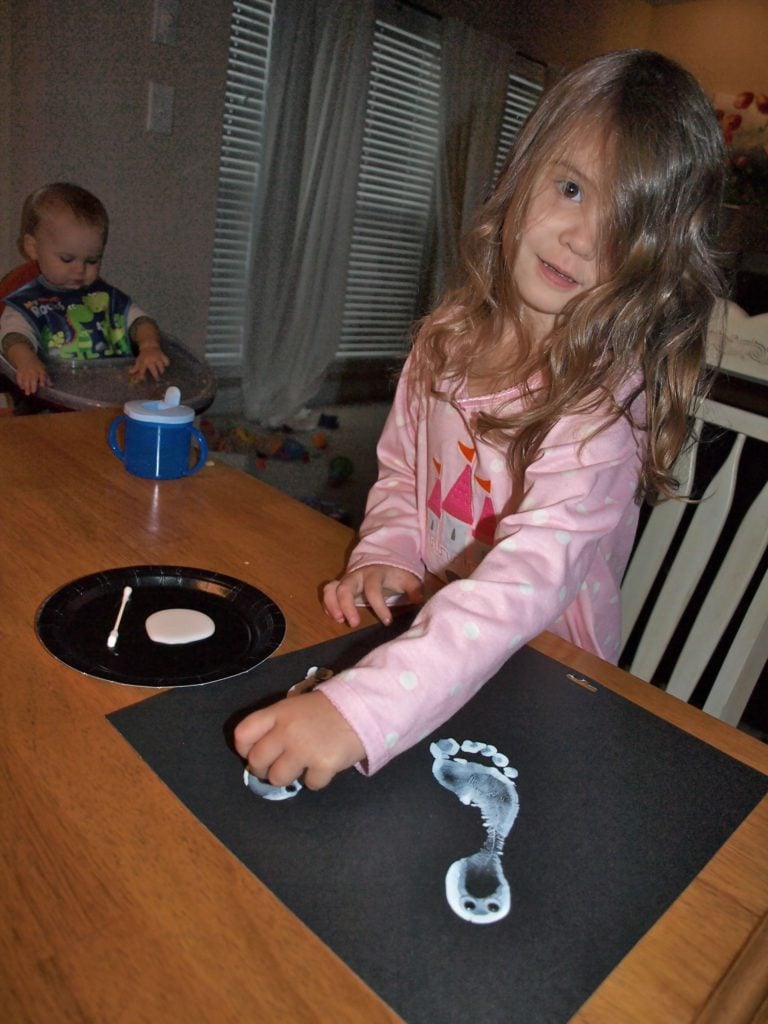 Happy Monday, everyone!  I hope you have a great week.