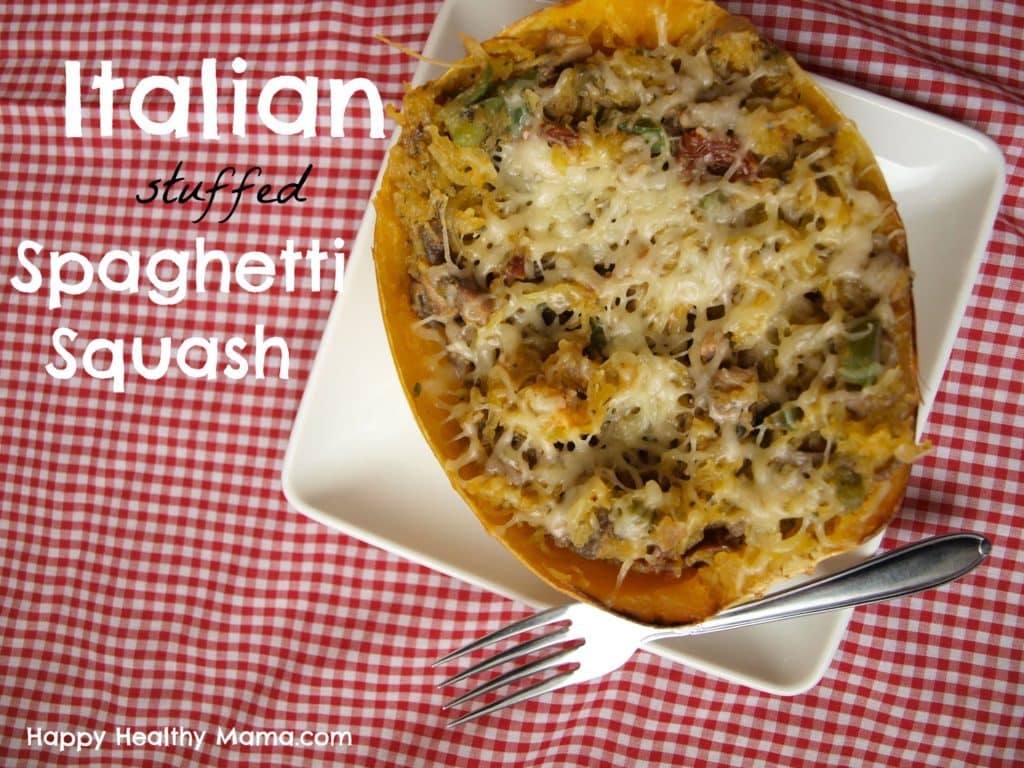 A few weeks ago I stumbled upon this recipe for Southwestern Stuffed Spaghetti Squash from Bev Cooks.  I tried it and loved how it turned out and was inspired to create more versions of the stuffed spaghetti squash.  I figured I couldn't go wrong with Italian flavors, and I was right.
Spaghetti squash is pretty awesome.  If you've never tried it, you really are missing out.  When it cooks, the flesh of the squash can be pulled away from the skin in long, skinny strands that resemble spaghetti.  Now the name makes sense, right?
So you've got this vegetable that can be used very much like pasta, only with a lot less carbs and calories and amped up nutrition.  Now, don't expect it to taste or feel exactly like pasta in your mouth.  It doesn't.  It takes like squash and the texture is like squash.  If you like squash, you'll likely enjoy spaghetti squash.
The longest part of this dish is the actual cooking of the spaghetti squash.  Of course, that's hands off, and the rest of the recipe is a breeze.
I've made a few versions of this dish, and while the recipe I'm sharing with you is my favorite, there are many ways you can tweak this to your liking.  One time I made it with great northern beans in the mixture, which makes a more substantial dish.  Go ahead and add some if that's what you are looking for.  Of course you can also make this vegan by leaving off the cheese or using a vegan cheese substitute.  It's really good both ways.
The version I'm sharing today I made to share with Tim for lunch.  My half was plenty for a filling lunch, but Tim was scraping his shell, wishing there was more.  But he's 6'3″ and 230 pounds and needs a lot more calories than I do.  So just be aware if you have a big guy to feed, this may not be enough on its own as a meal.  Add a salad and bread like you would with a traditional pasta dish, though, and you'll be all set.