If you read this post on our house hunting adventures, you know that the house we are renting is on the market and our lease ends in June.  We thought we had everything figured out.  We thought we wanted to buy a house.  We thought we had a good plan.  Plans are funny things, though, and it turns out our feet are feeling a bit chilly and we aren't ready to commit to a house or neighborhood just yet.
Instead of buying, we'll be renting again.  Finding  a decent rental house is tough in this market.  Turns out we aren't the only ones feeling gun shy when it comes to buying a house.  We did find a good place, though, and are making the move in May.  Fun, fun!
So when I got an email from a reader asking me to do a post featuring what I keep in my refrigerator, I knew it would be a perfect opportunity to clean it out and take inventory of just what's lurking in there before we move.
I have to warn you.  While I tend to keep my pantry neat and organized, my fridge is a different story. Somehow it ends up with leftovers forgotten in the back for weeks, random splatters that don't get cleaned right away, and just plain disarray.
Please don't judge me based on my before pictures.
What a mess, right?  I started with the items in the side doors.  I pulled everything out so I could clean the shelves and took a good look at all the random things that have no business being in my fridge.  As much as I am anti-wasting food, some things just had to go.  Here are the items that got the axe: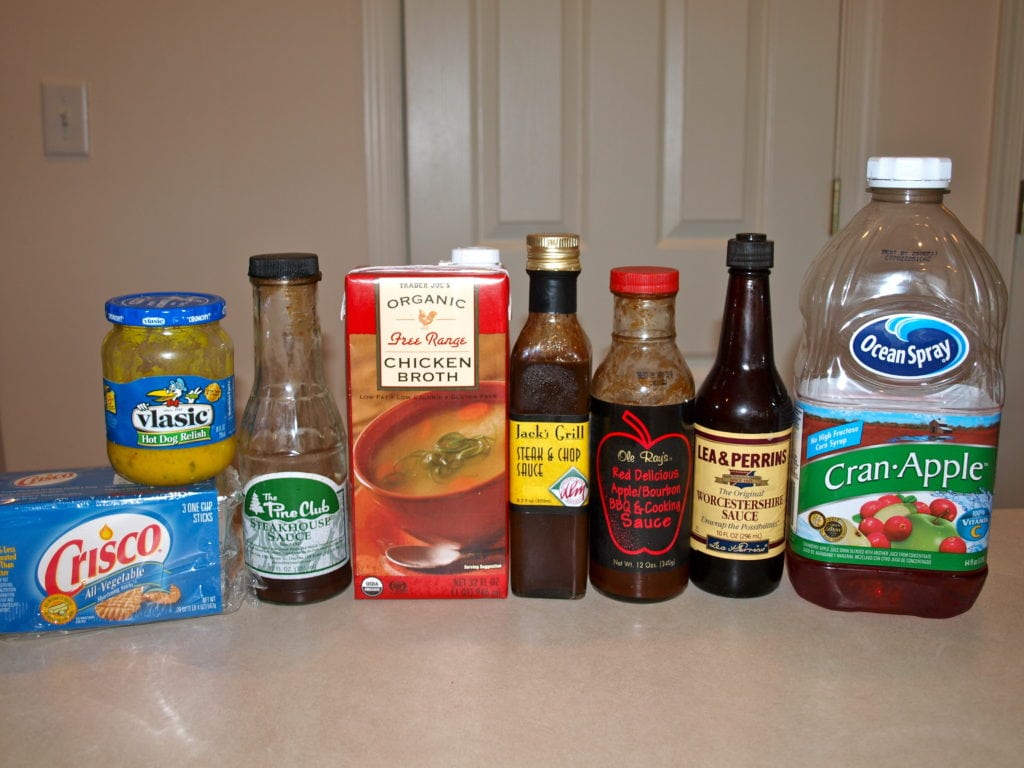 Let me tell you that most of these items were not purchased by me.  When my parents and in-laws come to visit, some less-than-choice food items end up in my house.  Eventually, they get tossed.  Here's a look at what I threw away and why:
Crisco:  Duh.  I don't use this crap.  Full of hydrogenated oils and the bad preservative TBHQ.
Hot Dog Relish:  After an ingredient scan, I spotted high-fructose corn syrup (HFCS).
Pinehouse Steak Sauce:  HFCS
TJ's Free Range Chicken Broth:  Oops.  I didn't use this fast enough.
Jack's Grill Steak and Chop Sauce:  HFCS
Apple Bourbon BBQ Sauce:  HFCS
Worcestershire Sauce:  Shame on me.  This is one of the two items in this group that I actually bought.  I had no idea it had HFCS in it.  I'll have to look for a more natural brand, not that I use it all that often anyway.
Cran-Apple Juice:  My father-in-law's favorite way to start the day.  I'm working on converting him to a healthier option that isn't full of sugar.  (Hi, Jack :-))
Okay, now here's a look at the condiments that got to stay.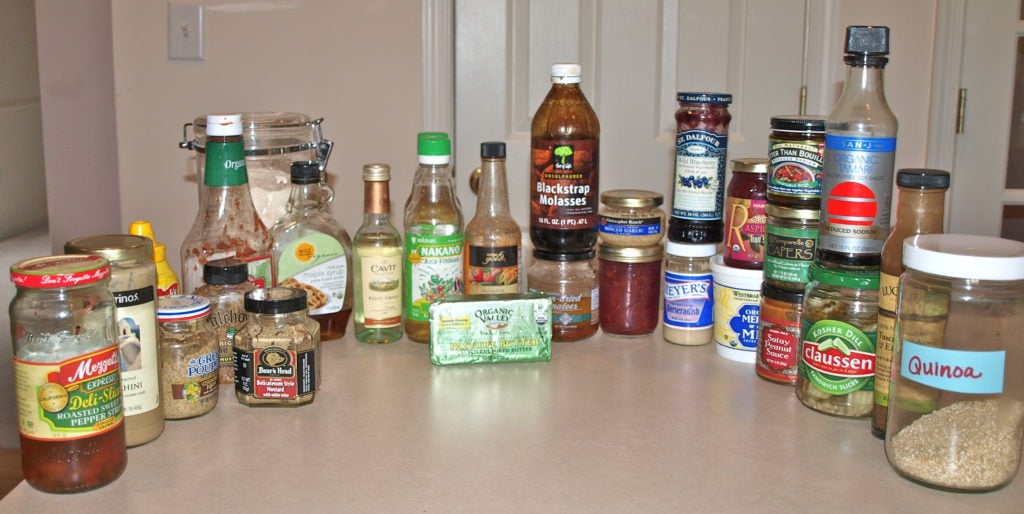 Here's the run down:
roasted red peppers
tahini (should always be refrigerated once opened)
4 different kinds of mustard
organic ketchup
pure maple syrup (should always be refrigerated once opened)
whole wheat flour
white wine (I buy small bottles for cooking)
rice vinegar
Meijer gold brand taco sauce
Organic Valley cultured butter
blackstrap molasses (keeps best when refrigerated after opening)
sun-dried tomatoes
minced garlic
horseradish sauce
blueberry preserves
organic raspberry preserves
homemade cranberry sauce
mellow white miso
vegetable base
capers
Trader Joe's peanut satay sauce
organic reduced sodium tamari (I use this instead of soy sauce)
pickles
a bottle of balsamic vinegar dressing (I always keep one bottle of store bought dressing on hand)
quinoa
I have three drawers in my fridge.  Here's what I keep in each one.
The top drawer: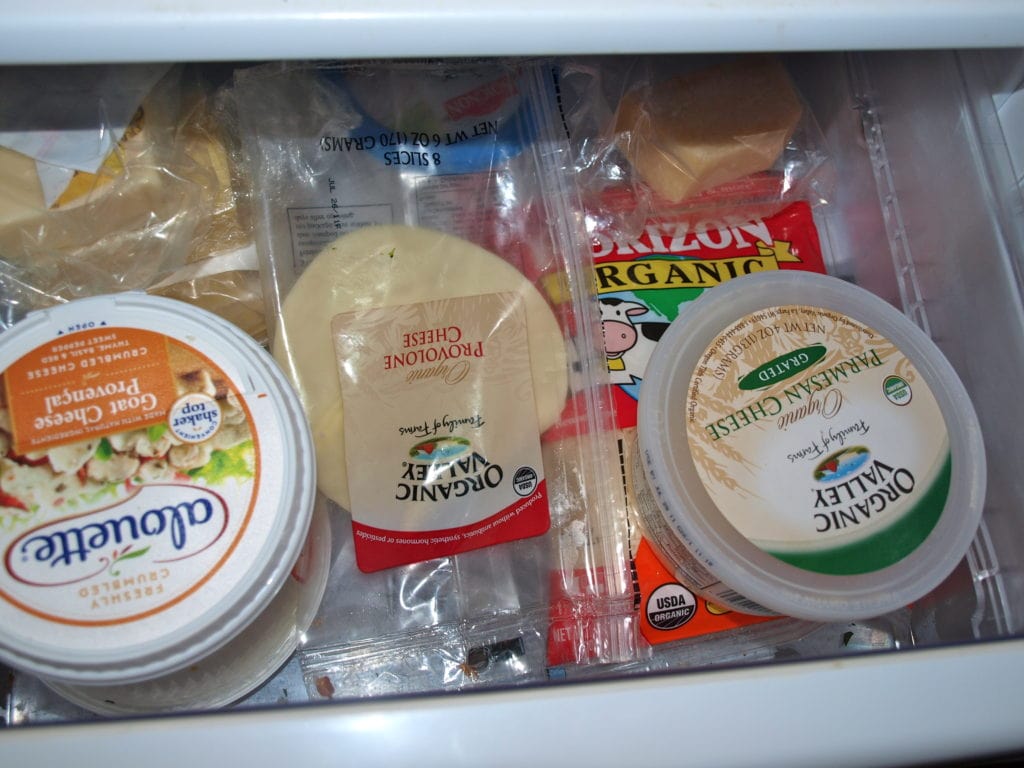 This is where I keep the cheese and meat (if I happen to have meat).  As you can see, there's no meat in there right now.  I've got:
Organic Valley grated Parmesan
Organic Valley sliced Provolone
Horizon shredded Mild Cheddar (I usually use Organic Valley and like it much better)
alouette crumbled goat cheese
a block of Parmesan
a block of Organic Valley raw mild cheddar
a block of Organic Valley raw sharp cheddar
My middle drawer is where I keep most of my produce, although it often overflows to the main shelves.  Here's what I happen to have in there today: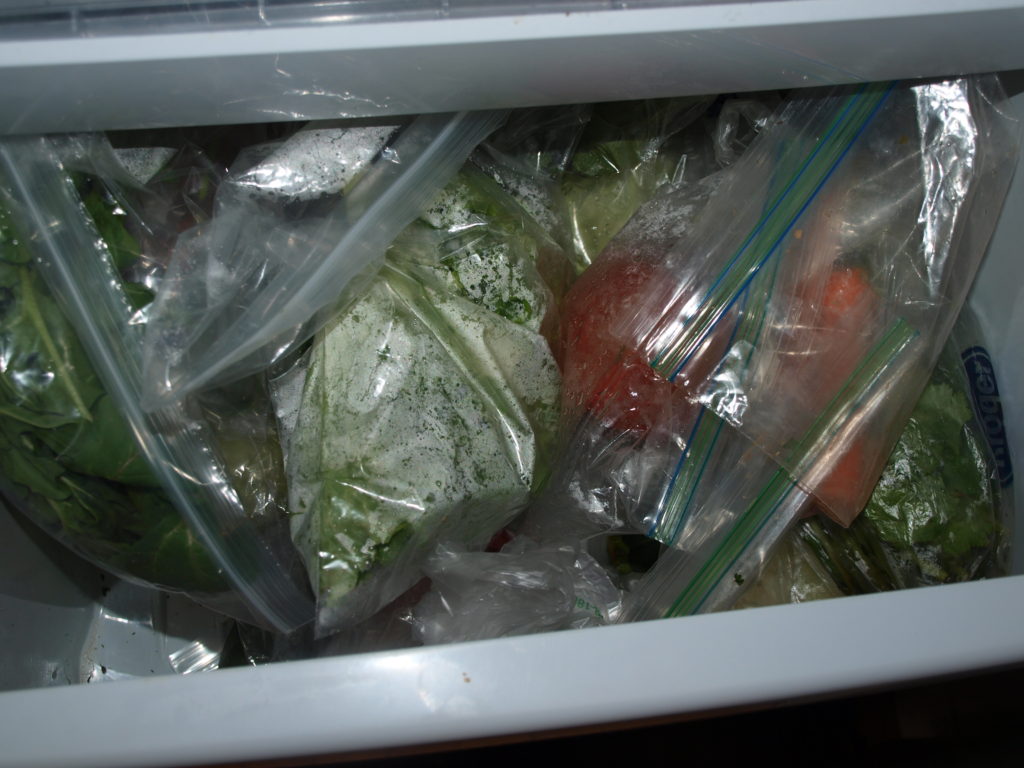 baby lettuce
endive
spinach
arugula
cilantro
2 heads of cabbage
carrots
green pepper
2 zucchinis
1/2 tomato
1/2 onion
1/2 lime
1/2 lemon
asparagus
Sadly, the only way to fit all this produce is to use plastic bags.  I wish I had room to stack a bunch of glass containers, but it just wouldn't work.
My bottom drawer is devoted to some grains, beans, legumes, and flours.  These are all items that are kept fresh longer by being kept in the refrigerator.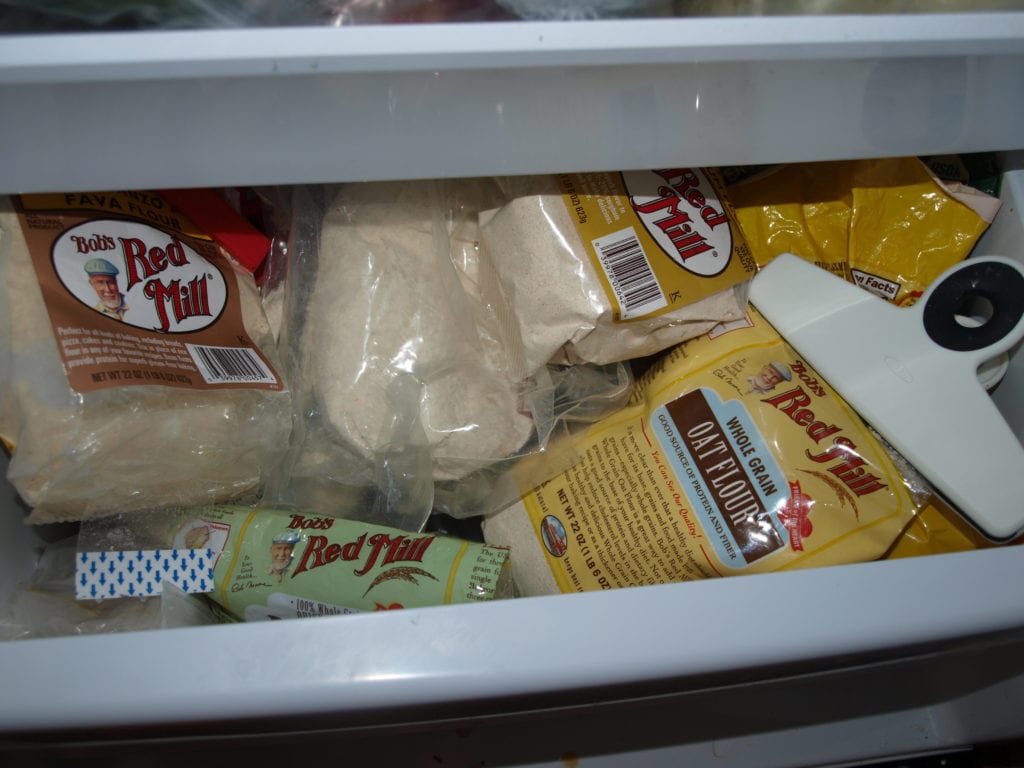 After I took everything out of this drawer, it was clear that it'd been waaaaay too long since I'd cleaned it.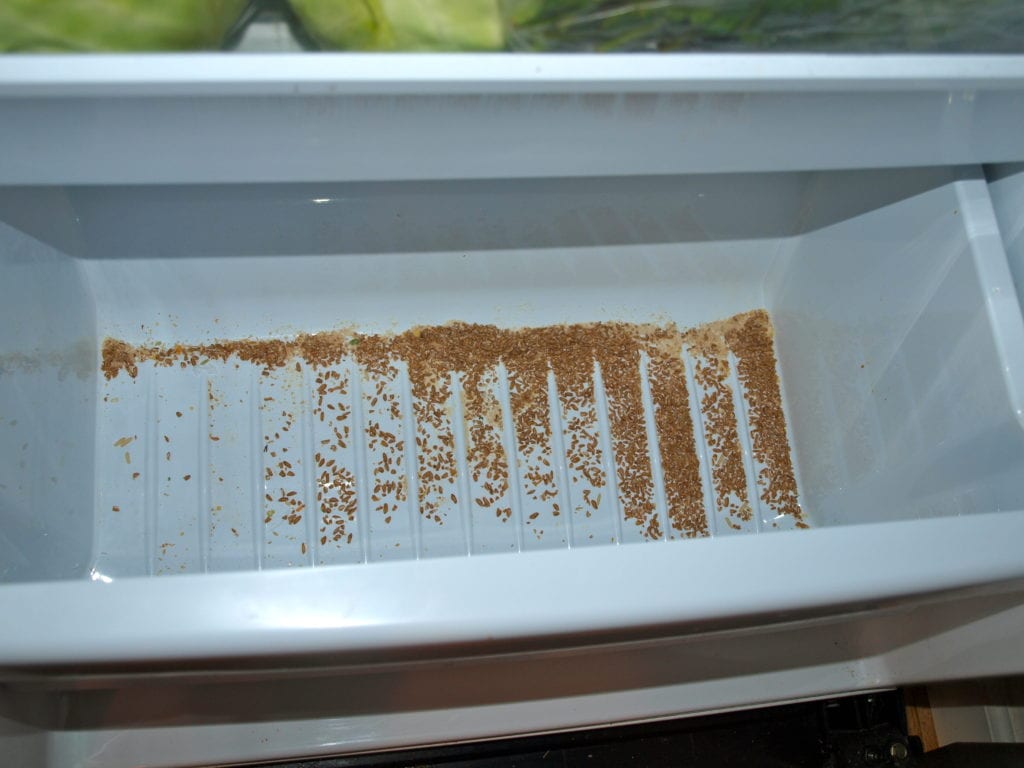 Yikes!  Here are the items I have stuffed in the bottom drawer (many of which I forgot I had!):
garbanzo+fava bean flour
bulgur wheat
wheat germ
ground flaxseed meal
brown rice flour
spelt flour
zanthan gum
split peas
all purpose gluten-free flour
sweet white gorghum flour
long grain brown rice
pearled barley
brown jasmine rice
steel cut oats
oat flour
millet
coconut flour
dried chickpeas
Here is the refrigerator AFTER I went through everything and cleaned it:
The other items on the main shelves and not previously mentioned:
a Britta water filter
a single Coor's lite
So Delicious coconut milk
Almond Breeze unsweetened almond milk
Stonyfield plain organic yogurt
farm fresh eggs
an avocado
arrowroot powder
organic silken tofu
organic vegetable stock
Wild Harvest Organics raspberry applesauce
Wild Harvest Organics unsweetened applesauce
And lots o' leftovers: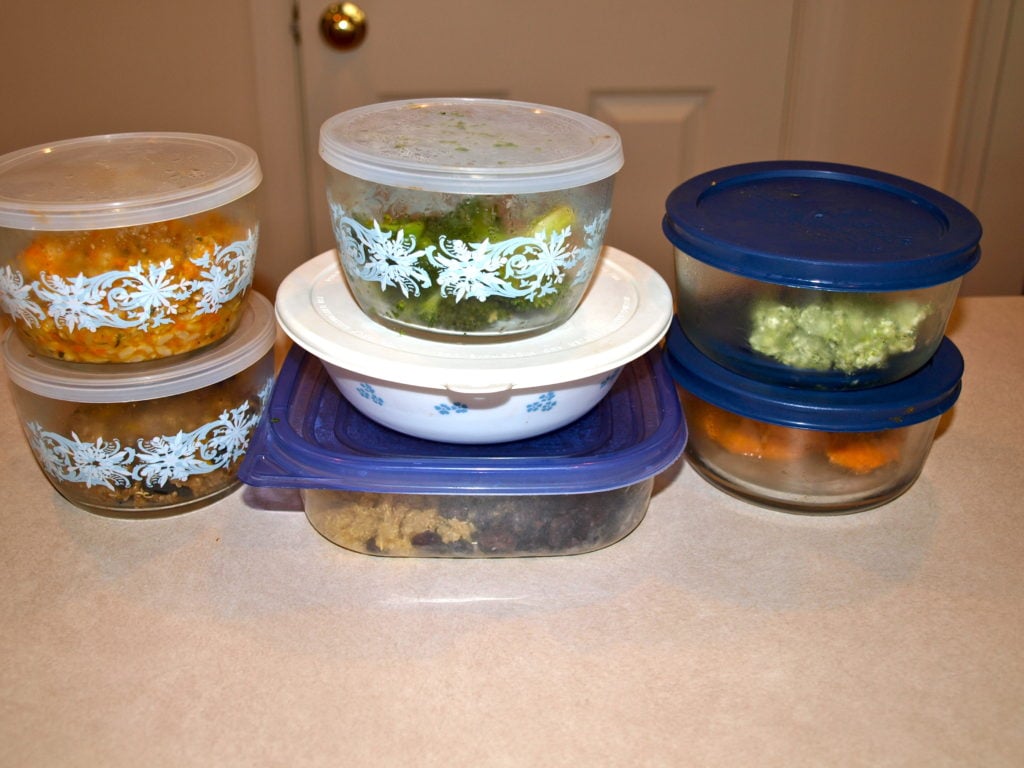 Today is eat-up-all-the-leftovers day!
Are you still with me?  Here's a quick run down of what I keep in the freezer: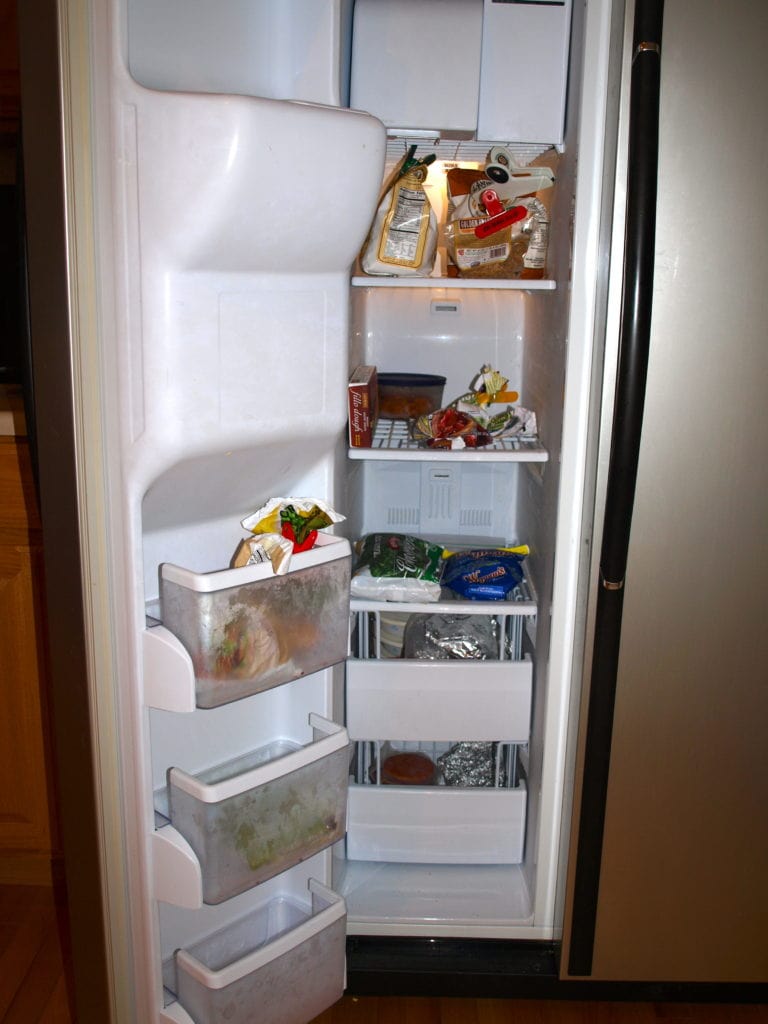 green peas
shelled edamame
green beans
sweet corn
chopped spinach
frozen leftovers
whole flax seeds
white whole wheat flour
whole wheat pastry flour
a random collection of frozen leftovers
I mainly keep the flax seeds and flour in the freezer because the fridge is already stuffed with flours and such.  I didn't do an after shot of the freezer, but it wasn't super dramatic anyway.  You get the idea.
I hope more than just the one reader who requested this post will find it interesting.  If nothing else, I have a thorough list of food items that I need to remember to use!
Questions:  What is your food-storing profile:  Do you often forget about certain items in your fridge or freezer?  Or is yours super neat and organized?