When I first discovered I could make bone broth in the slow cooker, my life was changed.  Making stock on the stove top isn't exactly difficult, but who has hours and hours to babysit a pot of simmering bones in a pot on the stove?  Not me.  I much prefer to throw everything in the crock pot and not think about it again for 18-24 hours.
I've been making my homemade chicken stock this way for years, but it never occurred to me post about it here.  When I mentioned it recently, I got a few requests for a post on how I make my homemade bone broth.  Sometimes I forget that not everyone reads as many food blogs and cookbooks as I do, and just because I've seen this elsewhere doesn't mean that all of my readers have, also.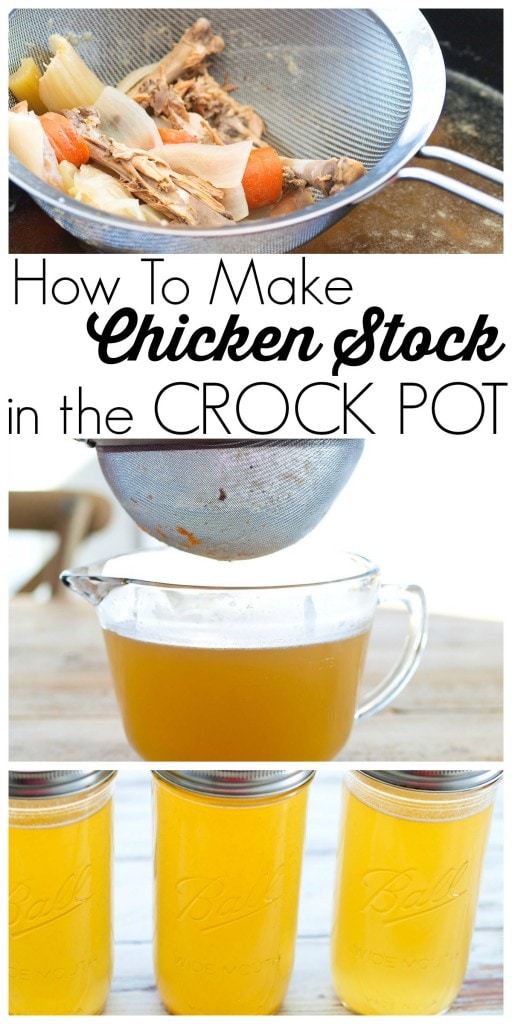 Before I tell you how to make your homemade chicken stock in the crock pot, let me highlight some reasons you should consider making your own.
1.  You'll save money.  If you're eating chicken anyway, all you have to do is use the bones (and a few inexpensive vegetables) to make homemade stock.
2.  You control the ingredients.  Chicken stock in the store is extremely hard to find without at least one unwanted ingredient.  Even organic chicken stock can have ingredients like "yeast extract," which is a form of MSG.  The brands I've found without unwanted ingredients are extremely expensive.
3.  The health benefits are impressive.  Homemade chicken stock is full of minerals like calcium, phosphorus, magnesium, and potassium.  It also contains chondroitin sulfate and glucosamine. (These are compounds that are sold as supplements to reduce inflammation, arthritis, and joint pain!) Bone broth is known to heal the gut, boost the immune system, and is great for hair, skin, and nails.  The stuff you buy in the store won't have all these benefits because of it is likely cooked faster and at a higher temperature.  
All right! Are you ready to make some homemade chicken stock?  It's so easy!
How to Make Homemade Chicken Stock in the Crock Pot
What You Need
Bones from ~4 pounds of chicken
4 quarts of water
2 tablespoons apple cider vinegar
1 large onion, cut into chunks
2 large carrots, cut into chunks
3 celery stocks, cut into chunks
~1 teaspoon salt
Optional add-ins:  fresh herbs such as parsley, thyme, or rosemary, crushed garlic, additional vegetables such as leeks
Step 1
Put your bones (make sure all the meat has been cut off if you didn't eat it all) in the crock pot and cover them with cold, filtered water.  You can use the bones from a whole chicken that you roasted, or the bones from cut up pieces you used if you don't cook whole chicken.  If you don't have enough bones from one meal (say you only cooked 2 pounds of chicken for a meal), put the bones in the freezer until you have enough.  OR you can make a smaller batch.  Just use less water.
Step 2
Add the apple cider vinegar and the vegetables, herbs, and salt you are using.  The vegetables and herbs are optional and used for flavor.  You can make bone broth without them.  The apple cider vinegar is important as it helps draw out the minerals from the bones.  Allow this to sit for about an hour before you turn on the slow cooker.  This gives the apple cider vinegar time to do its job.
Step 3
Cook on low for 12-24 hours.  I usually turn it on in the evening after dinner and finish it the next afternoon.  8 hours is the minimum you should let it cook, but 18-24 hours is optimal.
Step 4
Once you have finished cooking the stock, allow it to cool a bit.  Then you'll want to remove the bones and vegetables from the liquid.  I use a fine mesh strainer to get them out and use the back of a wooden spoon to squeeze all the liquid from the vegetables.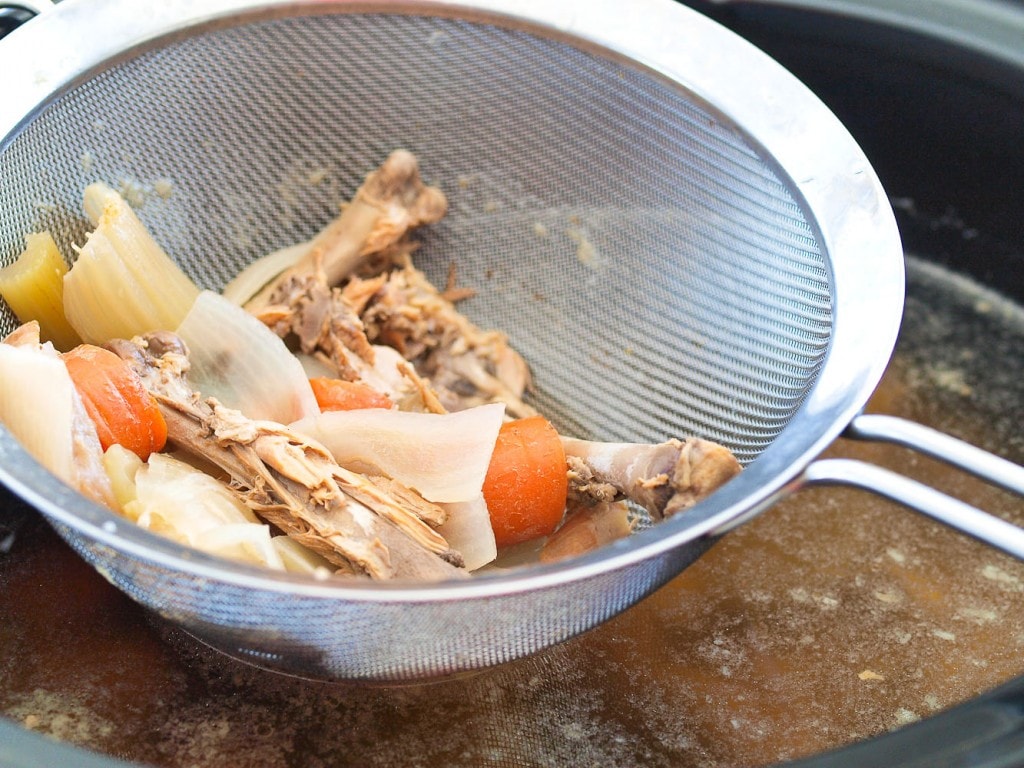 Step 5
Next, you want to strain the liquid again.  I pour it through the strainer again  into an extra large measuring cup (in batches).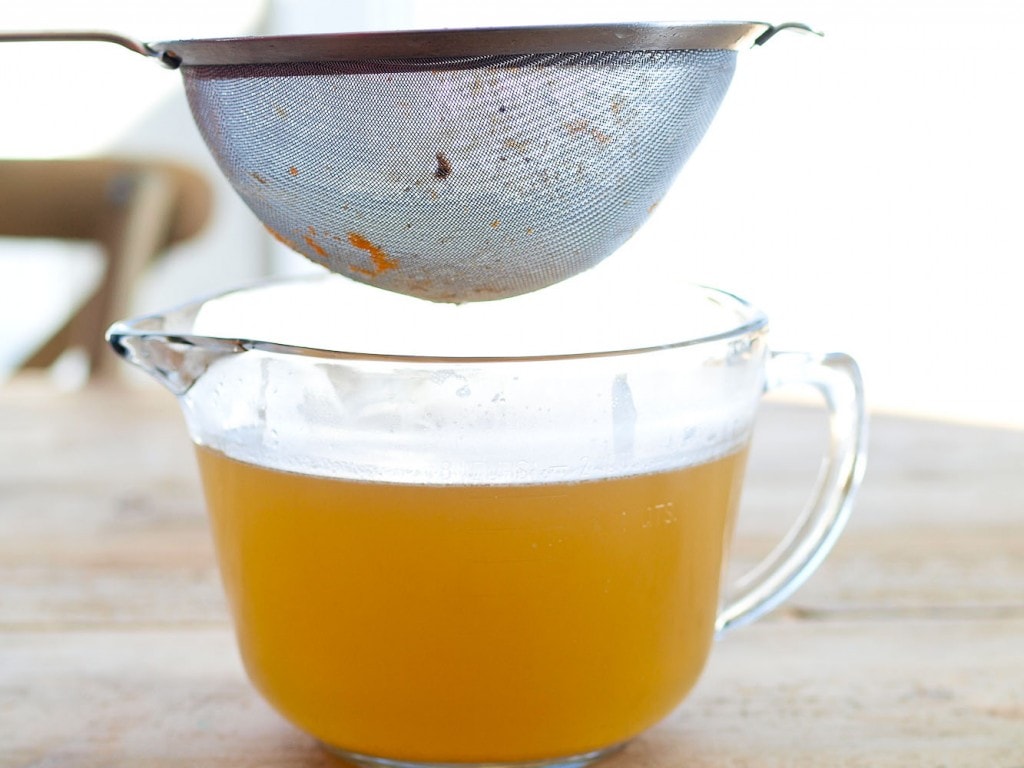 Step 6
Now you are ready to store your stock.  I put mine into large wide mouth mason jars.  Any air-tight container will work.  You can store it in the fridge and use it within 3-5 days or store it in the freezer.  I always have chicken stock in the freezer.  I use glass mason jars to freeze it; just make sure you don't fill them too full or the glass will break.  I'm speaking from experience, unfortunately.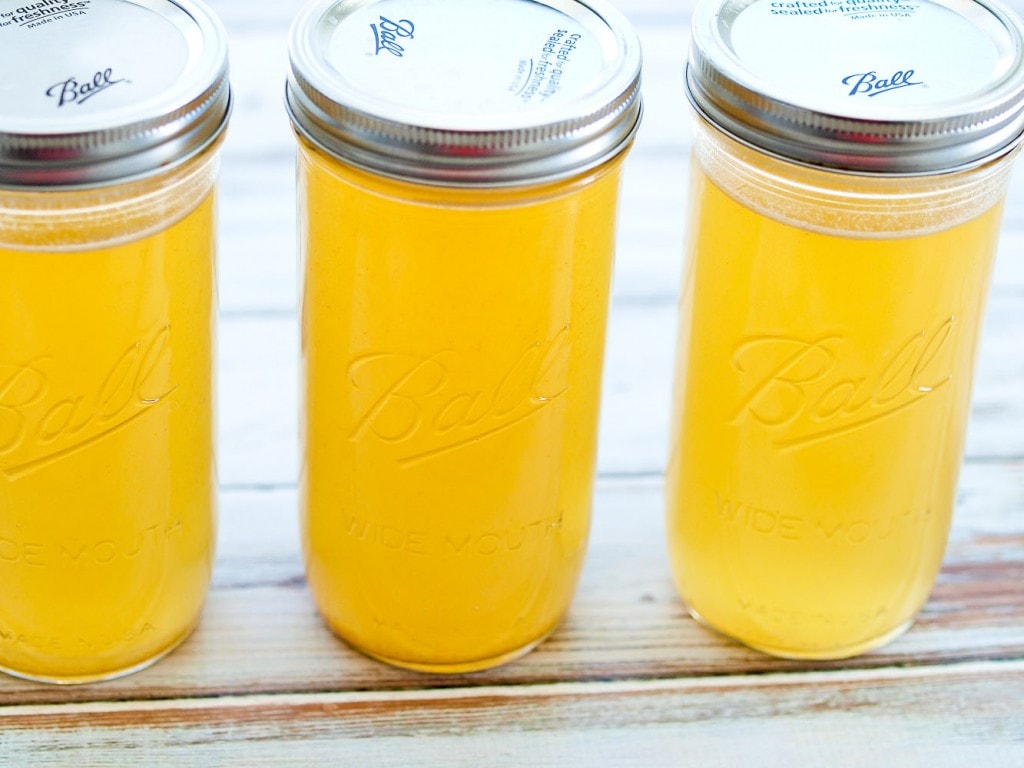 Making homemade chicken stock in the slow cooker is an easy way to save money and include a nutrient-dense staple in your diet.  I use the stock for soups, cooking rice or quinoa, and any recipe that calls for stock.  Many people sip homemade bone broth everyday for the health benefits.  I hope this post inspires you to include homemade bone broth as a healthy staple in your diet.