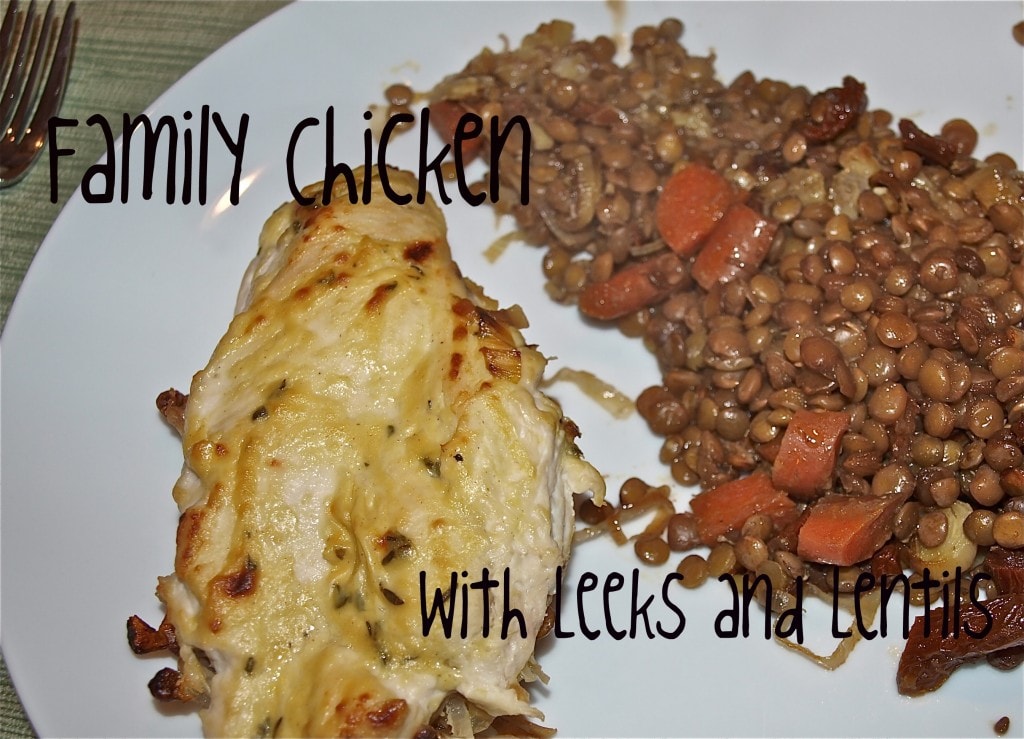 If you read my blog at all, you know that I don't post meat recipes very often.  The reason is I have a lot more veggie recipes to choose from.  My food philosophy is simple:  more plants, less meat.
This means we are eating vegan/vegetarian meals 6 days a week and meals that include meat only once a week.  Not only do I have a higher volume of veggie recipes, I tend to have more fun and get more creative with my vegetarian food.  Meat intimidates me so I tend to keep it simple.
I had to share this recipe, however, as it's becoming a go-to recipe that everyone raves about.  Tim and Meghan both love it, but I have also served it to my mother and father-in law and brother and sister-in law and each time I've gotten a recipe request.
This isn't my original recipe; I got it from the cookbook  The Family Dinner: Great Ways to Connect with Your Kids, One Meal at a Time
.  I got this cookbook from the library, but need to add it to my collection soon.  I really cannot recommend it enough.  The recipes I've tried have been delicious and family-friendly and it has great commentary on the importance and how to create a memorable family dinner time.  (It's the book that inspired this post on family dinners.)
Each time I've made this recipe I've tweaked it a little until I've gotten to this slightly adapted version that is perfect.  I recommend making this when you have your in-laws over–they will think you're  a really good cook even if you're not!  BUT, if you happen to make it for a smaller crowd and have leftovers, one time I made a delicious soup from the leftovers.  I just cut up the leftover chicken, threw in the lentil mixture, added some leftover home fries, and mixed it with some stock.  It was one of Tim's favorite soups!
All right, already, I'll get to the recipe.  Why does talking about food make me get so wordy?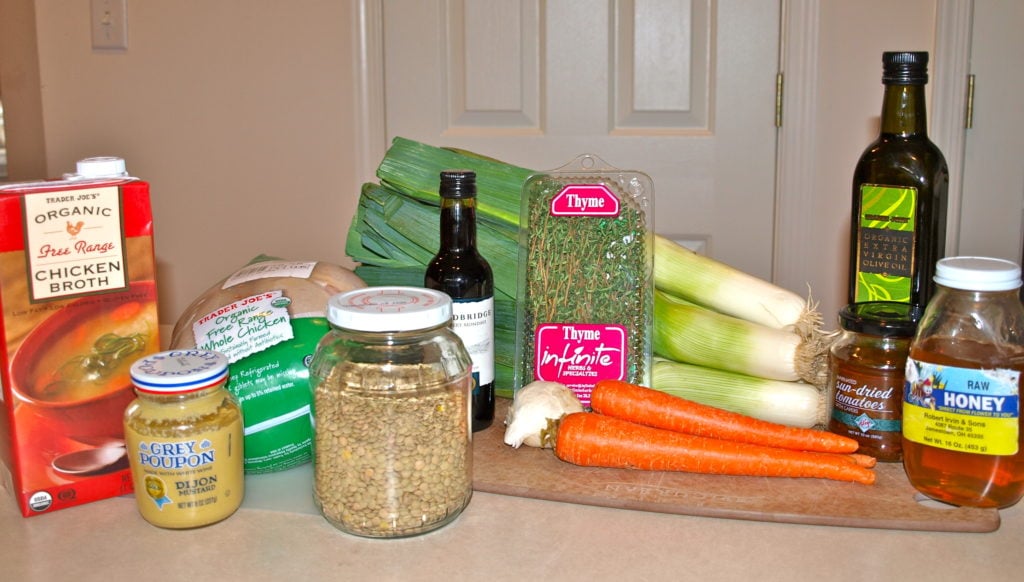 Print
Family Chicken with Leeks and Lentils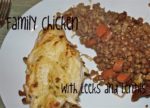 A tasty main meal for all the family to enjoy
Author:
Prep Time:

15 minutes

Cook Time:

60 minutes

Total Time:

75 minutes

Yield:

4

-

6

servings

1

x
Category:

main meal

Cuisine:

American
Scale
Ingredients
For the Lentils
1 1/2 cup

lentils (rinsed and picked through)

4

carrots, chopped

8

–

10

sun-dried tomatoes in oil, drained, rinsed, and chopped

2 1/2 cup

s chicken broth, plus more if needed

3/4 cup

red wine (you can use white in a pinch, but I like it better with red)

2 tablespoon

s olive oil

6

leeks

8

cloves garlic
For the Chicken
1/4 cup

Dijon mustard

1 tablespoon

olive oil

3 teaspoon

s fresh thyme leaves

2 teaspoon

s honey

2

cloves garlic, chopped

1

(4-5 pound) chicken, cut into 8 pieces, skin removed (preferably organic, free-range)
Instructions
Preheat your oven to 450 degrees.
In a medium to large roasting or casserole dish, pour the lentils, carrots, tomatoes, 2 1/2 cups of broth, and the wine.  Put the dish into the oven so the lentils can start to cook.
Thoroughly wash your leeks and thinly slice the white and light green parts only.
Peel 6-8 garlic cloves and keep them whole, but smash them a little.  I used the back of my chef's knife.
Heat a large skillet over medium heat and drizzle in 2 tablespoons olive oil.  Saute the leeks and garlic until they have softened and are turning golden brown, about 15 minutes.
I love everything about sauteed leeks.  The smell is fantastic.  I could seriously just eat this entire pan with a fork.  YUM.
Mix the mustard with the olive oil, 2 teaspoons of thyme, honey, the chopped garlic, and spread evenly on the chicken pieces.
Take the lentils out of the oven and check to see if they need more stock.  Add more if most of the liquid is absorbed.  Layer the leeks on top, and tuck the chicken into them.  Top the entire mixture with the remaining teaspoon thyme.
Roast uncovered for 30 minutes.  Check once again if the lentils need more stock and check the temperature of the chicken.  It will probably need a few more minutes, for a total roasting time of 30-45 minutes.    The chicken is ready when a meat thermometer registers 165 degrees, or the juices run clear, not pink, when pricked with a knife.
Notes
Adapted from The Family Dinner
Nutrition
Serving Size:

1 of 6 servings

Calories:

380

Sugar:

10.6g

Sodium:

359mg

Fat:

14.3g

Carbohydrates:

34.5g

Protein:

21.3g
This time I decided to save money and buy the whole chicken even though this eat-less-meatatarian had no idea how to cut up a bird.  There was some heavy researching in Joy of Cooking and Mark Bittman's How to Cook Everything app on the iPad.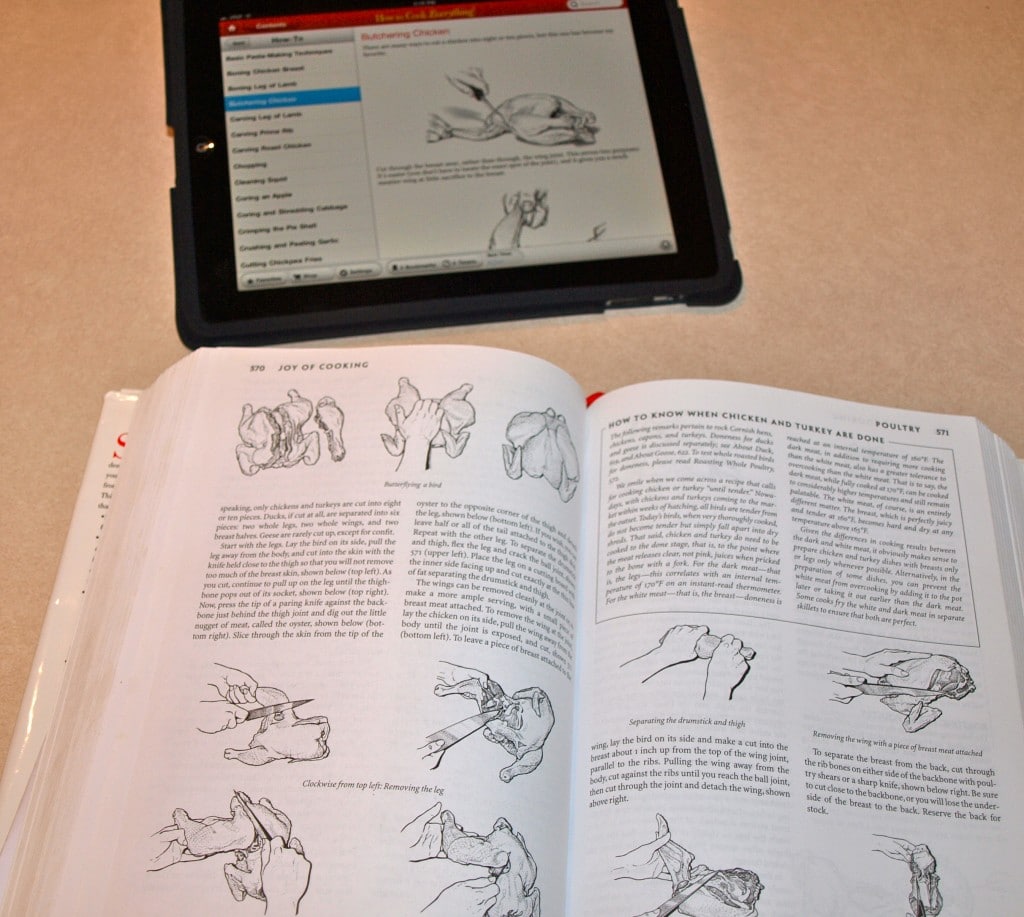 I started the process but was completely grossed out, so I passed the duty onto my brother-in-law, Shawn, who is visiting this week, while Tim coached him.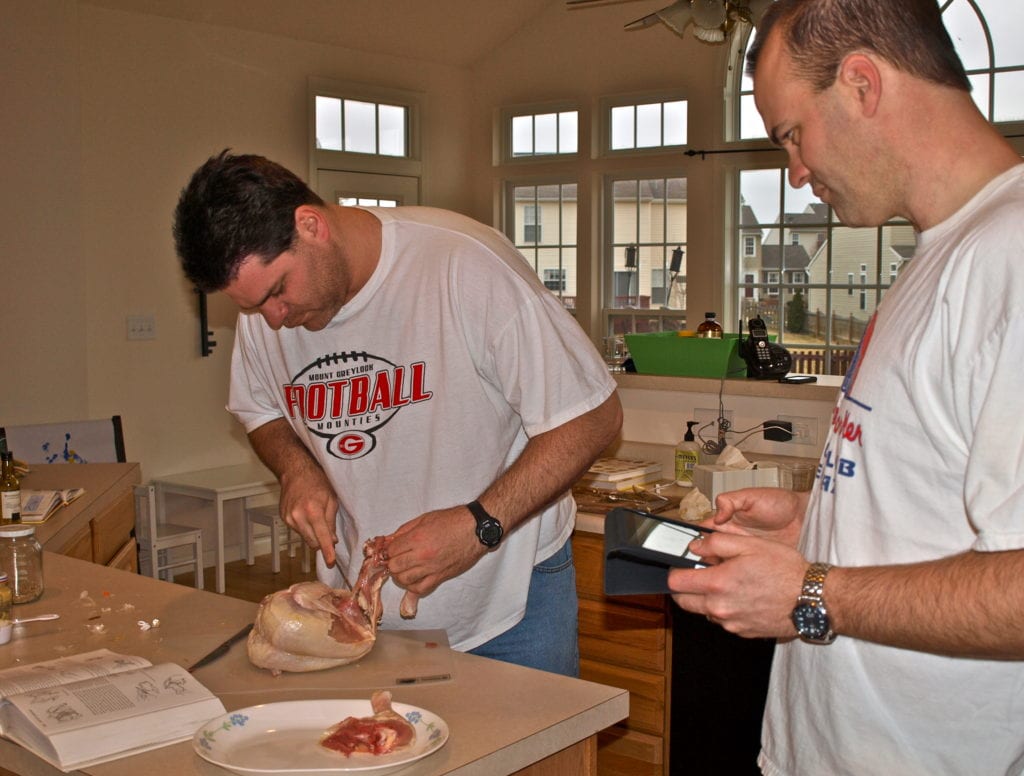 How many clueless cooks does it take to cut up a chicken?
This recipe is pure deliciousness. I could just eat the lentil portion only and be a happy camper, but everyone seems to adore the chicken, too.  Meghan ate almost everything on her plate, and even asked for more!  She's like that. One day she hardly eats a thing, the next day she eats me out of house and home.  I never know what to expect!
Question:  Do you know how to cut up a whole chicken?  How did you learn?