These Double Chocolate Peanut Butter Muffins with Vegetables are vegan, gluten-free, and made with a cup of vegetables inside!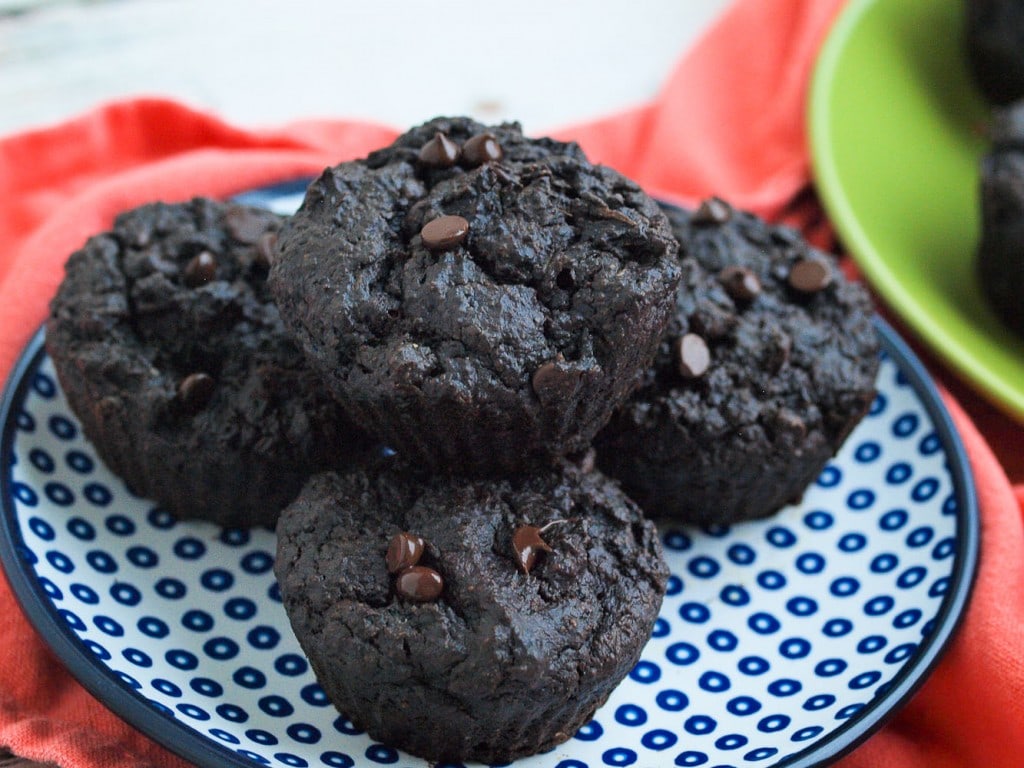 I serve my kids fresh vegetables every day. Not a day goes by that they don't see vegetables in their true form. That doesn't mean I'm above serving them extra vegetables inside their muffins. Even the pickiest eater won't suspect that these Double Chocolate Peanut Butter Muffins with Vegetables have a whole cup of vegetable goodness baked right into them.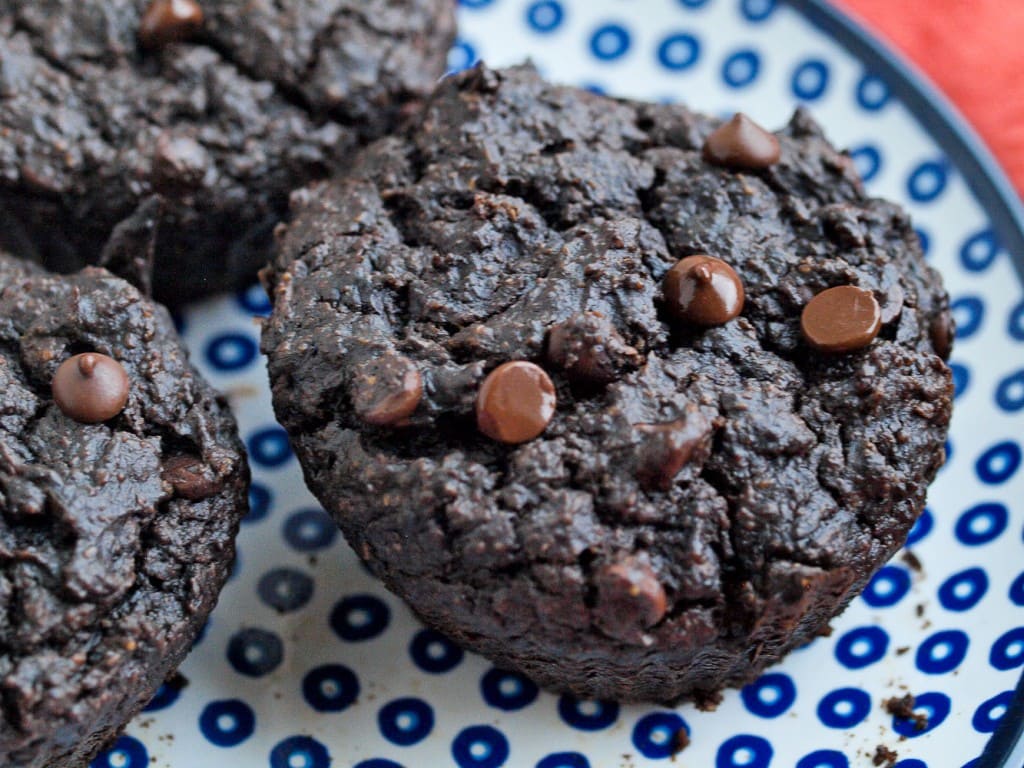 Trust me, they'll only be thinking about the incredible chocolate and peanut butter flavor they are getting with every bite.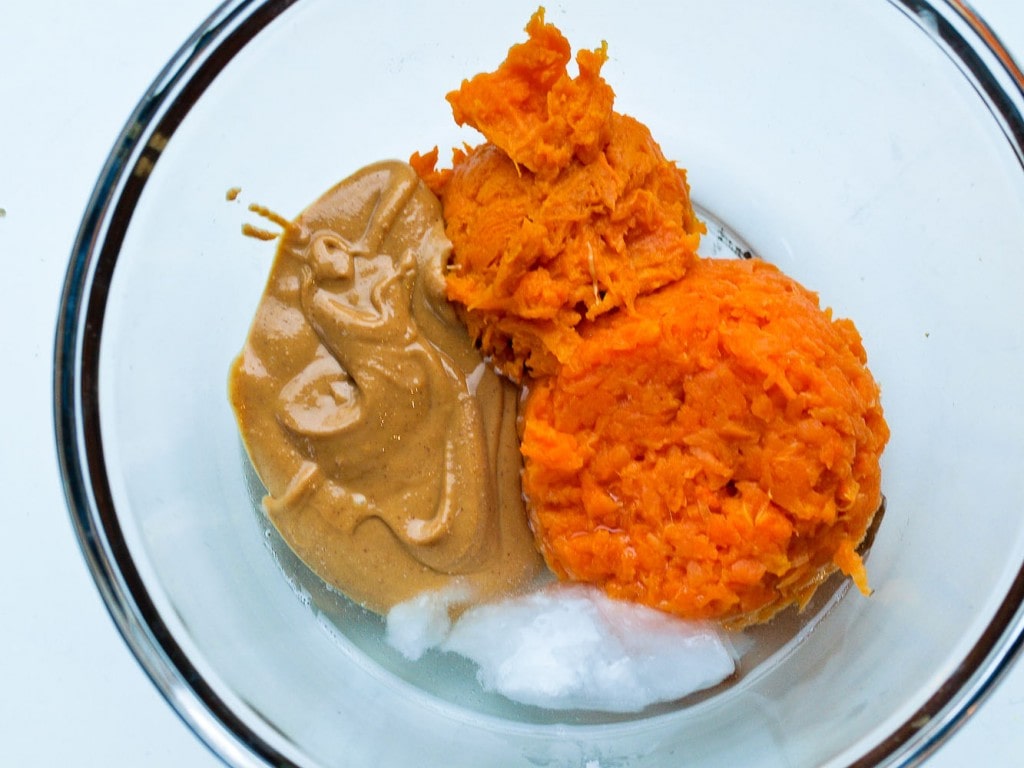 I used a mixture of cooked carrots and sweet potatoes for the vegetables. I think there's definitely room to try different vegetables here (remember the Superfoods Chocolate Cake with beets?) but the carrots and sweet potatoes have a natural sweetness that works very well.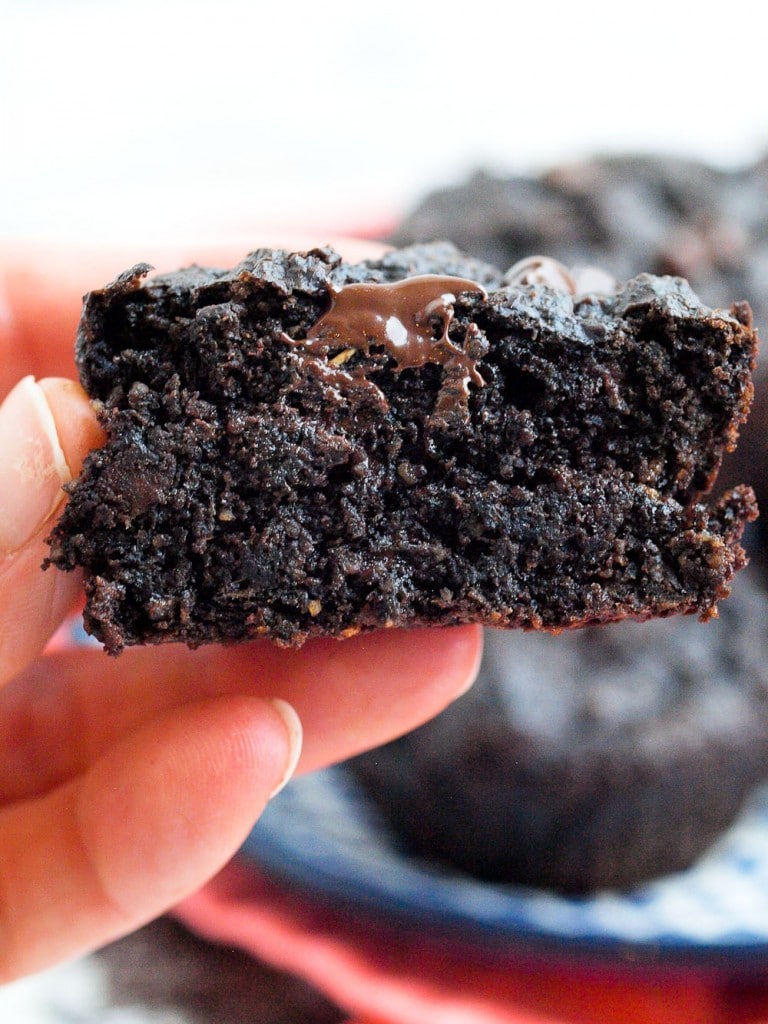 The vegetables lend moisture to the mix, as well, making these the exact opposite of dry.  Did I mention that these are vegan and gluten-free, also? I used oat flour that I blended from regular rolled oats (use certified gluten-free oats, if necessary) and it worked great. Vegan baking is the best because you can taste the batter with no worries. I was so excited because this batter tasted like no bake cookies! I almost didn't bake them.
These are made with coconut palm sugar, which I like because it is an unrefined sugar that retains a lot of minerals and has a lower glycemic index than regular white sugar. If you don't have it on hand, it's okay to use whatever sugar you prefer.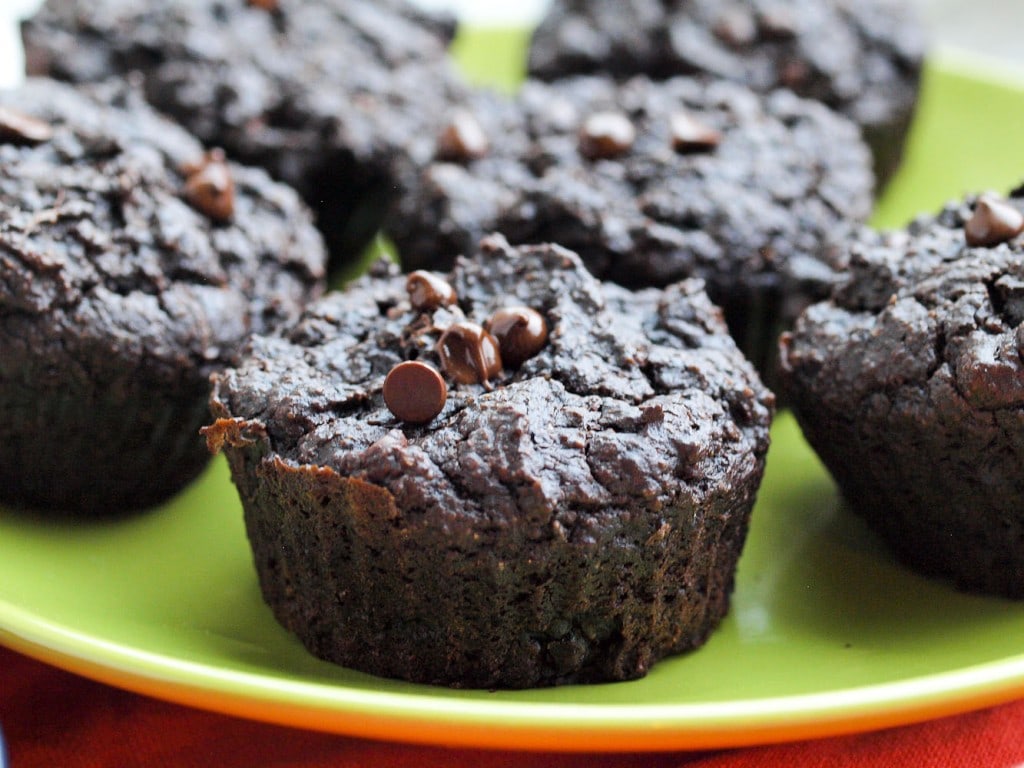 Muffins tend to walk a fine line between breakfast treat and dessert. These are definitely in that category. What saves them? Hello, vegetables! Totally healthy enough for breakfast.

Double Chocolate Peanut Butter Muffins with Vegetables
Author:
Happy Healthy Mama
Prep time:
Cook time:
Total time:
These Double Chocolate Peanut Butter Muffins with Vegetables are vegan, gluten-free, and packed with nutrition via carrot and sweet potato! Your kids won't ever suspect they are eating vegetables with these muffins.
Ingredients
¾ cup carrot puree (steam and blend about 2 cups roughly chopped carrots)
¼ cup cooked sweet potato flesh
⅓ cup unsweetened vanilla almond milk (or milk of choice)
⅓ cup natural peanut butter
1 teaspoon vanilla extract
¼ cup coconut oil, mostly melted
1 cup oat flour
2 teaspoons baking powder
⅔ cup coconut palm sugar
⅓ cup dark cocoa powder (regular should work also)
¼ teaspoon salt
⅓ cup mini chocolate chips
Instructions
Preheat the oven to 400 degrees.
Line a muffin pan with silicone baking cups, or oil it well.
In a medium bowl, whisk together the carrot puree, sweet potato flesh, almond milk, peanut butter, vanilla extract, and coconut oil very well until you have a smooth mixture. Use a fork to smooth out any chunks from the vegetables.
In a separate bowl, whisk together the oat flour, baking powder, coconut palm sugar, cocoa powder, and salt.
Pour the wet ingredients into the bowl with the dry ingredients and mix until combined.
Fold in the mini chocolate chips.
Transfer about ¼ cup of the batter per muffin cup.
Bake in the preheated oven until the muffins are set and a toothpick placed in the center of a muffin comes out clean (except for the melted chocolate chips), about 20 minutes.
Allow to cool before serving. Enjoy!