These Strawberry Oatmeal Bars are vegan, gluten-free, and super easy to make!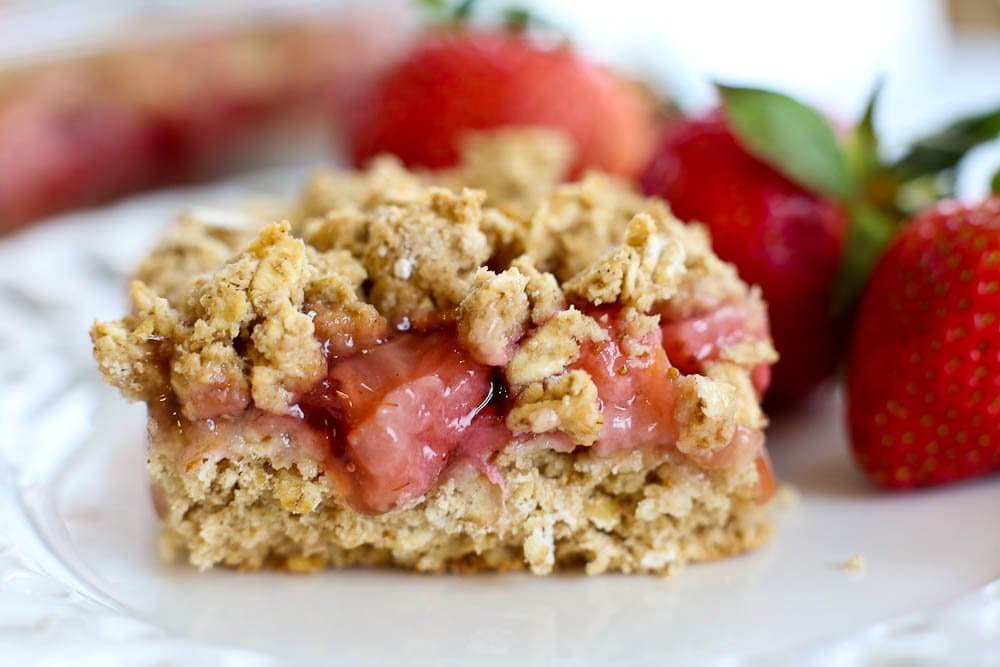 My kids love cereal bars. They beg me to buy them at the grocery store all the time. I've tried making homemade cereal bars and let me tell you: not worth the effort.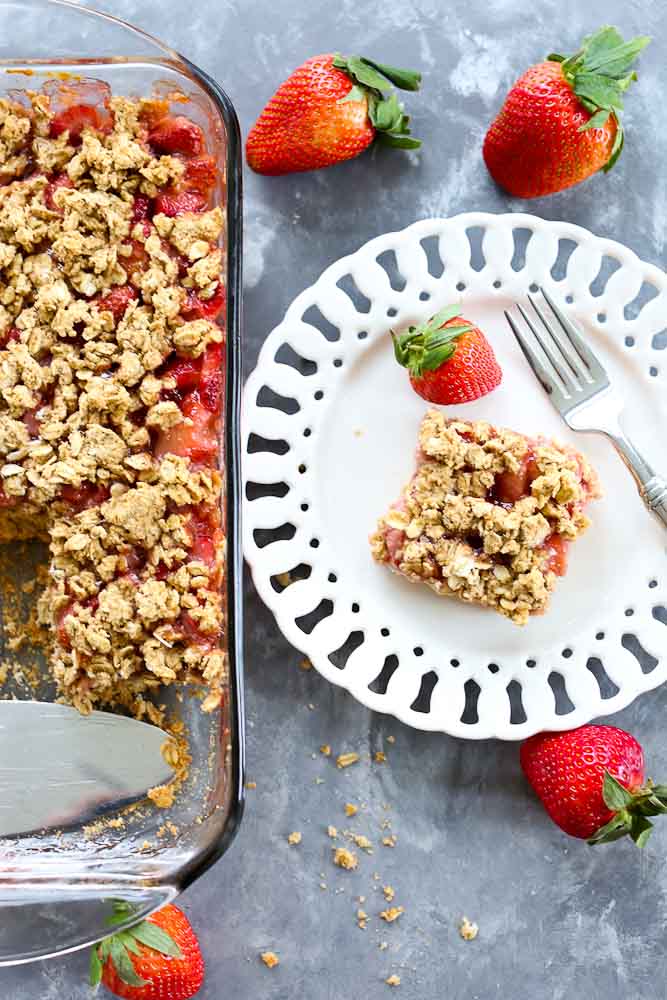 These Strawberry Oatmeal Bars are what I make instead of homemade cereal bars. Guess what? They taste even better! Crumb topping > enclosed bar. Yes?
These are a million times easier than cereal bars so it's pretty much a no brainer that you should make them. They are teetering dangerously between a healthy dessert and an acceptable breakfast. I say make them both. That's what we did.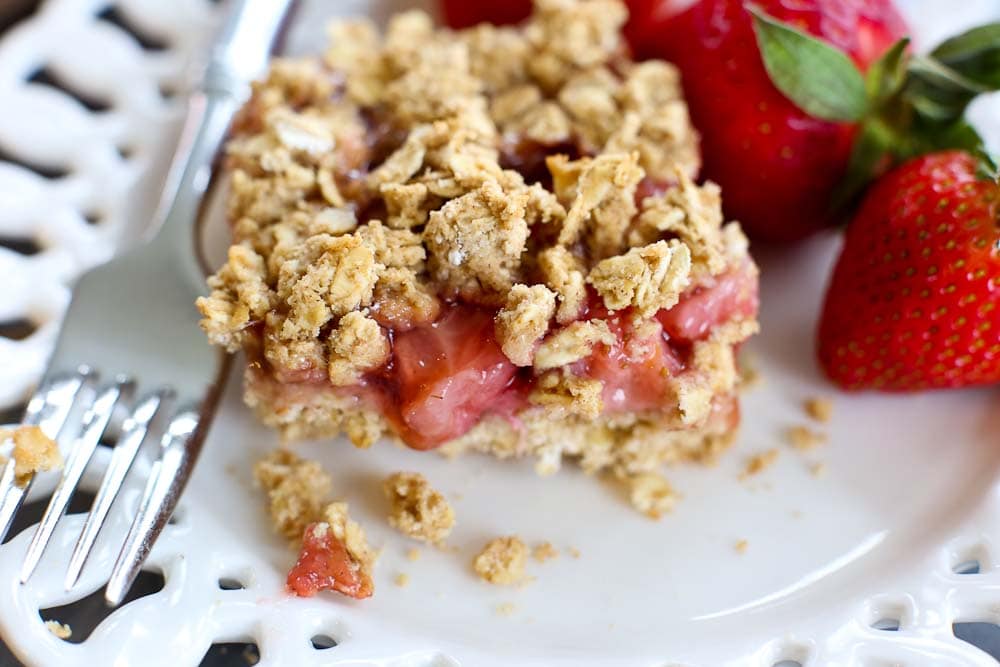 What do you do when Costco has giant containers of organic strawberries for less than the regular size at other stores? You buy them. No matter what the month. I can't resist.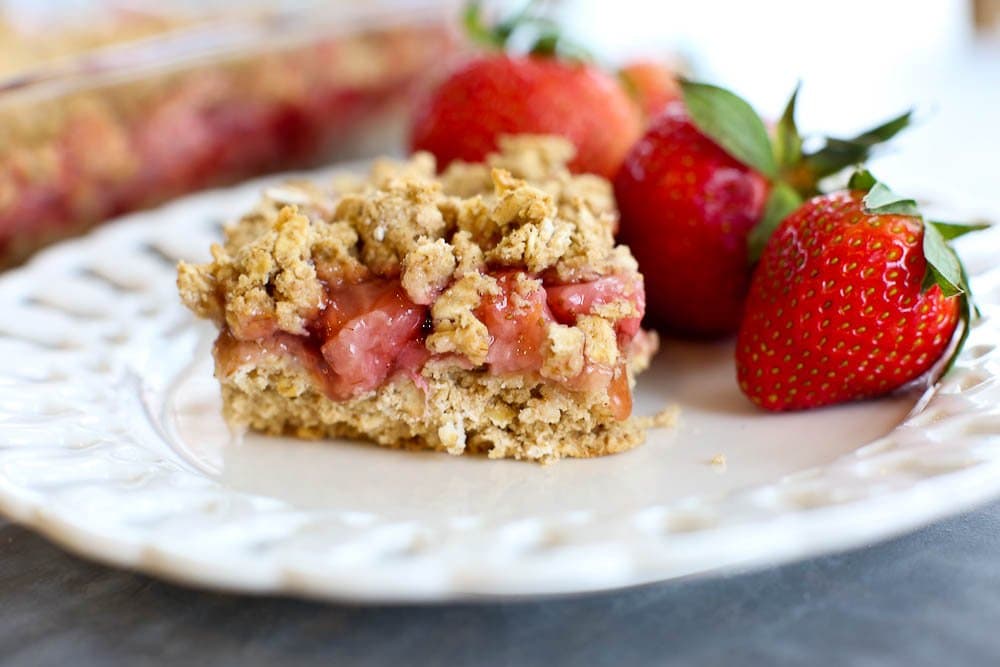 Nobody over here was complaining when I turned that purchase into these Strawberry Oatmeal Bars.
I scaled this recipe for a bigger baking dish so these wouldn't be eaten up in a day. You're welcome.

Strawberry Oatmeal Bars (Vegan and Gluten Free)
Author:
Happy Healthy Mama
Prep time:
Cook time:
Total time:
These healthy Strawberry Oatmeal Bars are vegan, gluten-free, and super easy to make!
Ingredients
4 cups diced strawberries
½ cup maple syrup
¼ cup lemon juice
¼ cup water
3 tablespoons arrowroot powder+3 tablespoons water (mixed together)
1 teaspoon vanilla extract
3 cups old fashioned rolled oats
2 cups oat flour (blend some rolled oats if you don't have oat flour)
1 tablespoon baking powder
1 teaspoon cinnamon
½ teaspoon salt
½ cup maple syrup
½ cup applesauce
¼ cup coconut oil
Instructions
Preheat your oven to 350 degrees. Oil a 2 quart baking dish and set aside.
In a saucepan, bring the strawberries, maple syrup, lemon juice, and water to a boil.
Once it is boiling, reduce the heat and stir in the arrowroot powder/water mixture and the vanilla extract. Stir well and cook over low heat for 1-2 minutes. Remove from heat.
In a large bowl, mix together the rolled oats, oat flour, baking powder, cinnamon, and salt.
Add the remaining ½ cup maple syrup, apple sauce, and coconut oil. Use your hands to make sure it is well incorporated.
Press a little more than half of the oat mixture into the baking dish. Make sure it is even.
Pour the strawberry mixture on top of the oat mixture in the dish.
Crumble the remaining oat mixture on top of the strawberry mixture.
Bake in the preheated oven for 30 minutes. Allow to cool before cutting into squares. Enjoy!
Note: This recipe is adapted from my
Blueberry Oat Bars
. Check those out if you love blueberries!