Easy Lemon Garlic Skillet Chicken Breasts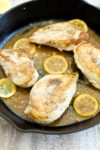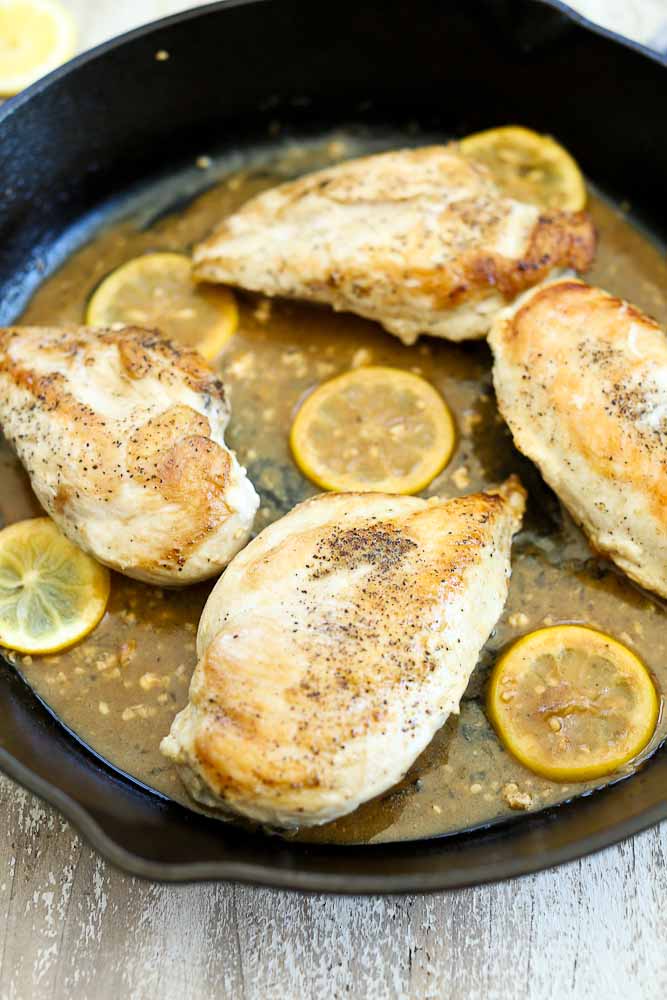 Author:

Happy Healthy Mama

Prep Time:

5 minutes

Cook Time:

25 minutes

Total Time:

30 minutes

Yield:

4 servings
Ingredients
2 pounds boneless, skinless chicken breasts (4 breast halves)
1 tablespoon ghee or avocado oil
salt and pepper
1/4 cup chicken stock
1 tablespoon dijon mustard
1 tablespoon balsamic vinegar
1 tablespoon avocado oil
2 teaspoons minced garlic
2 lemons, sliced
1/2 teaspoon arrowroot powder+1 teaspoon water
Instructions
Preheat the oven to 400 degrees.
Pat your chicken breasts dry and season them with salt and pepper on both sides.
Heat the ghee in a large cast iron skillet (or other oven-proof skillet) over medium heat until it melts.
Add the chicken breasts to the skillet and cook until browned, about 5 minutes per side.
Meanwhile, whisk together the chicken stock, mustard, vinegar, oil, and garlic.
Pour the mixture into the skillet. Use a spoon or spatula to deglaze the pan. (I don't always remove the chicken first because I'm kind of a lazy cook. I just work around it. You can totally remove the chicken to do this and then add it back to the skillet if you want.)
Add 1-2 lemon slices to the top of each chicken breast and the remaining slices around them in the pan.
Finish cooking the chicken in the preheated oven until it reaches an internal temperature of 165 degrees, about 12-15 minutes more.
Once the chicken is cooked, remove it from the skillet to a plate and keep it covered to stay warm.
Make a slurry with the arrowroot powder and water in a small bowl.
Bring the sauce to a simmer on the stove top and add the arrowroot slurry. Whisk for one minute and then remove from the heat.
Top each chicken breast with sauce and serve. Enjoy!