Ingredients
1 large butternut squash, cut in half length-wise and seeds removed
5 tablespoons butter, divided
1 small onion, finely chopped
3–4 large kale leaves, stems removed and finely chopped
1 1/2 tablespoons minced garlic
1/4 cup flour (I use white whole wheat)
4 cups milk (I use whole milk, reduced fat is fine)
salt and pepper, to taste
11 no-boil whole wheat lasagna noodles
3/4 + 2 tablespoons grated parmesan cheese or grated parmigiano-reggiano
If you haven't cooked your butternut squash ahead of time, preheat your oven to 400 degrees.  Place the cut squash on a baking tray, flesh side down, and roast until it is fork tender, about 40-45 minutes.  Allow it to cool and then scoop the flesh into a bowl and set aside.
Reduce the heat of the oven to 375 degrees (or preheat if your squash was already cooked).
Heat one tablespoon of butter in a medium skillet over medium heat.  Add the onion and cook until soft, about 5 minutes.  Add the kale leaves and cook until they are bright green and tender, about 2-3 minutes.  Stir in the butternut squash.  If there are any lumps in the squash, use the back of your spoon to mash them until you have a smooth mixture. It will look like this: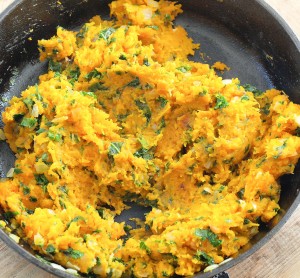 In a medium sauce pan, heat the remaining 4 tablespoons butter with the garlic over medium low heat until the garlic is soft, about 2 minutes. Stir in the flour and cook for 3 minutes. Whisk in the milk until smooth.  Bring to a simmer, and cook until it thickens, about 10 minutes, whisking frequently.  Stir in the butternut squash and kale mixture.  Taste and season with salt and pepper.
Pour 1 cup of the sauce into the bottom of a 9X13 inch baking dish.  Top with 3 noodles and then break a noodle into pieces and use 1/2 to 1/3 of it to cover the remaining space (2 of the 9 noodles will be broken to cover the small end space in each layer). Top the noodles with 1/3 of the remaining sauce and sprinkle with 1/4 cup parmesan cheese.  Add another layer of noodles.  Add 1/3 of the sauce and top with 1/4 cup parmesan cheese.  Add a last layer of noodles.  Top with the remaining sauce and 1/4 cup + 2 tablespoons parmesan cheese.
Cover with foil and bake in the 375 degree oven for 30 minutes.  Remove the foil and bake an additional 10 minutes. Allow to rest 5-10 minutes before serving.  Enjoy!