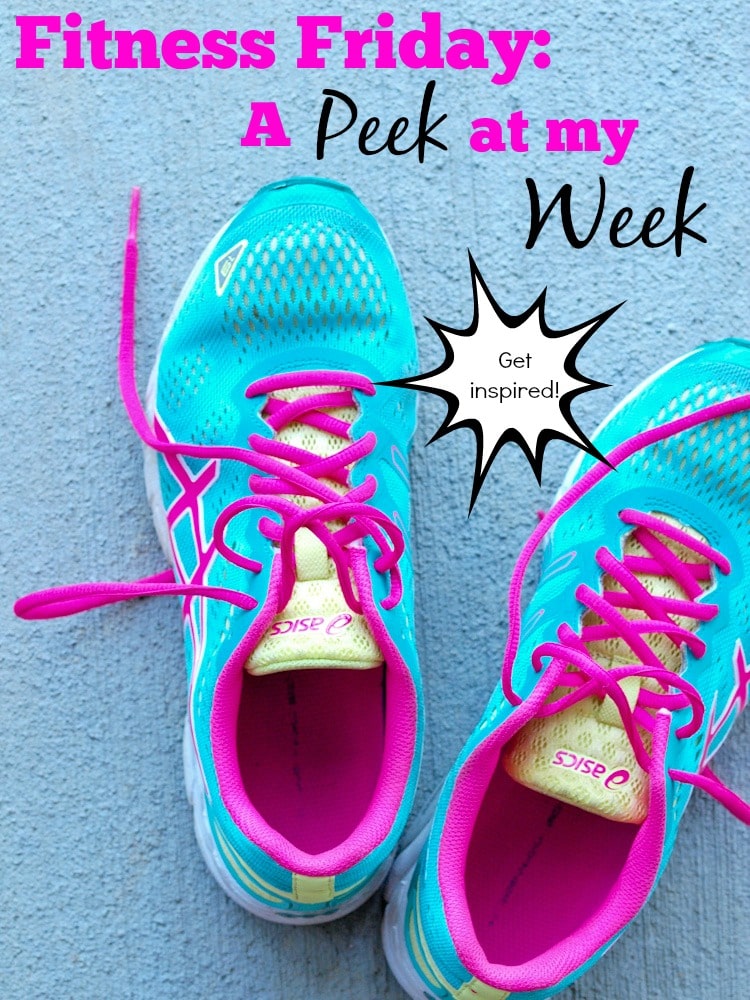 I love hearing about other people's workouts, and I especially love looking at what other people do over the course of the week.  I thought you might like it, too, so I thought I'd try a new spin on Fitness Friday and share what my workouts looked like this week.
As I was making the graphic for this post, it felt rather self-congratulatory to write "get inspired!" on it.  I feel like there are soooo many women out there who are truly more inspirational than me when it comes to fitness.  I hope that despite this, at least some of you find inspiration here on my Fitness Friday posts.
What I am is a busy mom who is trying to squeeze in exercise when I can.  I am trying to be a good example of healthy living for my children.  I may not be the gym rat who lives and breathes for working out, but I am a real mom who is striving to make fitness a regular part of my life.
All right–let's get to it!  Here's a peek at my week in fitness.
Sunday:  off
Monday:  40 minute interval run on treadmill
I created a play list for this alternating between slower songs and upbeat songs.  For the slower songs I ran around 9:30 minute mile pace and for the fast songs I ran around 7:30 minute mile pace.  Overall I ran 4.6 miles. This was a good workout and a fun way to run on the treadmill.  I'm not really a treadmill fan, but the weather this week is too hot for my liking, plus the gym childcare is really helpful.  
Tuesday:  A 45 minute Cross Training class at the Y (A new class for me–I'm working on my Summer Fitness Bucket List still!)
This was a super fun class that went by really fast. I loved that it worked my entire body.  We started with a 5oo meter jog to warm up (5 laps on the indoor track) and then 5 minutes of alternating jump rope and push-ups. Then we moved to three different "boxes" that had 3 exercises each that we completed as many rounds that we could in 8 minutes.  In between each box we ran 2 laps on the indoor track (I ran fast to get some cardio in) Here's what each "box" looked like:
Box #1
TRX rows-15
Wall Balls (squatting with a medicine ball, then jumping up and throwing the ball on the wall)-10
Jack knife sit ups-10
Box #2
Burpees with box jump-12
Run stairs with  weighted bag-3
Kettlebell swings-15
Box #3
push ups with weighted bag pull through-10
jump rope-100
one more thing that I can't remember 😉
For each round I made it through three sets and was working on my fourth when time was up.  We ended the workout with a jog to cool down.  I loved this class and will do it again for sure.  
Wednesday: Lifted arms and then ran on the treadmill
Arm workout:
Dumbbell curls 3 x 10
Tricep Extensions 3 x 10
Dumbbell bench press 3 x 10
Lateral extensions 3 x 10
Tricep dips 3 x 15
Treadmill:
3 miles total
mile one: 9:30 minute mile pace
mile two:  7:08 minute mile pace
mile three:  9:30 minute mile pace
I wanted to run a fast mile and see how it felt. It felt good! It was hard, but not too hard.  
Thursday:  off
Friday:  4 easy miles morning run outside.  8:45 minute mile pace.  I wanted to run 5 today, but didn't get up early enough.  Such is life, right?  
Saturday:  Not sure yet.  We have a busy day planned, so most likely off.  But I'd love to get up early and get a run in and maybe some leg work.  We'll see!
Overall, I'd say this is a typical workout week for me.  About as "typical" as you can get with me, because I change things up a lot! My goal is always to get four workouts in and most of the time that happens. Sometimes, though, it's only three.  Other weeks I sneak in five.  I'm not consistent! My life doesn't give me that luxury right now, but I think I'm doing okay given the season of life I'm in.
Let's inspire each other! What did your workouts look like this week?  Tell me in the comments!