Sorry to keep you waiting all day for the winner of the Love Grown granola giveaway.  It was a busy day and my poor computer sat lonely all day.  Now that Meghan's in bed and I have a moment to myself,  I'm happy to announce the winner of 3 bags of delicious granola.
Chosen via random.org, the lucky lady who was commenter number 61 is the winner.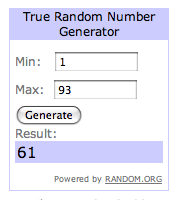 Congratulations, Jenn!
Please email me at [email protected]gmail.com with the address where you'd like your goodies sent and I'll get the package out to you right away!
I'll see you tomorrow with my pregnancy update–I'm 17 weeks today!