I'm thrilled to welcome reader Alison to Happy Healthy Mama today.  She has generously offered to share her tips on keeping kids' artwork organized.  I know I'll be implementing these steps–I hope you find this post as useful as I did!  In other news, look for a new post from me later this week.  I'm so ready to get back into my blogging routine! 
-Maryea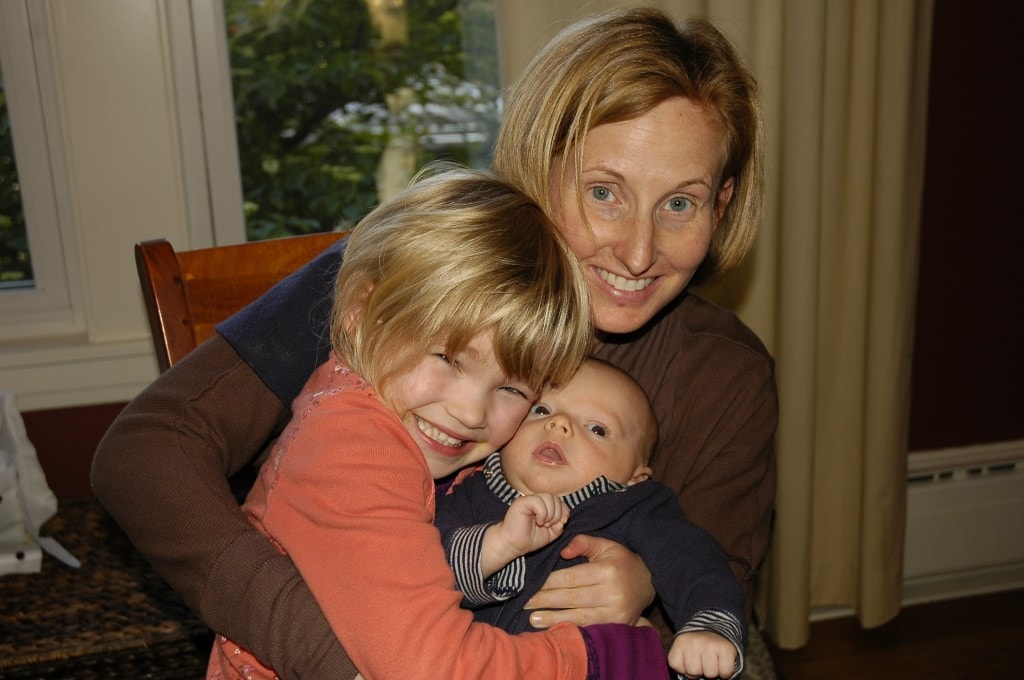 Thank you Maryea for the opportunity to provide a guest post and thank you, readers, for humoring me! I am a mom to Sophie (4 ½) and Benjamin (3 months), I live in the Chicago area (Oak Park, IL), and I am a yoga teacher who focuses on prenatal, postnatal, and fertility yoga. I have appreciated the Happy Healthy Mama blog for its attention to wellness and nutrition, and, perhaps even moreso, its ability to remind me that I am indeed not alone as I navigate perhaps the most challenging time in my 39 years!
 I have a child who absolutely loves to draw. Any chance she gets, Sophie pulls out her crayons, markers, colored pencils, or other coloring tools and a piece of paper and gets to work creating her latest masterpiece. I have loved seeing how her drawings have evolved over time – from random lines and dots to people of all shapes and sizes to a long-standing obsession with rainbows to her latest: the integration of cutting out (read: scraps of paper on the floor), taping (read: never can find any scotch tape for my own use), and folding various pieces of paper together to create three dimensional pictures (with lots and lots of tape on them!). Sophie also creates a lot of artwork at her preschool, often skipping to greet me with a rolled up set of her latest artwork in her hand.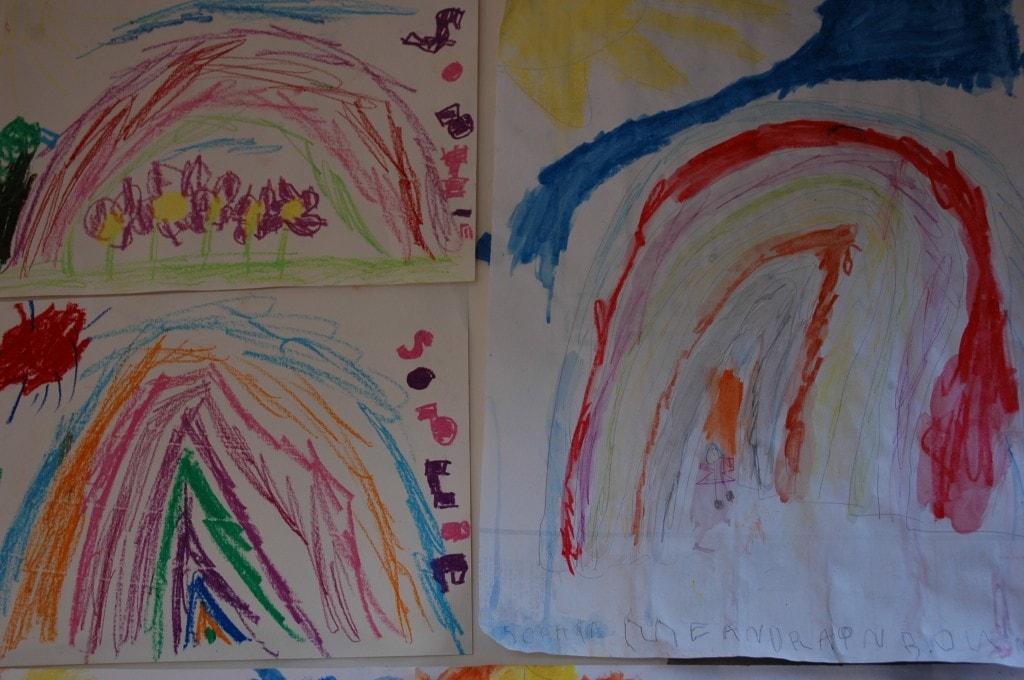 I have a confession to make: until recently, I kept just about every single piece of artwork she ever made. There, I've said it. I got away with it because I designated a shelf in our basement so the growing pile was not a bit bothersome. Then we started construction and like a criminal confessing to a crime, I had to carry up that big pile of multi-sized, multi-textured artwork and stare it in the face.
I am a bit of a nostalgic person. OK, I am intensely nostalgic. It drives my husband, Kevin, nuts. He was raised by a dad who was in the Navy. Not only is he used to keeping things "ship-shape," he saves next to nothing given their requirement to move every 2-3 years. I, on the other hand, have to use my yoga practice as a constant venue for practicing non-attachment.
For whatever reason, this also translates to my desire to hold onto anything symbolic of Sophie's development over time. While I treasure each stage she has gone through and look forward to the next, it is admittedly hard to let go of who she was and the innocence and discovery at each of those stages. Her artwork is a tangible reminder of this.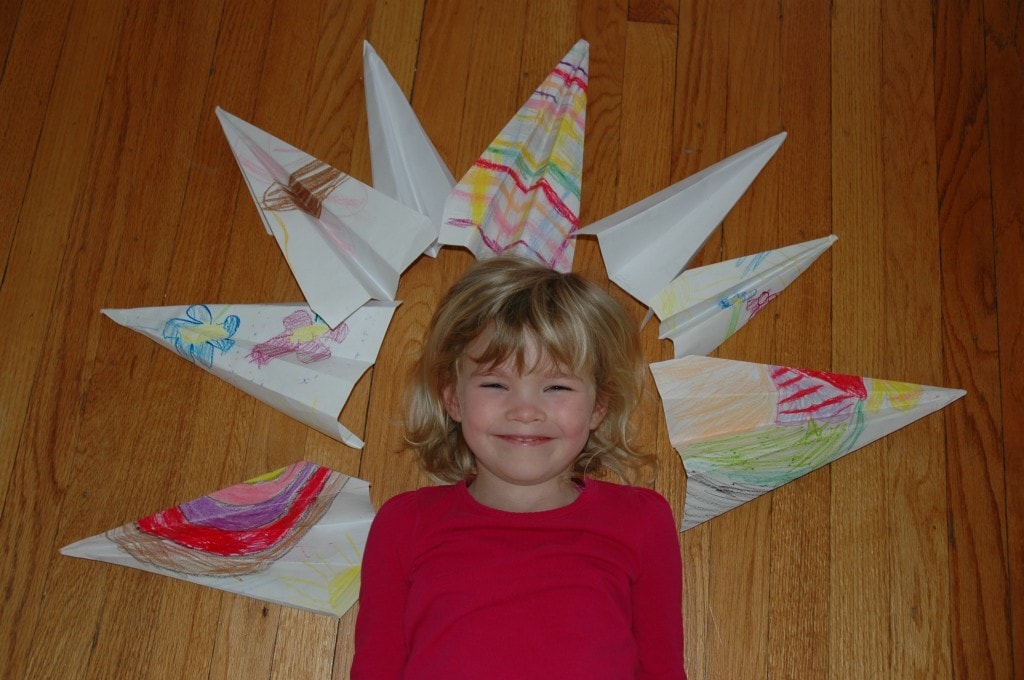 What was I to do with this pile! I surveyed some friends and asked around and got a few great tips for how to best manage the sweet, snazzy, and downright dangerous fire hazard! I share below 6 easy steps that allow you to hold onto the memories and also clear your clutter respectfully. You do, however, have to let it make its way into the recycling bin!
Step 1:  Organize the Artwork by Year: First I organized the artwork by year (most items were dated) creating one pile for each year of her life.
Step 2:  Determine what to Keep vs. Toss: Sophie and I sat together and went through the piles (it was key to involve her in this), determining what was a "keeper" and what was to be recycled. It was funny to see how easily she let go of things that I would have held onto (obviously my clingy-ness is not genetic!). It was a great bonding process that took a couple of weeks but we did it.
Step 3:  Determine what to Save (10/year!): In each smaller pile, we picked out a few key pieces of artwork for her to save in an accordion file that we will keep adding to over her years of school. Ideally I wanted to get down to 10 items per year; we are a bit above that but I think we can go through it again someday and narrow it more.
Step 4:  Repurpose the Rest: Most of the rest of the items are in a pile for use as wrapping paper for birthday presents. Now whenever we have a birthday – kid or adult – we pick out artwork from the pile and wrap the presents. (Of course Sophie is in charge of the taping part!) I also put a few into frames that we can hang in the house and swap out for her latest creations over time.
Step 5:  Take Pictures: This is the KEY STEP for being able to let go. Before I recycled the artwork, filed it in the accordion file or put it in the pile for wrapping, I took digital pictures, sometimes with Sophie in them. It was super-easy – I lay the pictures on the floor in our foyer and snapped a picture. My goal is to do this every couple of weeks and then at the end of the year work with Sophie to create a small digital photo book for posterity.
Step 6:  Keep the Process Going: We have areas in our house dedicated to displaying her latest and greatest artwork for a period of time. Once we have new ones to post, I take the old ones down, put them in a bin, and then every 1-2 weeks Sophie and I go through the above 5 steps with that pile. It is much more fun to do in manageable chunks.
Good luck and happy organizing!