Oh, hi!  How have you been?  Things here have been…hectic.  We moved.  I am 100% in love with our new house and am already envisioning Meghan and Luke growing up and Tim and I growing old here.  The move, however, wasn't exactly smooth.  Our first week in our new house included a flooded basement, a freak accident in the pantry that resulted in 3 stitches in the back of my head, a cut cable line resulting in no cable or Internet for a day (the horrors!), along with the overwhelming task of unpacking a zillion boxes of our things.  But here we are, chugging along, making this new house our home.
I'm excited to give you a tour of my favorite room in the house (the kichen, duh!), but first I thought I'd post a round up of 50 healthy summer recipes from around the web, including a few from Happy Healthy Mama.  I can't wait to get cooking!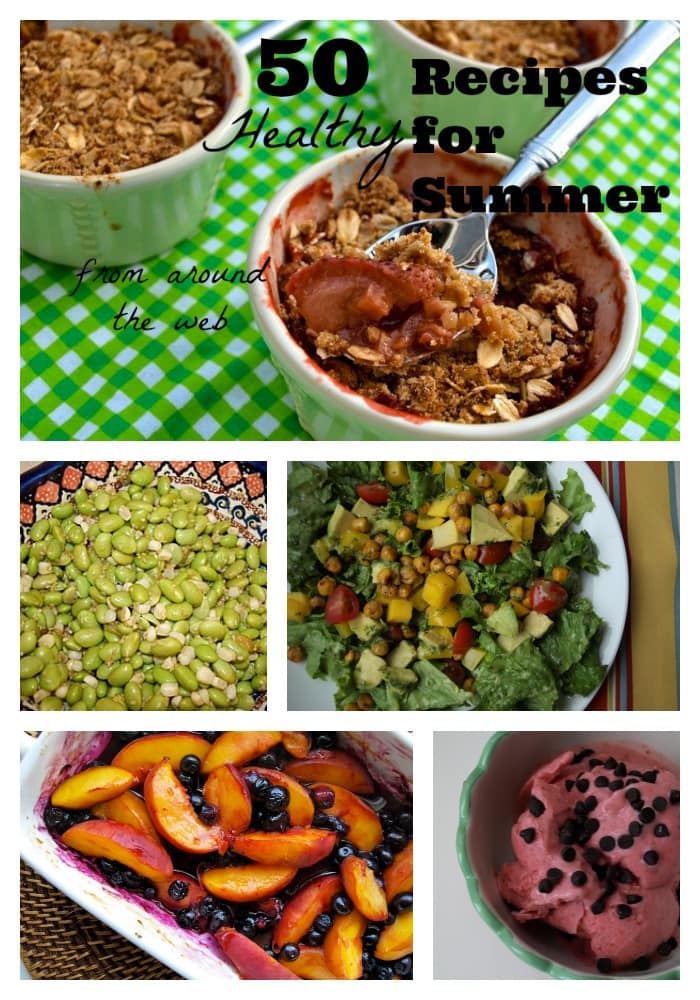 Salads and Sides
Caprese Salad with Basil Pesto from Deliciously Organic
5-ingredient Summer Salad from Happy Healthy Mama
Thai-Inspired Hydrating Cucumber Salad with Roasted Spiced Chickpeas from Oh She Glows
Tropical Cucumber Salad from Eating Well
Kale Market Salad from 101 Cookbooks
Pickled Sugar Snap Peas from smitten kitchen
Strawberry Tomato Salsa from Happy Healthy Mama
Heirloom Tomato Pico de Gallo from Weelicious
Spicy Slaw from Elana's Pantry
Restart Salad from Happy Healthy Mama
Corn and Edamame Sesame Salad from Happy Healthy Mama
Watermelon Pico de Gallo from Pioneer Woman
Spicy-Sweet Arugula Satuee from Pure Potential
Grilled Eggplant with Yogurt and Mint from Food Network Kitchens
Main Courses-Lunch and Dinner
Summer Vegetable Crepes from Eating Well
Fish Tacos with Watermelon Salsa from Food Network Magazine
Grilled Balsamic Salmon Kabobs from Eat, Live, Run
Corn and Summer Vegetable Saute from Cooking Light
Tofu Sandwich with Broccoli Slaw from Amy's Nutrition from Nature
Quinoa and Spinach Burgers from Winspiration Wellness
Pea Soup with Peppermint from Easy Peasy Organic
Grilled Vegetable Sandwiches with Rhubarb Barbecue Sauce from edible perspective
Grilled Chicken in Sun Dried Tomato Basil Vinaigrette from Can You Stay For Dinner?
Vegetarian BBQ Loaf from Happy Healthy Mama
Zucchini Carrot Soup from Family Fresh Cooking
Beet and Apple Sandwich from One Hungry Mama
Omelet with Summer Vegetables from Cooking Light
My Favorite Sandwich from Happy Healthy Mama
Monster Mushroom Burger from Bobby Deen
Linguine with Tomatoes, Baby Zucchini, and Herbs from Food & Wine
Sweet Potato Burgers from Making Good Choices
Main Courses-Breakfast
Buckwheat Pancakes with Roasted Peaches and Blueberries by Happy Healthy Mama
Vegetable Pancakes by Happy Healthy Mama
Vegan Zucchini Muffins by Happy Healthy Mama
Blackberry and Banana Stuffed French Toast by Happy Healthy Mama
Drinks
Infused Flavored Water from One Hungry Mama
Sugar-free Strawberry Lemonade from Dashing Dish
Watermelon Lemonade from smitten kitchen
Rosemary-Infused Cucumber Lemonade from Eating Well
Rhubarb Smoothie from Marie Claire
Treats
Frozen Banana Yogurt Pops from Happy Healthy Mama
Raspberry and White Cherry Yogurt Pops from Verses from my Kitchen
Chocolate Covered Strawberry Cheesecake Popsicles from Food Doodles
Watermelon Milkshake from The Diva Dish
Tropical Mango Banana Soft Serve from Nutrition with Ashley Craft
Watermelon-Avocado Ice Cream from Happy Healthy Mama
Peach-Berry Crisp from Happy Healthy Mama
No-Bake Vegan Chocolate Pie from Happy Healthy Mama
Mint Chocolate Chip Milkshake from Happy Healthy Mama
Individual Strawberry-Rhubarb Crisps from Happy Healthy Mama