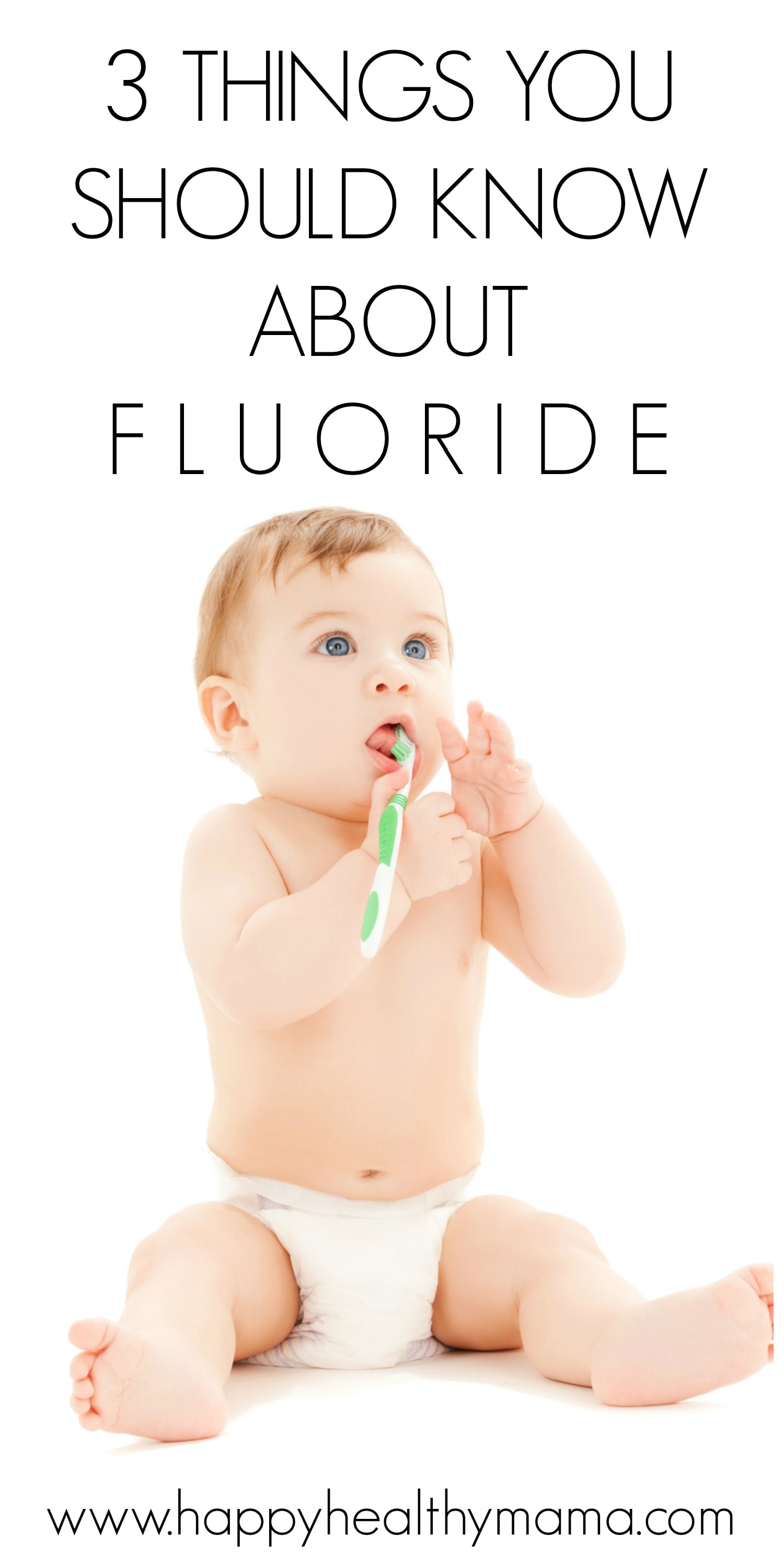 Fluoride is touted as a necessity to prevent tooth decay.  It's added to our drinking water and our dentists give our children fluoride treatments.  Well-meaning parents accept this practice as truth and don't question what seems to be the medical norm.  It's hard to question something when it's coming from a  medical professional.
Despite fluoride being recommended by our pediatrician and pediatric dentist, we've made the decision to take the fluoride out of our drinking water and not use fluoridated toothpaste.  I don't take the decisions I make for my family's health lightly.  I've researched this topic, looked at both sides, and made the decision based on the information I thought was most compelling. I urge all parents to do their due diligence and decide for themselves if they want to allow their children to ingest fluoride.
Here are some facts to get you started.  Please continue your research by reading the articles listed at the bottom of this post.
1.  Fluoridation is not necessary to prevent tooth decay.
While the amount of tooth decay has dropped in the last 60 years since fluoride was first added to drinking water (it is now added to almost 70% of the United State's drinking water supply), countries that don't fluoridate their water have experienced the same decrease in tooth decay. One study of over 84 areas in the United States showed very little difference in tooth decay in children who drank fluoridated water and those who did not.  (source) Eating habits have the strongest effect on dental caries.  Eating too much sugar and foods with white, processed flour and/or poor brushing habits will likely cause cavities whether you are drinking fluoridated water or not.
2.  Fluoride may have a negative effect on your child's IQ.
Researchers in a 2012 review and meta-analysis of 27 studies on the effect of children's neurodevelopment found that children in high-fluoride areas had significantly lower IQs than those in low-fluoride areas.  They concluded that "the results support the possibility of an adverse effect of high fluoride exposure on children's neurodevelopment." (source)  I'm not willing ton take a chance with my kids' brains.  I don't want them to lose even one IQ point.  That's all there is to it. 
3.  Fluoride Toxicity can result from overexposure to fluoride.
Fluoride isn't safe in large doses and over time, it accumulates in our bodies, specifically in our bones.  Chronic fluoride toxicity is an under diagnosed and under researched problem. If you present yourself to the doctor with any of the symptoms that can result in overexposure to fluoride over time, chances are your doctor isn't going to think about chronic fluoride toxicity right away. The symptoms of chronic fluoride toxicity include chronic fatigue, headaches, dry throat not quenched with water, urinary tract irritation, frequent need to urinate, aches and stiffness in muscles and bones, gastrointestinal disturbances, lessening of mental ability, depression, excess nervousness, tendency to lose balance, and visual disturbances.
With young children, acute fluoride toxicity is a concern. Toothpaste with fluoride can taste good and they don't always understand not to eat it.  Parents may not even know that their child went into the bathroom and helped themselves to a squeeze of toothpaste!  Accute fluoride toxicity presents itself as flu-like symptoms, including vomiting and diarrhea.  It doesn't take a whole lot of toothpaste ingestion for acute fluoride toxicity to occur.  Basically, fluoride is a poison that we allow our children to have easy access to.
We have never used toothpaste with fluoride with our children and when we moved almost two years ago we put a reverse osmosis water filtration system (similar to this one
 that rates well) to remove the fluoride (among other worrisome contaminants) from our drinking water.  For toothpaste, Tim uses Tom's Fluoride-Free Toothpaste
 and I use a DoTERRA toothpaste.  We've tried a few different kinds for the kids and Meghan only likes Tom's Fluoride Free Silly Strawberry
.
Going without fluoride is a decision we made based on the information that was available to us.  We don't feel the potential risks are worth the benefits.  So far, at ages 6 and 3, our children are cavity-free.
Please do your own research and decide if you think fluoride is something you want your family to ingest.  If you are not sure if your community has fluorinated water, you can check the State Fluoride Database (not all states are available).  See below for further reading.
Resources:
http://www.ncbi.nlm.nih.gov/pubmed/22820538
http://www.actionpa.org/fluoride/nrc/NRC-2006.pdf
http://www.researchgate.net/profile/Luz_Maria_Del_Razo/publication/45281342_Molecular_mechanisms_of_fluoride_toxicity/links/09e415101a1cc46320000000.pdf
http://fluoridealert.org/studies/acute03/
http://emedicine.medscape.com/article/814774-overview
http://www.slweb.org/ftrcpossiblesymptoms.html
http://www.toxipedia.org/display/toxipedia/Recognition+and+Management+of+Fluoride+Toxicity#RecognitionandManagementofFluorideToxicity-Limeback%2Cetal%2C1998
http://www.toxipedia.org/display/toxipedia/Dental+Fluorosis
http://www.toxipedia.org/display/toxipedia/Fluoride#Fluoride-Kauffman%2C2005
http://fluoridealert.org/issues/sources/f-toothpaste/
http://www.cdc.gov/fluoridation/statistics/2012stats.htm
http://www.ncbi.nlm.nih.gov/pubmed/22820538
http://www.fluoridealert.org/wp-content/uploads/10facts.pdf
http://fluoridealert.org/studies/caries01/
http://fluoridealert.org/researchers/health_database/
http://www.fluoridealert.org/wp-content/uploads/nidr-dmft.pdf
http://www.globalresearch.ca/harvard-study-fluoride-lowers-childrens-intelligence-by-7-iq-points/5368216
 http://fluoridealert.org/studies/caries05/