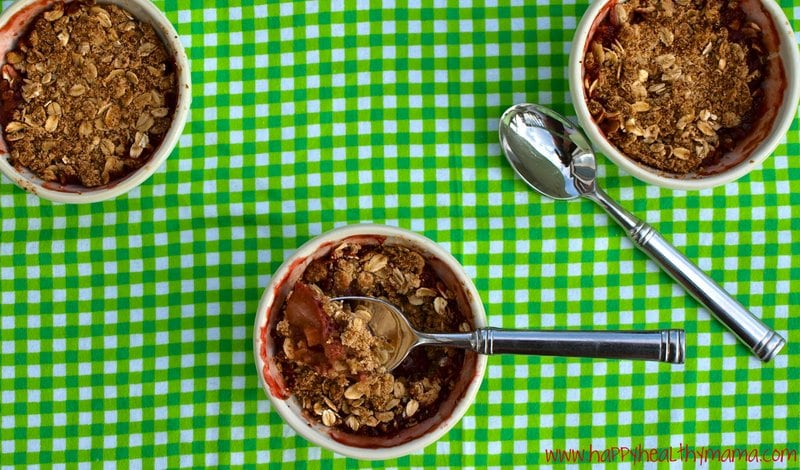 Well, hello there!  Come on in.  Have a seat.  Let's chat.  I know, I know.  It's been a while.  Last time I posted, I said I was taking a break, but wasn't sure how long it'd be.  I said "it may be one week or maybe three weeks.  I hope not longer, but maybe longer."  Okay, so it fell into the "longer" category.  There was some wishful thinking going on there.
The good news is:  I'm back!  With lots of recipes and fun posts just waiting to be shared.  My mind's been working even when I haven't been actively posting.  The bad news is I won't be blogging full time.  You can expect 2-3 posts a week for now.  Eventually I'd love to get back to 4-5 posts a week, but I know that isn't realistic right now.
Now, onto the recipe already!  These healthy little individual strawberry rhubarb crisps are the perfect summer dessert.  Don't you just love individual desserts?  Not only are they super cute, but they have built-in portion control.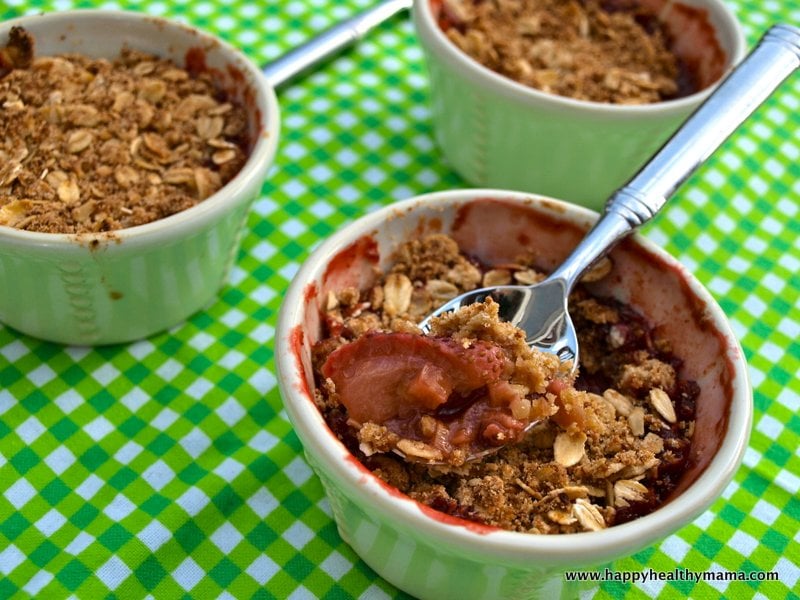 I used to eat rhubarb all the time growing up because it grew wild all over our neighborhood.  We'd just pick it and bring it home to dip in sugar and eat.  I haven't eaten it that often as an adult, though, and it was strange to purchase it in the grocery store.  I loved getting reacquainted with this under-appreciated vegetable (yep, it's a vegetable that's most often treated like a fruit).
Strawberry and rhubarb are a perfect dessert combination.  I use them in equal parts here and the sweetness of the strawberry balances the tartness of the rhubarb.  This crisp recipe has much less sugar than normal crisps, making it a light, healthy summer dessert. I also used brown rice flour to make it gluten-free, but you can use whole wheat or all-purpose flour if you prefer.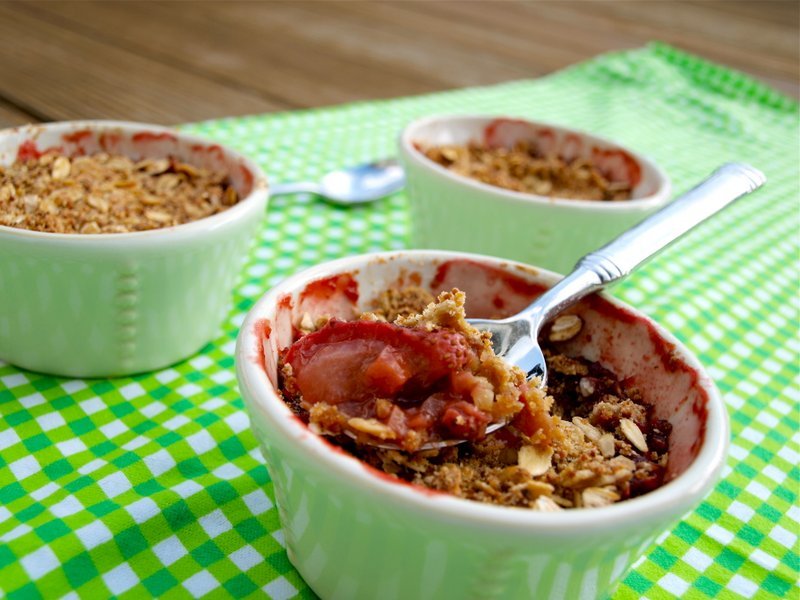 In other news, I contributed a guest post for Heather at Fit Mama Real Food yesterday giving tips for how I stay healthy as a mom.  Check it out!  Heather just had her first baby and even if you aren't interested in my tips, you gotta check out her adorable little baby boy!